Honey Goat Cheese Carrot & Couscous Casserole with Bacon Crumbles
"It was the best of times, it was the worst of times." It was "clean out the fridge time, it was use it or throw it out time."
You know what I'm talking about. All those leftover bits and pieces being ignored for far too long. I was guilt-ridden over the half pint of dried-up strawberries, the once luscious head of leafy lettuce now turned the color of Yuk and the best-not-to-open-if-you-value-your-life container of onion dip from a month earlier.
I stared into the fridge then proceeded to remove all that could harm. I made good progress until I heard a commotion in the produce drawer. When I opened the drawer, the carrots were snapping their shredded tendrils demanding to be seen.
A few days earlier, I had used carrots in Carrot Cupcakes and Mandarin Orange Salad (coming soon). I hadn't needed all the carrots so I saved (and had promptly forgotten) the extras.
The carrots snapped again and I got the hint. I checked them out and decided they didn't warrant being thrown in the trash. Now what?
It's pretty amazing what one can do with a little ingenuity and a well-stocked pantry. I found some honey goat cheese in the cheese bin, bacon in the freezer and tri-colored couscous in the pantry. Game on!
The resulting dish is simple but tastes amazing. All of the flavors: carrots, honey goat cheese, sweet onion, bacon and herbs blend beautifully. Be sure you take your fair share at the beginning of the meal, because THIS is what you will see when you go back for seconds.
This dish lends itself to versatility. Substitute other cheeses, herbs or rice; add sausage, chicken, fish (shrimp would be fantastic) or toasted nuts. Have fun and make it your own.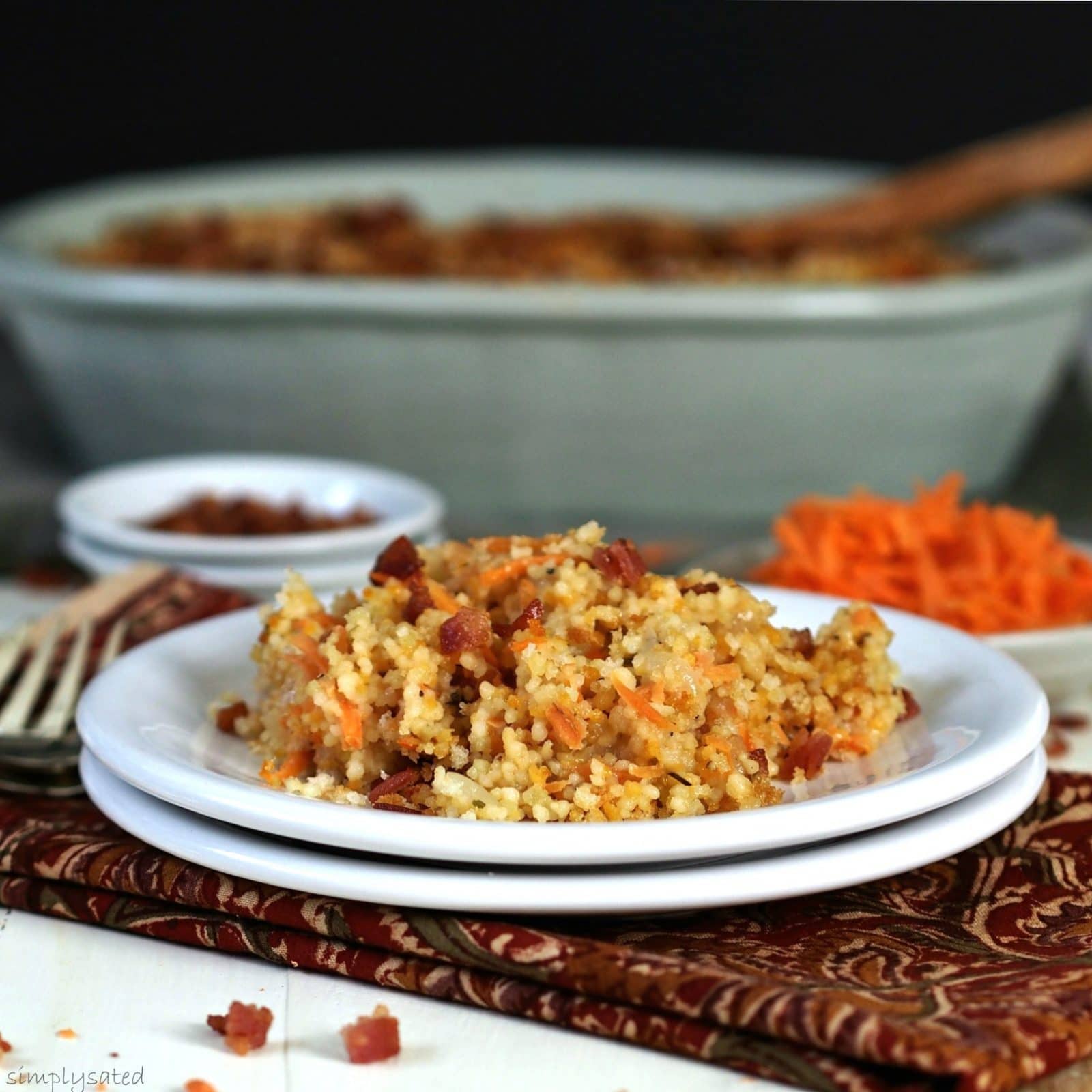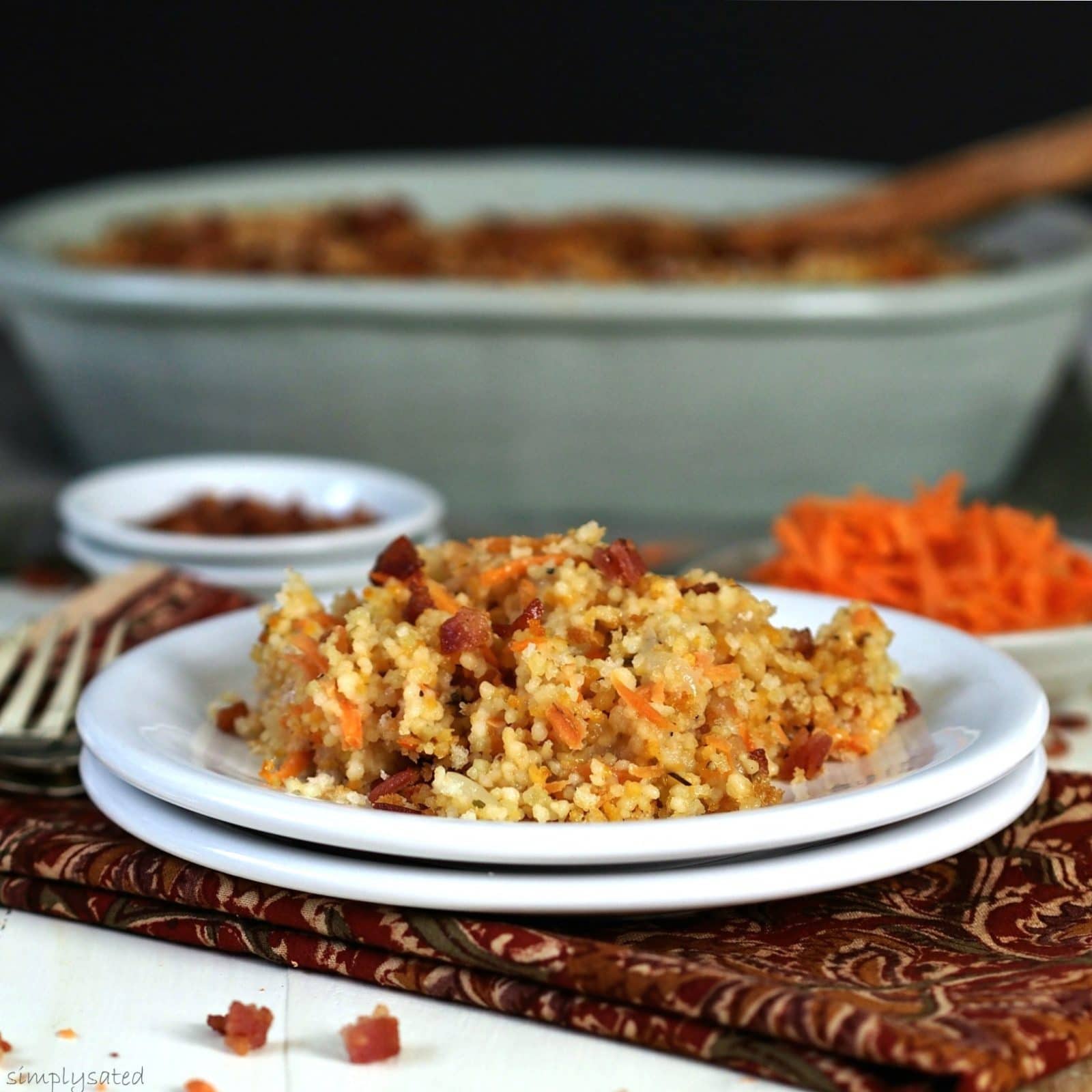 The next time it is time to clean out your refrigerator, be sure you listen well – there just might be some shredded carrots snapping to get your attention.
Enjoy!
BACON…a side note.
To read how to make PERFECT STOVE-TOP BACON CRUMBLES on The Cookie Rookie.
Honey Goat Cheese Carrot & Couscous Casserole
Honey Goat Cheese Carrot & Couscous Casserole is a delicious, healthier alternative to cheese-laden casseroles.
Ingredients
3-5

medium carrots

total of 1½ cups shredded carrots

8

strips Bacon

thin-sliced, (divided in-half)

½

ounce

1/2 package Honey Goat Cheese

½

small sweet yellow onion

diced

1

tablespoon

butter or olive oil

2

cups

cooked

3/4 cup dry tri-color couscous

1/8

teaspoon

Bouquet Garni – or your favorite

¼

teaspoon

salt

¼

teaspoon

ground black pepper

------------------------------

For Topping:

½

cup

Panko crumbs

1-

tablespoon

butter

melted

-------------------------------

For Garnish:

Bacon crumbles

the saved half / *see notes on bacon crumbles
Instructions
Preheat oven to 350F.

Spray a 1½-2 quart baking/casserole dish.

Shred the carrots with a food processor or box grater and place in a large bowl. Set aside.

Cut bacon crosswise into ¼" pieces. Peel and dice the onion. Heat oil or butter in a medium skillet - add bacon pieces and onion. Cook on medium until the bacon is crispy and onion is translucent. Once cooked, transfer onion/bacon mixture to a paper-towel lined plate to drain. Once drained, add to carrots.

Cook couscous according to package directions. Once cooked, drain thoroughly then add to the carrots, bacon, onion and goat cheese.

Add Bouquet Garni, salt & black pepper to the carrot mixture and mix well.

In a small bowl, combine Panko crumbs and melted butter, mix well.

Pour the carrot/couscous mixture into the prepared baking dish and spread the panko/butter crumbs on top.

Bake 25-30 minutes or until golden on top. (If needed, broil the dish for a few minutes until the top turns golden.)

If desired, sprinkle crispy bacon pieces on top.

Enjoy!
Recipe Notes
*For Perfect Stovetop Bacon Crumbles - http://www.thecookierookie.com/perfect-bacon-crumbles/