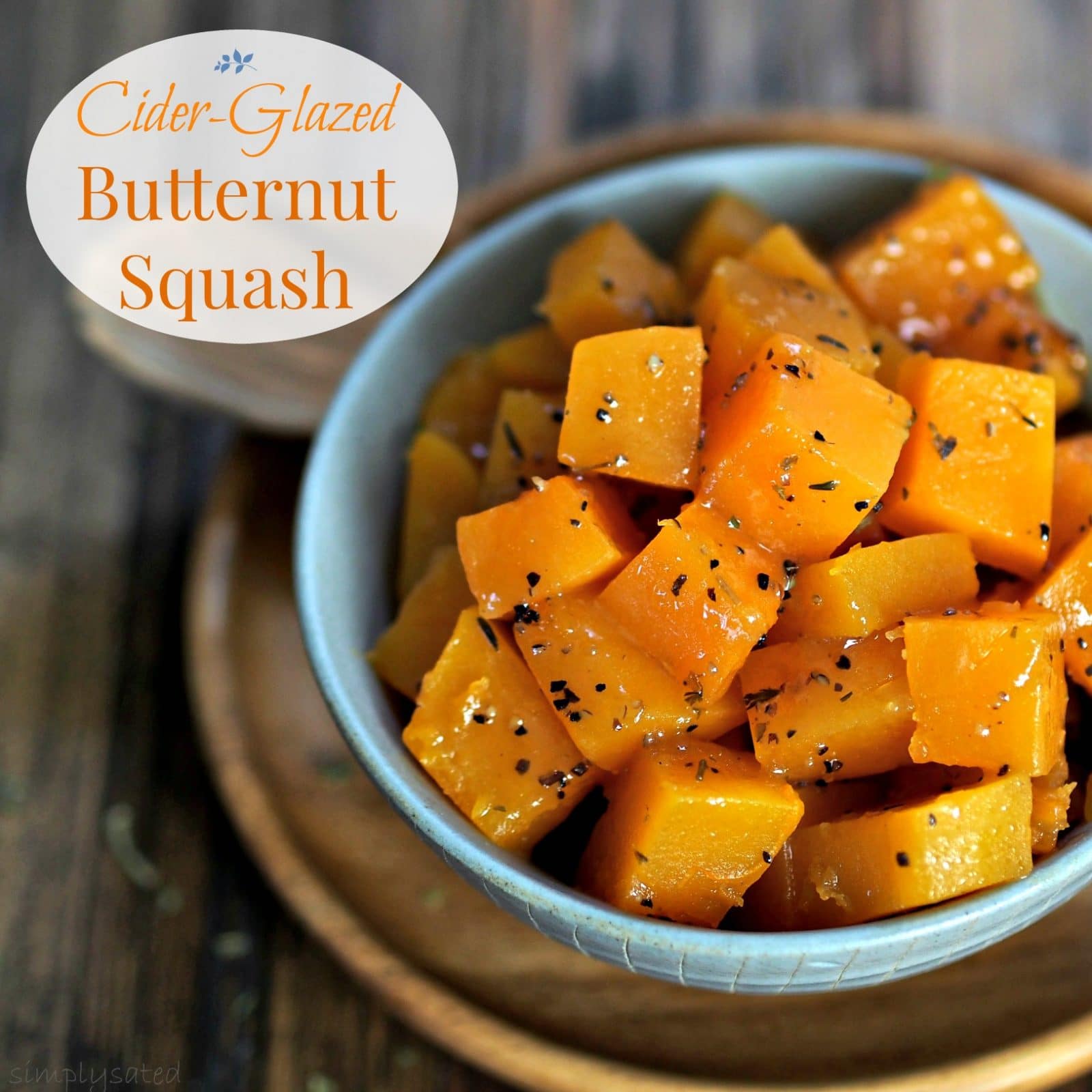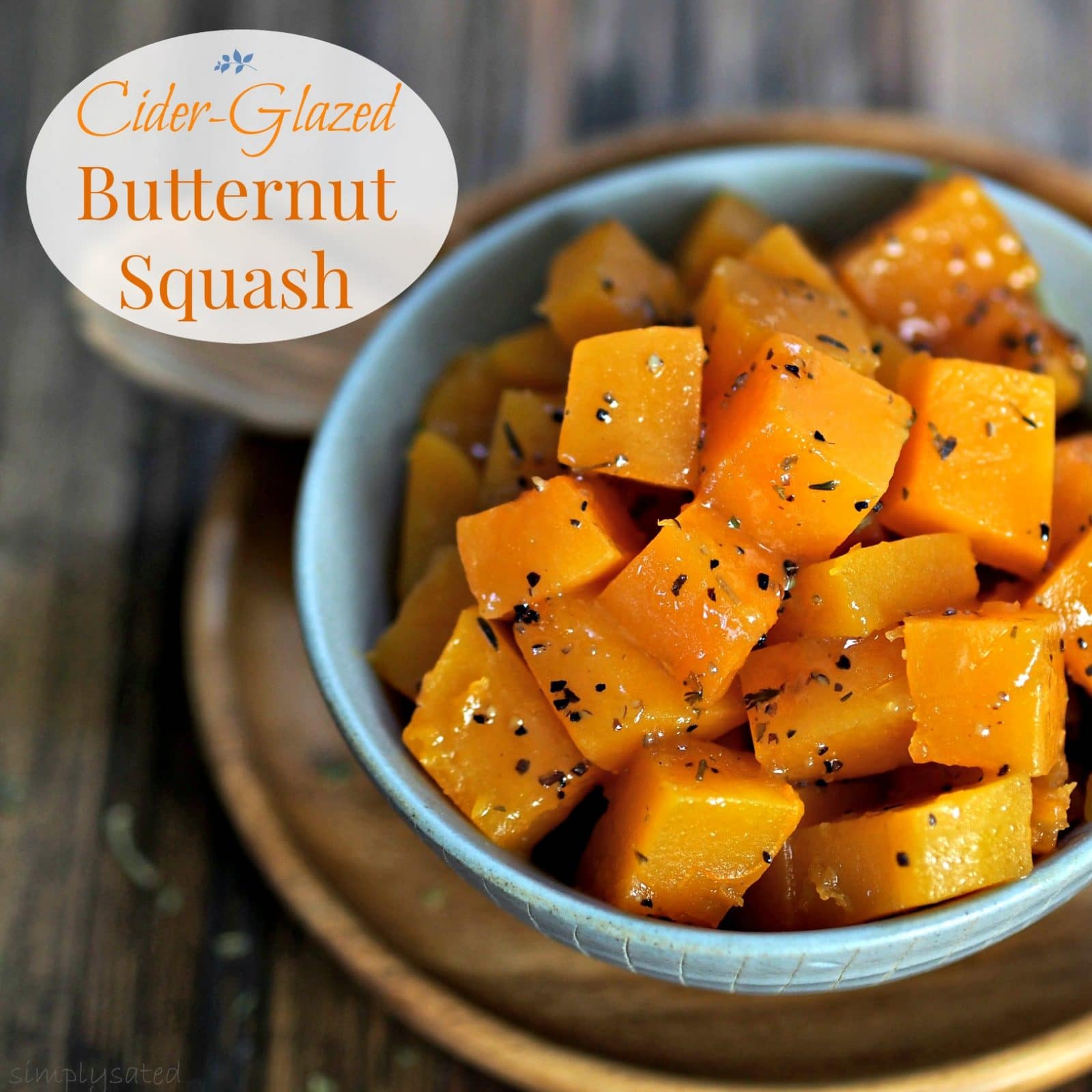 Cider-Glazed Butternut Squash
It isn't every day I laugh-out-loud while putting away groceries. I had sent my husband, Jeff, to the grocery store for a few must-have ingredients including butternut squash. Jeff didn't exactly know what a butternut squash looked like so asked the Produce Department Manager where he could find one. There weren't any in the vegetable department so Jeff was asked to wait while the manager went to the back of the store to see what he could find. He came back carrying a large butternut squash and Jeff left a happy man.
Jump forward fifteen minutes to the moment I opened the grocery bag with the squash inside. Let's just put it this way – I have never opened a grocery sack to see a bottom staring back at me. It took me several seconds to actually figure out what it was.  That is the moment I laughed-out-loud and carried it into living room to show Jeff.  Here is the ensuing conversation.
Me:   Honey, did you look at the butternut squash?"
Jeff,   "No, is something wrong with it?"
Me:  "No, I can't say anything is wrong with it."
Jeff: "Well, then what's up?"
I placed the squash, backside facing him, on the coffee table.
Jeff: "What the heck!  Oh my gosh!"
Jeff & Me: "Ha-ha-ha-ha-ha-ha-ha-ha-ha-ha-ha-ha!!!!"
I took a photo then sent the photo via the Internet around the world.  It was that moment the perfect name for this squash came to mind.
Ladies and Gents, meet Miss KK BUTTernut (I'm leaving it up to you to figure out the KK.)
I thought about selling her on EBay, but just couldn't send her off not knowing what might happen to her.
KK BUTTernut sat proudly in all her glory on my kitchen island bestowing me giggles for several days.   Alas, all hilarious things must end and it was time to allow this squash to fulfill her purpose in life.
I found a delicious recipe in Southern Living Magazine and, after a few minor adjustments, knew I had a recipe befitting this special squash.
Butternut Squash is cooked in a glaze of apple cider, butter, brown sugar, ginger, herbs, seasonings and a splash of Southern Comfort.
This is a recipe of which Miss KK BUTTernut can be proud.
Enjoy!
If you rack your brain trying in vain to figure out what KK in KK BUTTernut means, ask me in a comment and I will gladly reply:-)

Cider-Glazed Butternut Squash
Recipe adapted from Southern Living: http://www.myrecipes.com/recipe/glazed-butternut-squash. ---------------- Sweet Potatoes can be substituted for Butternut Squash
Ingredients
1

butternut squash or sweet potatoes

approximately 2 pounds total

¾

cup

apple cider

2

tablespoons

butter

2

tablespoons

dark brown sugar

1-

teaspoon

salt

½

teaspoon

ground black pepper

1/8

teaspoon

ground ginger

½

teaspoon

Bouquet Garni

rosemary, thyme & sage good substitutes

2

tablespoons

Southern Comfort

or bourbon - optional

-----------------

Garnish:

1-

tablespoon

fresh sage

chopped or 1/2 teaspoon dried sage, optional

¼

cup

Fresh Gourmet Honey Roasted Pecan Pieces or toasted pecans - chopped
Instructions
Bring cider, butter, brown sugar, salt, pepper, ginger, Bouquet Garni & Southern Comfort together in a large non-stick skillet.

Peel and cut squash or sweet potatoes into 1 inch cubes and add to cider mixture in the skillet.*See notes for link on how to cut butternut squash.

Bring to a boil, cover, reduce heat. Simmer on low, stirring occasionally 25 minutes.

Uncover and cook 5-10 minutes more or until liquid has thickened and squash is fork tender.

*Note: If the squash is fork-tender, but the sauce has not thickened, remove squash and set aside while the glaze continues to thicken.

Pour Glaze over squash to serve.

---------------

Optional:

Sprinkle with sage and/or pecans.

Enjoy!
Recipe Notes
*How-To cut Butternut Squash link: http://www.thekitchn.com/how-to-peel-and-cut-butternut-squash-cooking-lessons-from-the-kitchn-65196