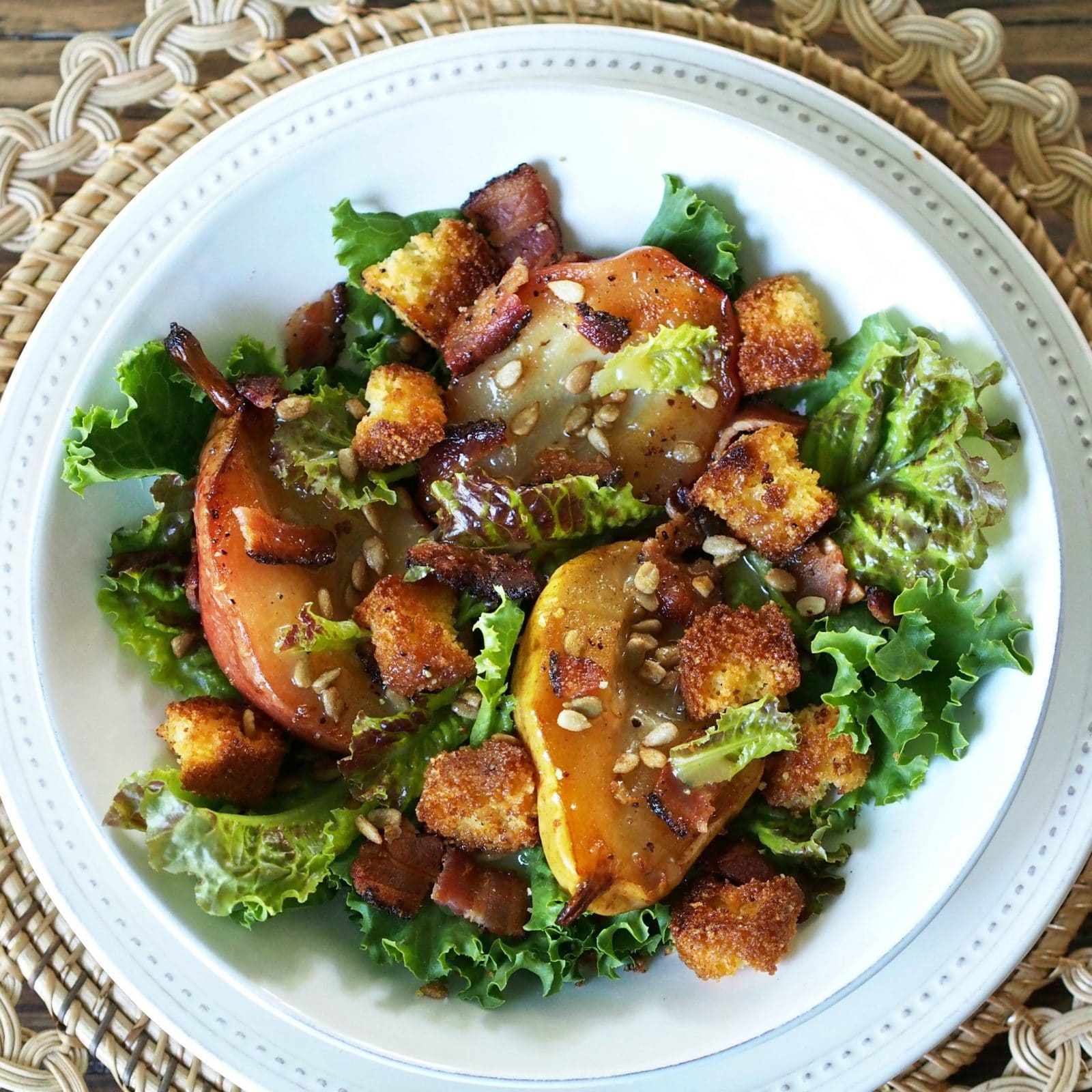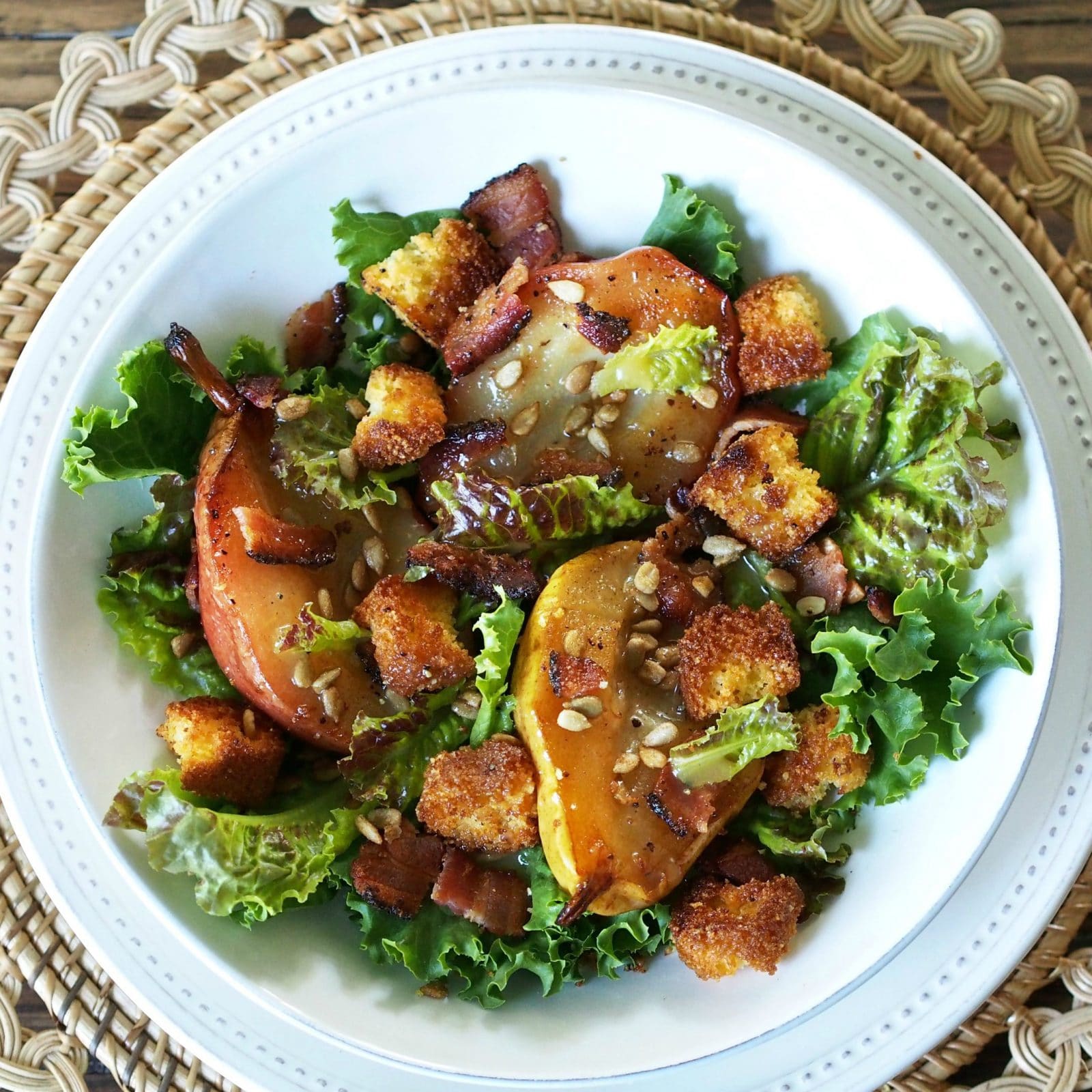 Here it is, the day I have looked forward to since this same day last year, the first day of fall. Today, I introduce you to a recipe that celebrates my favorite season – Harvest Pear Salad with Dijon Maple Vinaigrette.
Juicy roasted pears, tender salad greens, crispy bacon, crunchy cornbread croutons, a sprinkling of honey roasted sesame seeds, and all drizzled with Dijon Maple Vinaigrette. Harvest Pear Salad is a delectable showcase for many of this season's best foods.
I love this salad not only for its deliciousness, but also for its versatility. It is perfect served as a side salad to Grilled Chicken Breasts, Perfect Roast Chicken, and Chicken Noodle Soup (to name a few), and hearty enough to stand on its own when served as a light meal.
I promise you, once you taste Harvest Pear Salad with Dijon Maple Vinaigrette, it will become one of your favorite salads.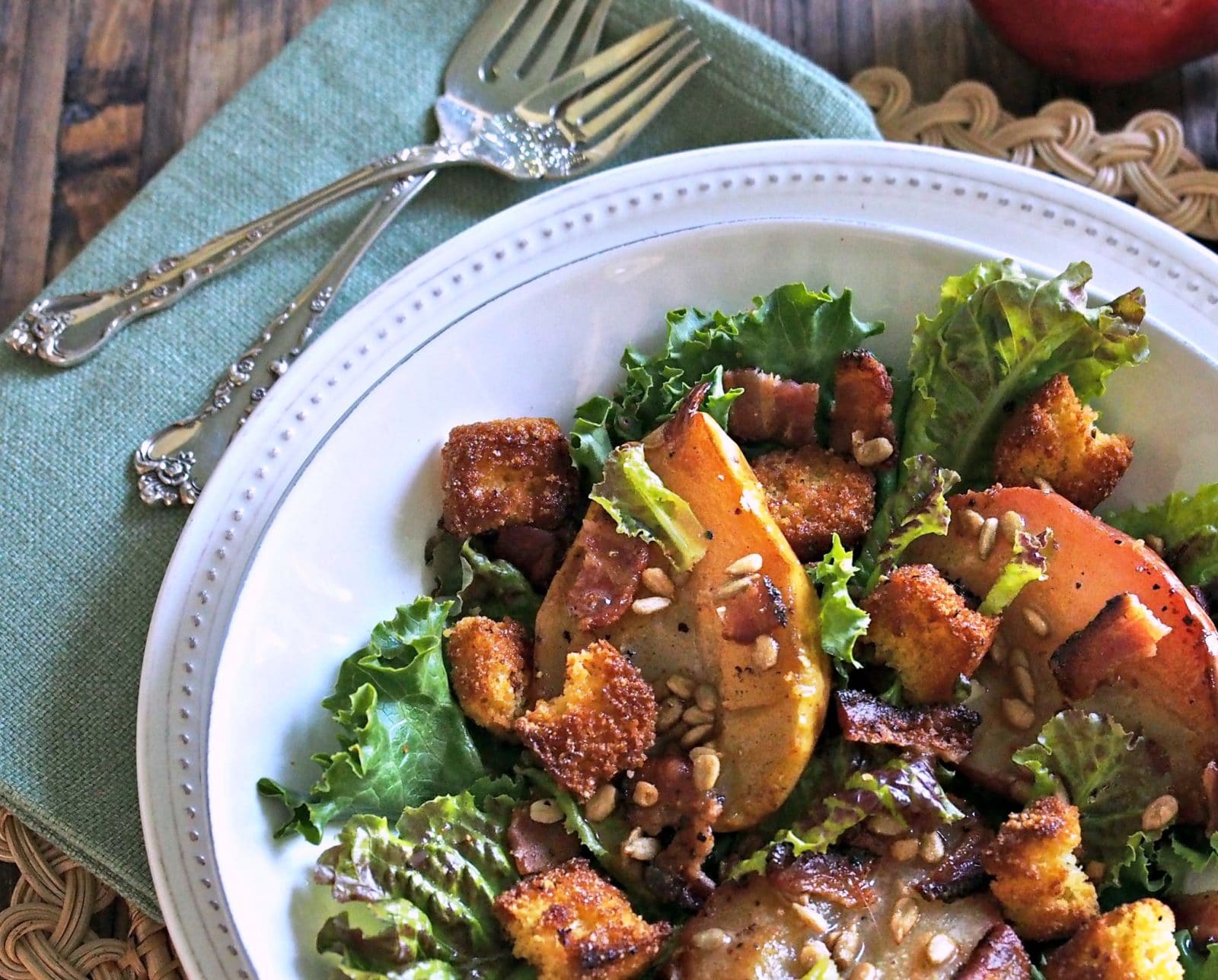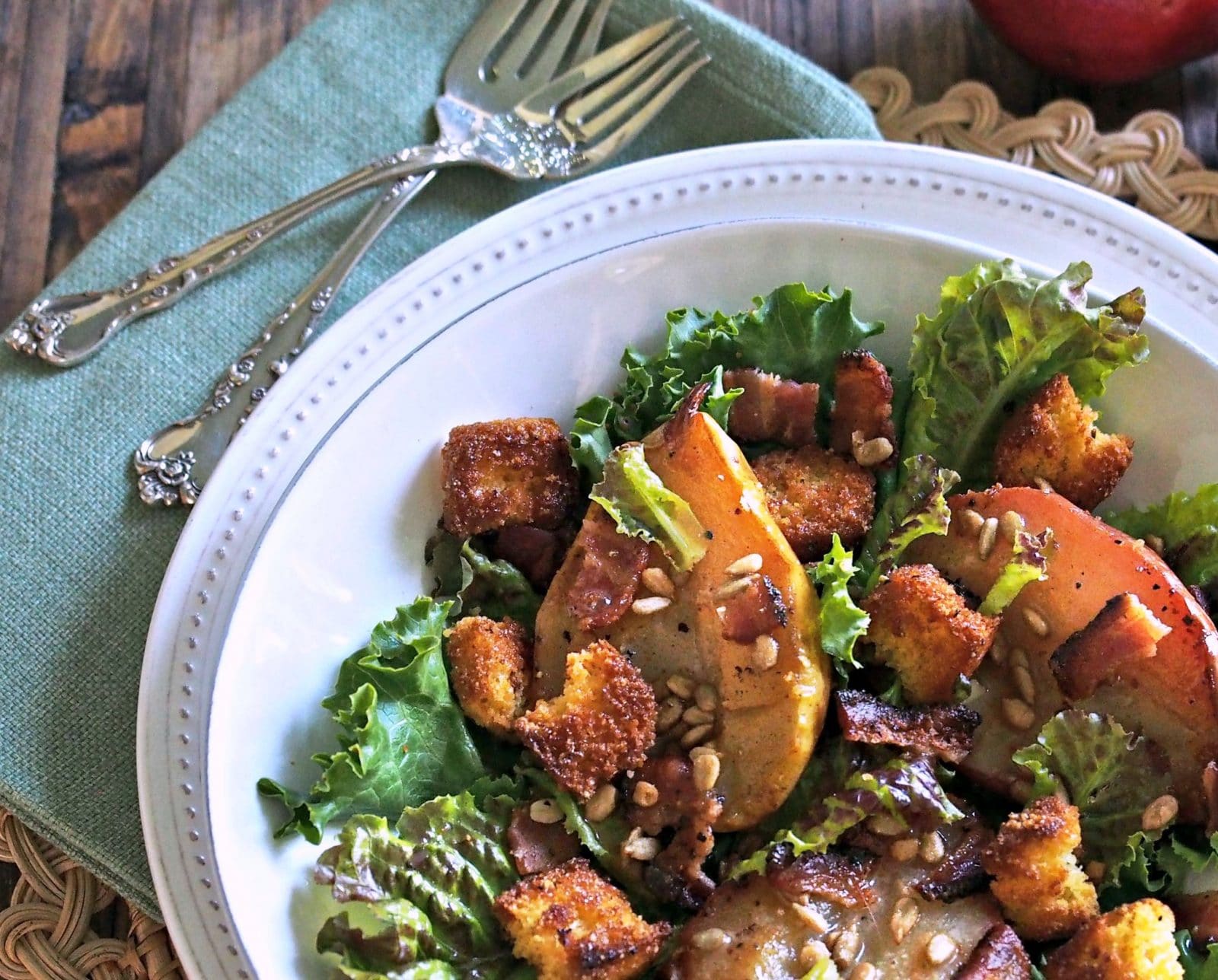 I'm not a worrier, but I am a little worried now.  Harvest Pear Salad with Dijon Maple Vinaigrette is so delicious and gorgeous, I can't imagine what recipe I can use next year that will be nearly as good.  It's a darn good thing I have an entire year to plan the First Day of Fall, 2016.
Enjoy!
Harvest Pear Salad
Juicy roasted pears, baked cornbread croutons, crispy bacon, toasted sesame seeds & salad greens make a perfect side salad or main dish. ---------------------------------- Adapted from: REAL SIMPLE http://www.realsimple.com/food-recipes/browse-all-recipes/hearty-greens-salad-bacon-roasted-pears-corn-bread-croutons
Ingredients
For Harvest Pear Salad:

6

slices

bacon

black peppered bacon works great

3

ripe pears

halved lengthwise (I used red Starkrimson pears, but Bosc or Red Anjou are great choices, too.)

2

cups

corn bread

cut into 1" cubes

2

tablespoons

olive oil

6

cups

salad greens – such as: Romaine

Bibb, Loose-leaf, Iceberg lettuce, Escarole, Spinach, Arugula. Any combination works well.

Kosher salt & freshly ground black pepper

1-2

tablespoons

Honey Roasted Sunflower Seeds

Nuts

------------------------------------

For Dijon Maple Vinaigrette:

Yields ¼ cup

4

teaspoons

cider vinegar

1

tablespoon

Dijon mustard

4

teaspoons

pure maple syrup

Freshly ground black pepper

½

teaspoon

dried onion flakes

optional

2

teaspoons

canola oil
Instructions
For Harvest Pear Salad:

Preheat oven to 425F.

Cut bacon into lardons (cut 1/4" thick) and cook in a large skillet until chewy-crisp. Transfer cooked bacon to a paper-towel lined plate. Pour bacon drippings into a small heatproof bowl.

Cut pears in half, lengthwise.

Pour 2 tablespoons bacon drippings back into the skillet then place the pears, cut-side down, in the skillet.

Place skillet with pears in the preheated oven and roast until tender, 12-15 minutes.

While pears cook, place cubed cornbread on a large baking pan that has been sprayed with cooking spray. Drizzle with 2 tablespoons olive oil or a mixture of olive oil and leftover bacon drippings (if available.) Place pan in the oven next to the pears and toast cornbread cubes until golden brown, 6-8 minutes.

Combine salad greens in a large bowl and season lightly with salt & pepper. Mix well.

Serve salad greens topped with pear halves, bacon, croutons and sunflower seeds. Serve with Dijon Maple Vinaigrette. *See notes.

Enjoy!

--------------------------------------

For Dijon Mustard Vinaigrette:

Combine cider vinegar, Dijon mustard, maple syrup, salt & pepper. Mix until well combined. While whisking, drizzle in the canola oil and continue whisking until smooth and emulsified.
Recipe Notes
*Note – the salad can be served as individual side salads with ½ pear per salad, or as a main meal – just double the amount served.