I have good news and bad. Since I like saving-the-best-for-last, I'll share the bad news first. Many famous chefs have been less than honest about skinless, boneless chicken breasts. I know, I know; it makes me sad, too. "They" have said it is impossible to cook tender & juicy, skinless, boneless chicken breasts. Now, wipe your tears and turn those frowns upside down because here comes the good news. I'm here to assure the world, "Yes, Virginia, there is such a thing as a Perfect Skinless Boneless Grilled Chicken."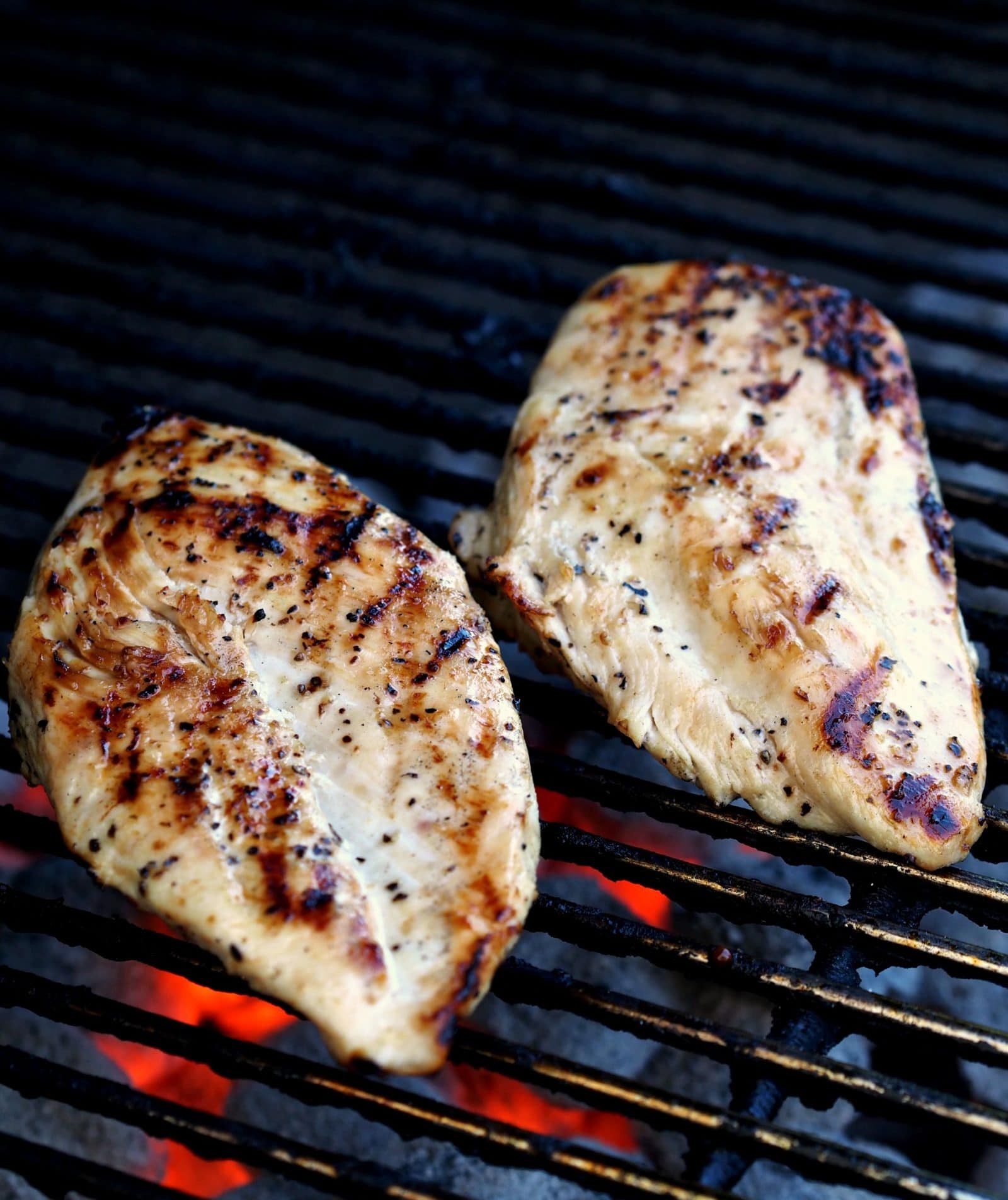 My husband is the grill master when it comes to chicken breasts. With that said, it wasn't always this way – the breasts used to end up overcooked, tough and dry, but we persevered and chewed and chewed until we could finally swallow. Then – a couple of years ago, magic happened. He began grilling with two heat zones and the breasts came flying, sans wings, off the grill, tender and moist. Today, by adding one step, they are even better! We began marinating the breasts in a buttermilk brine, and now perfect breasts have come home to roost. He-He:-)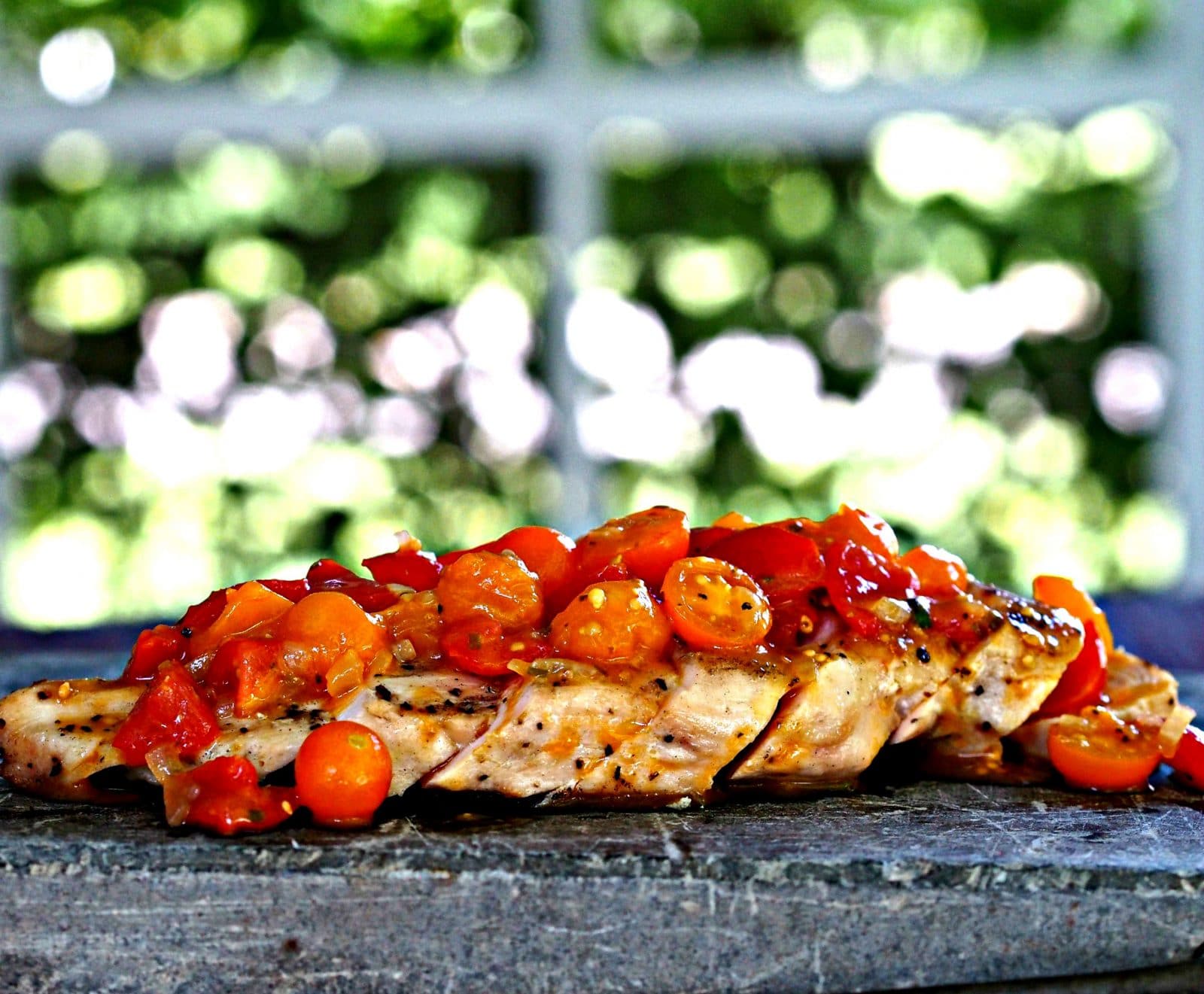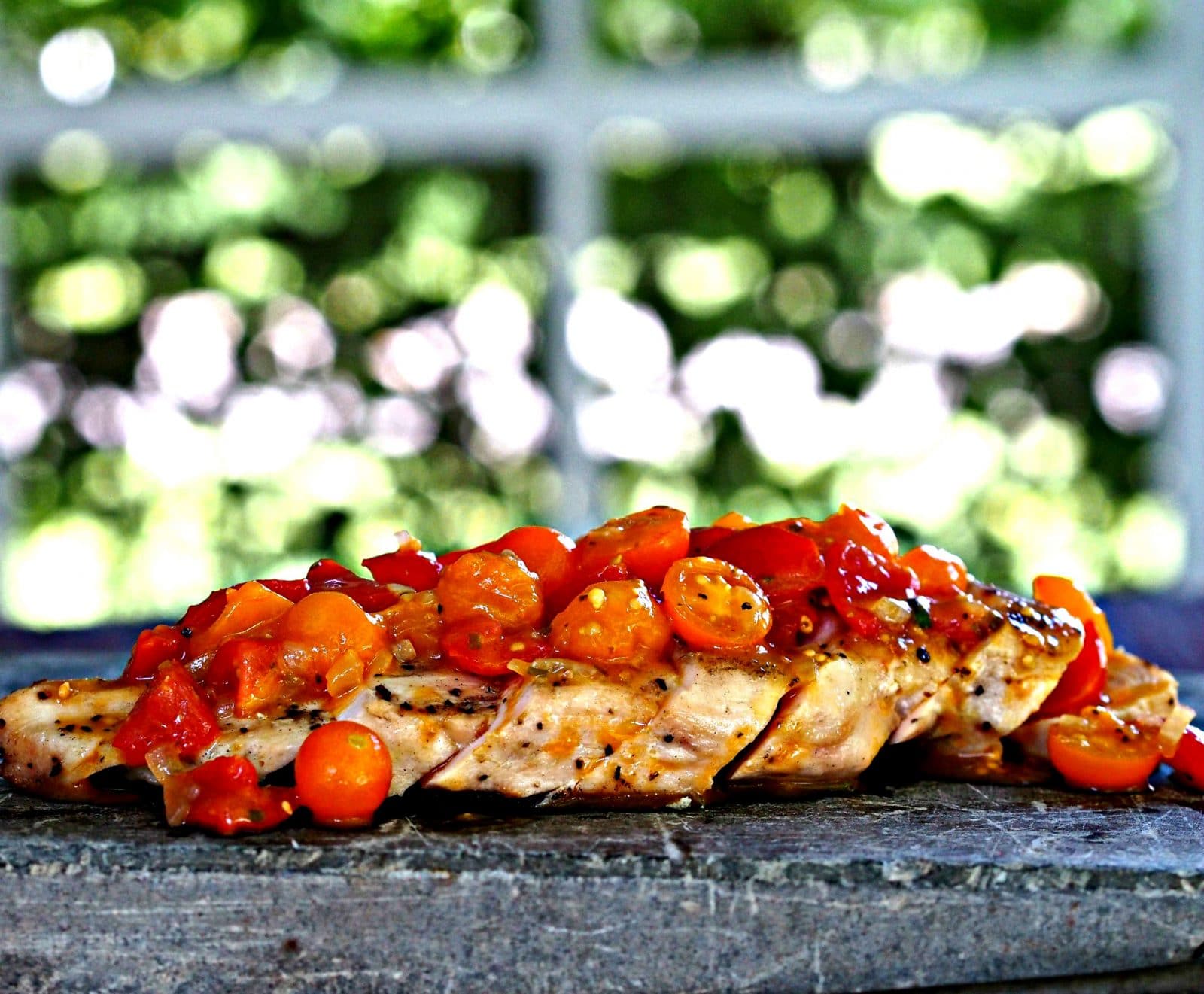 One day, before preparing chicken breasts for supper, I was thinking about how the best tasting fried chicken is marinated in buttermilk before frying. I wondered if the same method would take grilled, boneless, skinless chicken breasts to an even higher level. Of course, I did what I do, and went on a search to find answers. Well, it didn't take long to come across this excellent article on How to Grill the Juiciest Skinless, Boneless Chicken Breasts on Serious Eats. I highly encourage you to read and reread Joshua Bousel's post (including the imbedded links). It is full of invaluable information and is more detailed than my instructions.
That same day, I created my own buttermilk brine and marinated the chicken for four hours. Jeff cooked them using his two-heat zone method (which was the same noted in the article) and the breasts were delicious. They were juicy, tender, smoky, flavorful perfection!
Perfect Skinless Boneless Grilled Chicken goes beautifully with so many dishes. A few of my favorites are Chunky Cherry Tomato Vinaigrette, Power Salad and Mango Salsa.
Now, I don't want you to think the famous chefs of whom I was speaking are bad people. I don't know any personally, but I'm sure most are fantastic and would give anyone in need the apron off their chests. It's just that I don't understand why naked chicken breasts get such a bad rap. After the chefs read my post, I'm sure they will fill the airwaves with talk about my Perfect Skinless Boneless Grilled Chicken. If you hear anything, please let me know. Good news like that will really make my day!
Enjoy!
Perfect Skinless Boneless Grilled Chicken
Perfect Skinless Boneless Grilled Chicken. Tenderized in buttermilk then grilled, these chicken breasts are tender, juicy, smoky, full of flavor & perfect.
Total Time
4
hours
10
minutes
Ingredients
*Note: For best results

begin with a clean & oiled grill grate.

---------------------------

4

boneless

skinless chicken breasts

---------------------------

Brine:

2

cups

buttermilk

2

cloves

garlic

peeled & minced

¼

cup

light brown sugar

1

teaspoon

kosher salt

1

teaspoon

ground black pepper

1

teaspoon

ground cumin

1

tablespoon

hot sauce or ½ teaspoon ground red pepper

optional

----------------------------

Olive oil

Salt & pepper
Instructions
Place chicken breasts in a resealable bag and pound until an even ¾" thick.

Place all brine ingredients in a shallow container. Mix well and add chicken breasts. Cover and refrigerate chicken breasts at least 2 hours (flip chicken over once or twice while marinating) 3-4 hours is best. The chicken can marinate overnight, if desired.

Remove chicken from fridge 30 minutes before grilling.

Prepare grill with 2 heat zones – direct (375F-425F) and indirect.

Remove chicken from brine and pat dry with a paper towel.

Drizzle breasts with oil and sprinkle with salt and pepper.

Grease clean grill with canola oil and place breasts over direct heat for 3-5 minutes, flip and grill 3-5 minutes more. Keep lid closed as much as possible. (If chicken is browning too quickly, move to indirect heat to continue cooking.)

Transfer breasts to indirect heat and, if needed, cook 1-2 more minutes on each side.

The cook time will depend on the chicken breasts size. If possible, use an insta-read meat thermometer – the breasts are ready when the thickest part of the meat reaches 155-160F degrees.

Transfer breasts to a plate, cover with foil and allow to rest 5-10 minutes. The breasts will continue cooking after removing from the heat, so be careful to not overcook.

Serve with Simply Sated's Chunky Cherry Tomato Vinaigrette, Mango Salsa, Power Salad or anything else your heart desires.

Enjoy!