I'm so glad when I have a little sniffle. It makes me happy when I suffer with a cold. "Why?" you might ask. I know what the doctor is going to prescribe and Chicken Noodle Soup will be the next dish on the menu.
Chicken Noodle Soup has been touted for years as having medicinal value, especially when fighting common respiratory illnesses. I am a true believer! If you are a naysayer, just read the list of ingredients and you will be sitting beside me at the next "come to Chicken Noodle Soup" meeting.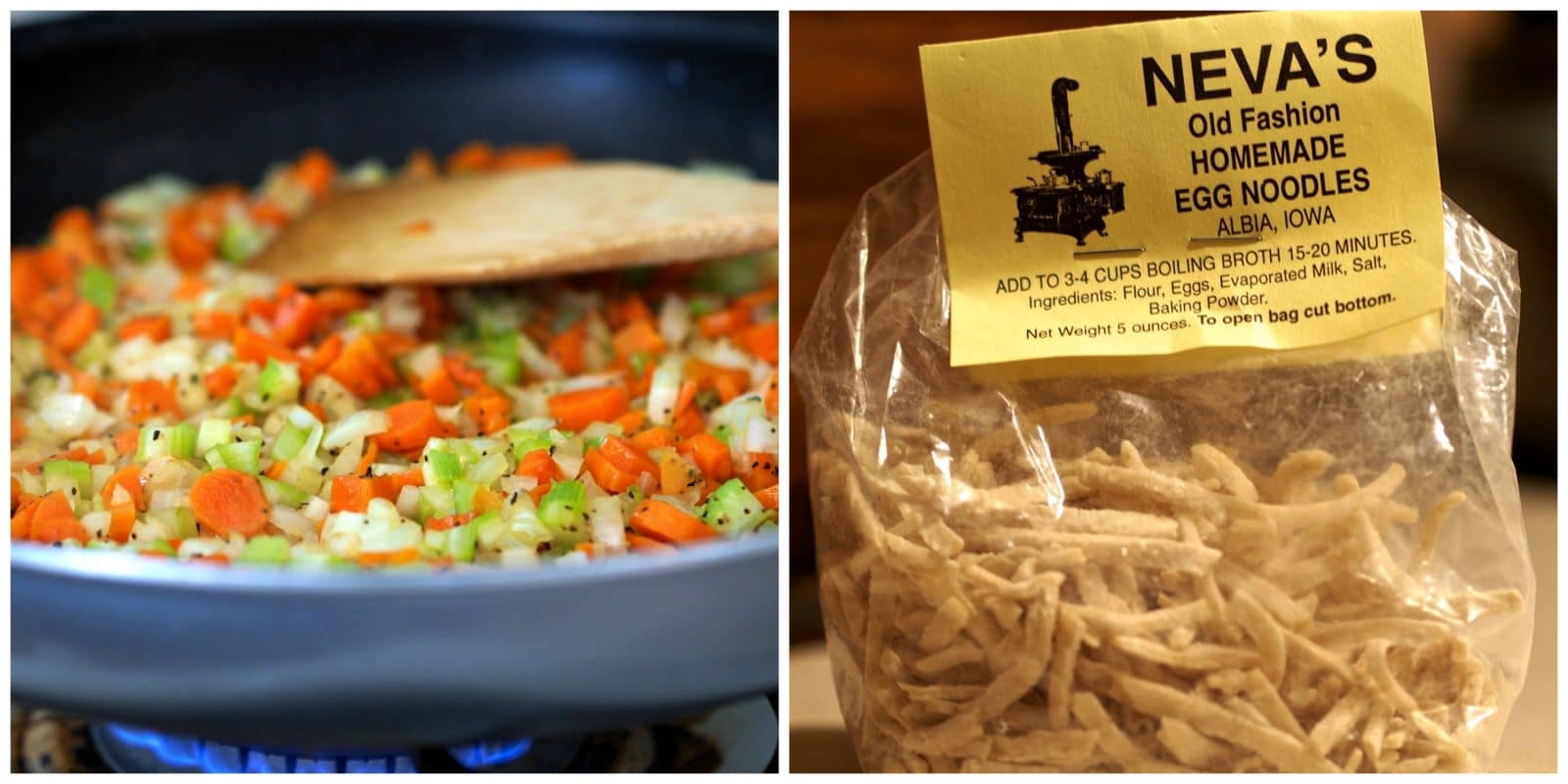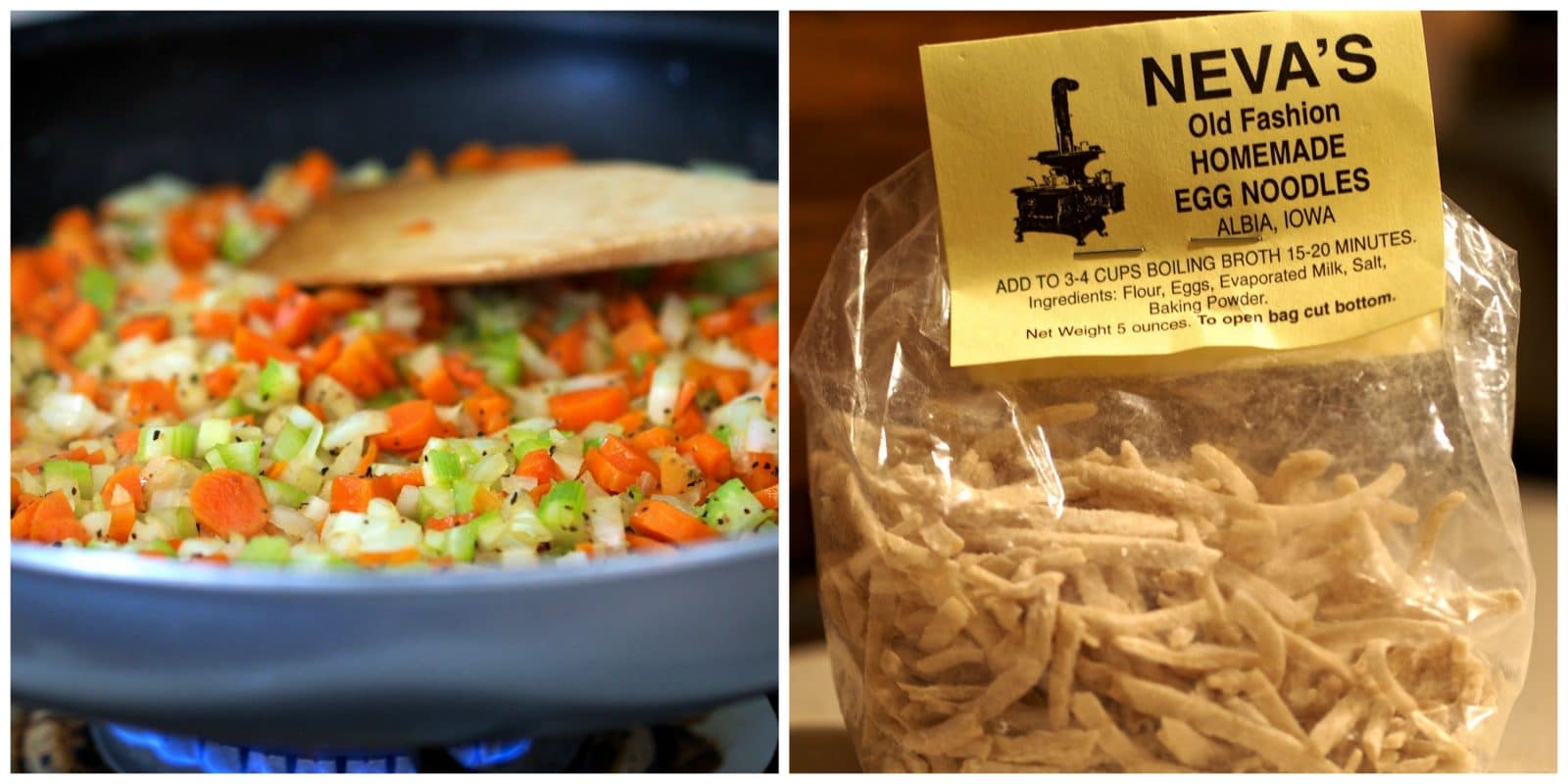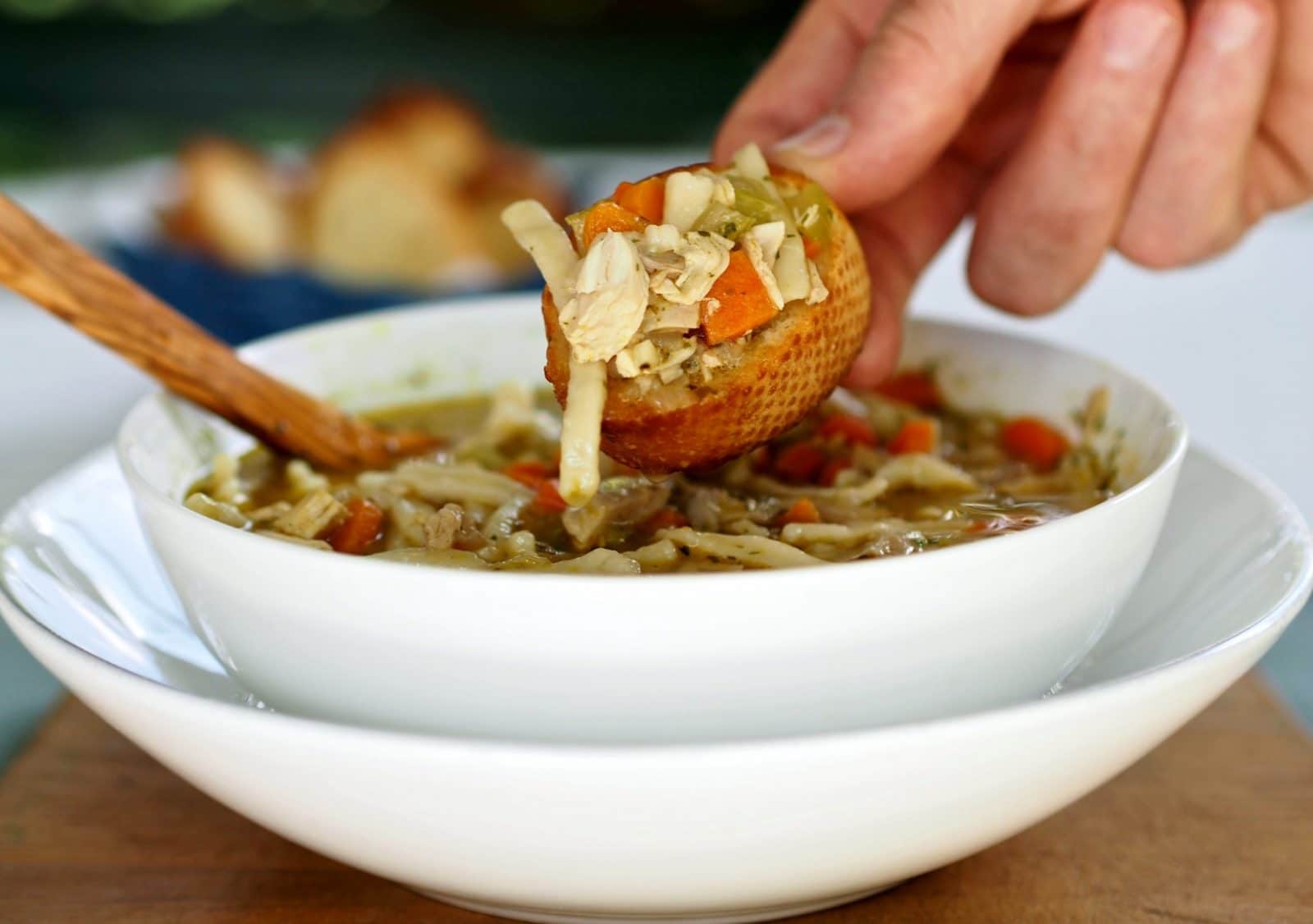 Chicken Noodle Soup is known to cure-what-ails-you, but no "spoonful of sugar" is needed to help this medicine go down. The soup pot simmers with the mingling aromas of "homemade" egg noodles, chicken, parsley, carrots, celery, garlic, bay leaves and thyme to name a few. Then, for even more flavor, a little bit of fun and "why not?" add a robust splash of Dry Sherry as a finishing touch. Is it any wonder Chicken Noodle Soup has magical medicinal powers?
I've visited my doctor six times this month and wonder if she is catching on to my little scheme. If Chicken Noodle Soup is what the doctor orders to cure me, I'll feign a scratchy throat every week of my life.
Enjoy!
To add another fantastic chicken soup recipe to your file, head over to The Cookie Rookie and check out my Creamy Chicken Soup. Many have said it is the best chicken soup they have ever eaten (if I do say so myself). 🙂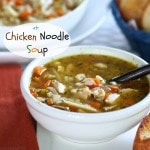 Chicken Noodle Soup
This Chicken Noodle Soup just might cure anything that ails you.
Ingredients
Please Note: If using rotisserie chicken or salted chicken stock

do NOT salt until after the soup cooks for 15 minutes. Taste first - then add salt only if needed.

2

tablespoons

olive oil

2

tablespoons

butter – unsalted

3-4

carrots

approx. 2 cups – peeled & sliced

2

celery stalks

approx. 1 cup – sliced

1

sweet yellow onion – diced

2

cloves

garlic – minced

8

cups

Chicken Broth or Stock – Swanson Unsalted or homemade

1/3

cup

Dry Sherry

1

teaspoon

ground black pepper or to taste

1

teaspoon

dried parsley or 2 tablespoons fresh – chopped

1

teaspoon

Parisien or Bonnes Herbs (a combo of chives

dill, basil, French tarragon, chervil

& white pepper)

3

bay leaves

½

teaspoon

dried thyme or 3 fresh thyme sprigs

1/2

teaspoon

nutmeg

3-4

teaspoons

chicken granules or chicken **Note

if using salted broth, reduce the amount of chicken granules used.

4

cups

diced chicken – rotisserie chicken

cut into bite-size pieces or 2-4 chicken breasts, (cooked & cut into bite-size pieces)

egg noodles - I use Neva's Old Fashion Homemade Egg Noodles

but Reames Egg Noodles (frozen) are also excellent.**
Instructions
Heat oil & butter in a heavy-bottomed soup pot or Dutch oven.

Once the oil/butter is hot, place carrots & celery in the skillet and sauté 3 minutes.

Add the onion and sauté until translucent.

Add garlic and sauté 30 seconds.

Add all other ingredients except the noodles.

Bring to a boil, then turn down the heat and simmer for 30-40 minutes.

**See notes if planning to freeze the soup.

Add the noodles and bring to a boil.

Turn down the heat and simmer for 20-25 minutes.

Remove bay leaves before serving.

Delicious served with crusty bread.

Enjoy!!
Recipe Notes
*If using Homemade Chicken Stock, Cook's Illustrated recipe is excellent.
*If using a cooked whole chicken, Perfect Roast Chicken http://www.simplysated.com/perfect-roast-chicken/.
**Both Neva's & Reames Egg Noodles can be found at Hy-Vee.
***If freezing the soup, make the soup up to the point of adding the noodles. Freeze the soup without noodles added, then when ready to serve, add the noodles and simmer until noodles are cooked. This keeps the noodles from turning mushy.