Oh no! Not Chicken Pot Pie!!! As I begin this post, my mind is ferreting through every food memory I have trying to remember one positive thing about the chicken pot pies of my youth. Try as I might, all that comes to mind are the 25 cent, gelatinous, pea-encumbered and cardboard-encrusted pies from any freezer section of any grocery store.
NEVER, after announcing we would have chicken pot pie for supper, did my mom EVER hear these words from my lips, "Yay!! I've been craving chicken pot pie all day!"  In all honesty, I can't repeat the words that were mumbled under my breath after hearing that supper death-sentence.
For those who have the same memories I'm here to realign those thoughts and catapult Chicken Pot Pie back into the center of the Comfort Food Universe where it belongs.
Chicken Pot Pie should be the epitome of comfort food and this recipe places it there. It is layered with tons of flavor and warmth and has everything terrific chicken pot pie should have including a splash of white wine.
One of my all-time favorite recipes is my Creamy Chicken Soup. I love that soup and knew, with just a few adjustments, it would make a fantastic filling for chicken pot pie.
Man alive, was I correct! This is the best Chicken Pot Pie I have ever tasted (if I ever-so-humbly say so myself).
So, if your thoughts about chicken pot pie are less than favorable, please give this recipe a chance.  I'm sure you will be glad you did.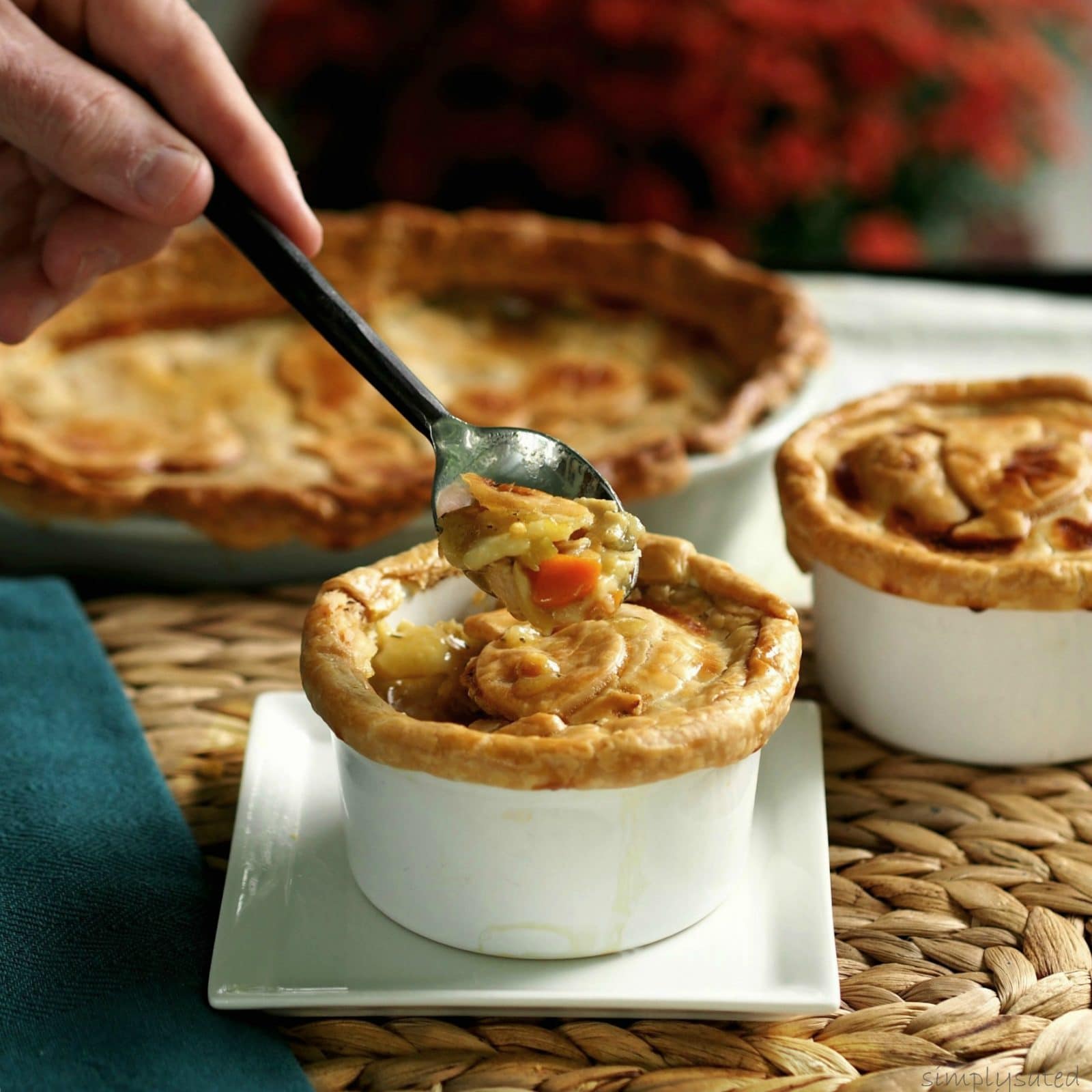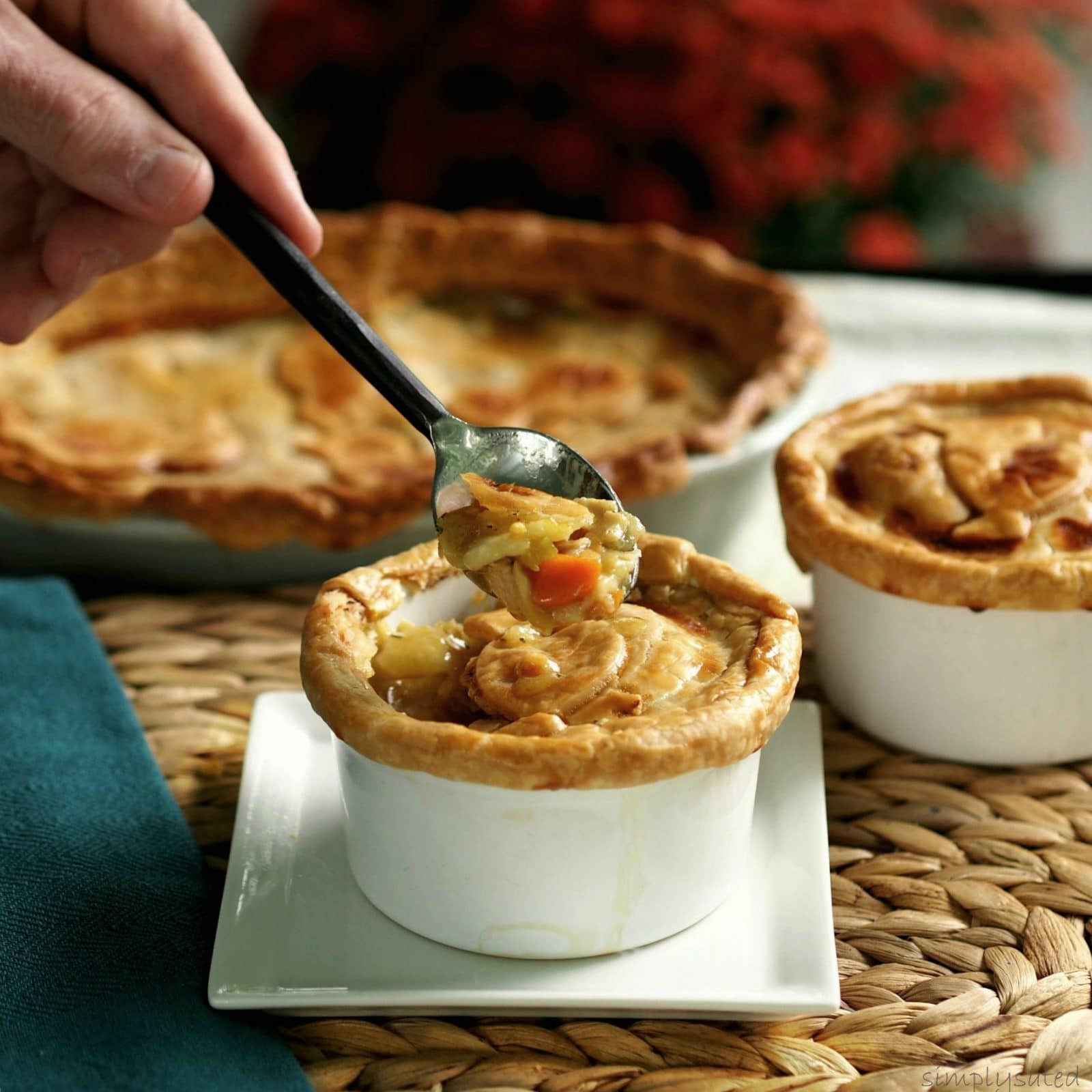 There is one thing extra I ask you to do.   Be sure to double the recipe; I guarantee there will be many requests for seconds.
Enjoy!!

Chicken Pot Pie
This Chicken Pot PIe is everything Chicken Pot Pie should be. Be sure to make extra - everyone will coming back for more.
Ingredients
For the crust:

1

package prepared pie crust – Pillsbury or Trader Joe's work well

1

egg

1

tablespoon

water

-------------------------------------

For the chicken mixture:

2

tablespoons

butter - unsalted

2

tablespoons

olive oil

3

stalks carrots

peeled and diced

2

stalks celery

diced

1

sweet yellow onion

peeled & diced

2

cloves

garlic

peeled & minced

3

cups

chicken – diced or shredded

rotisserie chicken works great

¼

cup

flour

3

cups

chicken stock - low salt or unsalted

2-4

tablespoons

white wine

¼

cup

heavy cream

half 'n half can be used

Salt – be sure to add the chicken stock first and then add salt to taste

1

t

fresh cracked pepper

1

T

dried parsley or 2 T fresh parsley

2

bay leaves – removed after simmering in the chicken sauce

1

t

Herbs de Provence

½

teaspoon

sweet basil

¼

teaspoon

dried thyme – if using fresh thyme

use 1 tablespoon.

¼

teaspoon

Turmeric powder

optional

2

cloves

garlic – minced or 1 teaspoon of prepared chopped garlic in a jar
Instructions
Preheat oven to 375F

Let pie crust warm 15-20 minutes at room temperature before using.

Spray casserole dish or individual ramekins with cooking spray

-------------------------------------

Preheat oven to 375F.

Dice all vegetables and set aside.

In a large skillet or Dutch oven, heat the oil and butter over med-high heat, but do not burn.

Add the diced carrots and cook for 4 minutes. Stir every minute.

Add diced celery and cook another 3 minutes – stir often.

Add diced onion and minced garlic. Stir frequently and cook another 2-4 minutes.

Add diced or shredded chicken.

Sprinkle the chicken and vegetables with flour – mix well and cook approximately 1 minute.

Add the chicken stock and let it cook a few minutes to thicken.

Once the mixture thickens a little, add all herbs and seasonings.

Add the cream and wine and stir well.

Bring the mixture just to a boil, the turn the heat to simmer and let the mixture thicken 4-6 minutes - it should be similar to a thick soup.

Take the chicken mixture off the heat and remove the bay leaves.

Pour the mixture into the prepared dishes.

Unroll the piecrust, cut out the desired size (just larger than the prepared dishes) and place the crust over the chicken mixture. The crust should be slightly larger than the dishes, so press the excess dough onto the outside edges of each pie.

Use a sharp knife to cut steam vents into the top of the dough. 3-4 vents are enough.

If desired, use cookie cutters to cut shapes into excess dough for decoration.

Whisk together the egg and water. This is an egg wash to brush over the entire crust and to use to attach any piecrust decorations onto the pie.

Place the pies on a rimmed baking or cookie sheet to catch any spills.

Bake the pies at 375F for 30-45 minutes depending on the size of the pie. The pies are done when the crust is golden brown and some of the juices bubble up through the vents and onto the crust.

*If the crust is taking too long to brown, place the pies under the broiler for just a few minutes. Watch VERY CLOSELY to avoid burning the pies.

**If the crust is browning too quickly, place a sheet of aluminum foil loosely over the pies, but do NOT tighten the foil over the pies.

Let the pies rest 8-10 minutes before serving.

Enjoy!

------------------------------------

If freezing for later enjoyment:

Prepare as directed except for the following changes.

Use disposable aluminum pans and generously spray the pans with cooking spray.

Let the chicken mixture cool before attaching the crusts.

Place crusts over the cooled chicken mixture, but do not brush with the egg-wash.

Remember to slit vents into the crusts before covering with plastic wrap.

Once the pies are assembled, wrap each with 2 layers of plastic wrap and 1 layer of aluminum foil. If the pies fit, place them in Ziploc Freezer Bags for added protection.

The pies can be frozen for up to 3 months.

------------------

When ready to serve:

Preheat the oven to 375F.

Unwrap the frozen pies and place on rimmed baking sheets.

Brush with an egg-wash.

Loosely cover with aluminum foil and bake for 30 minutes.

Remove the aluminum foil and bake until the crusts are a deep golden brown, approximately another 30-40 minutes.

Once completely cooked, let the pies rest 8-10 minutes before serving.