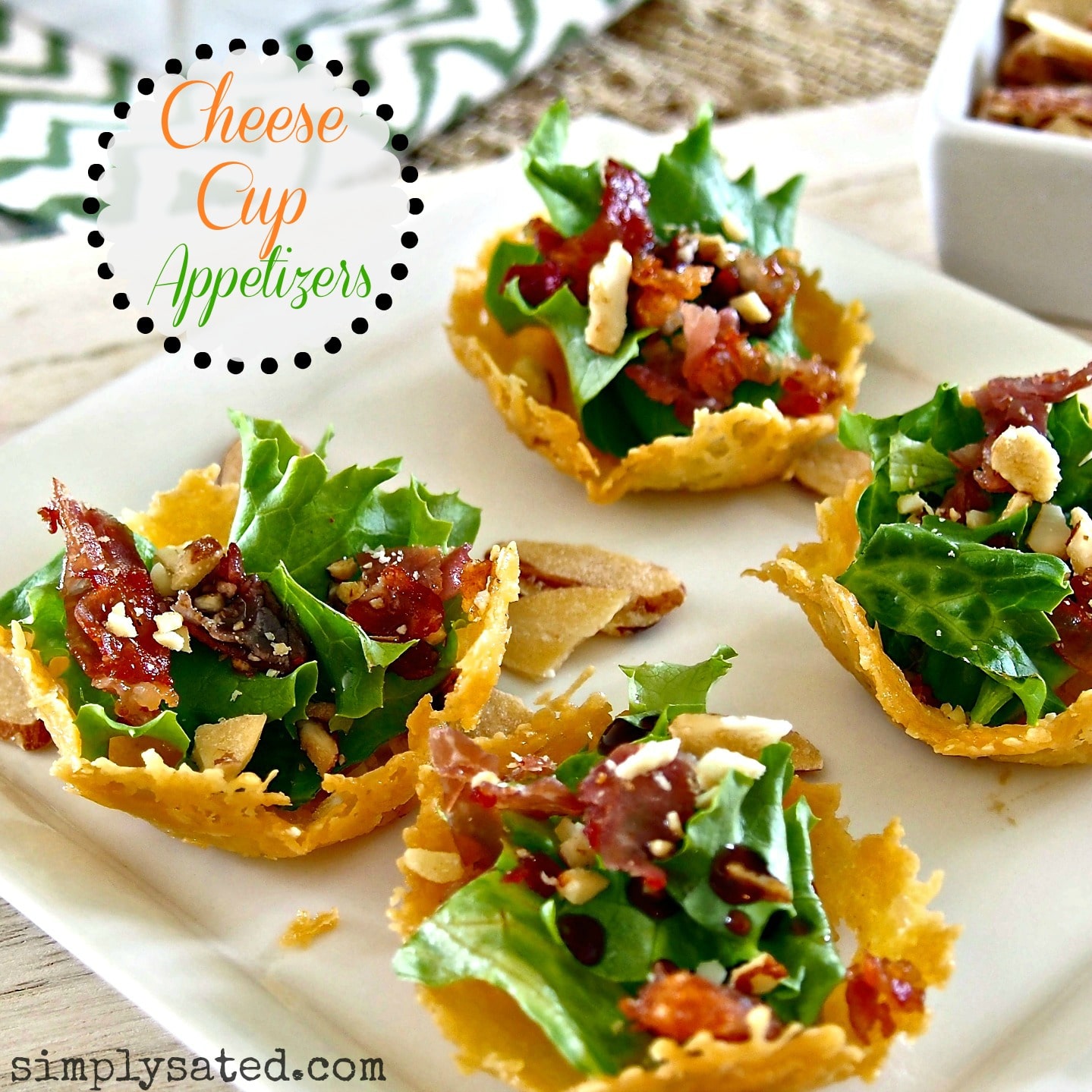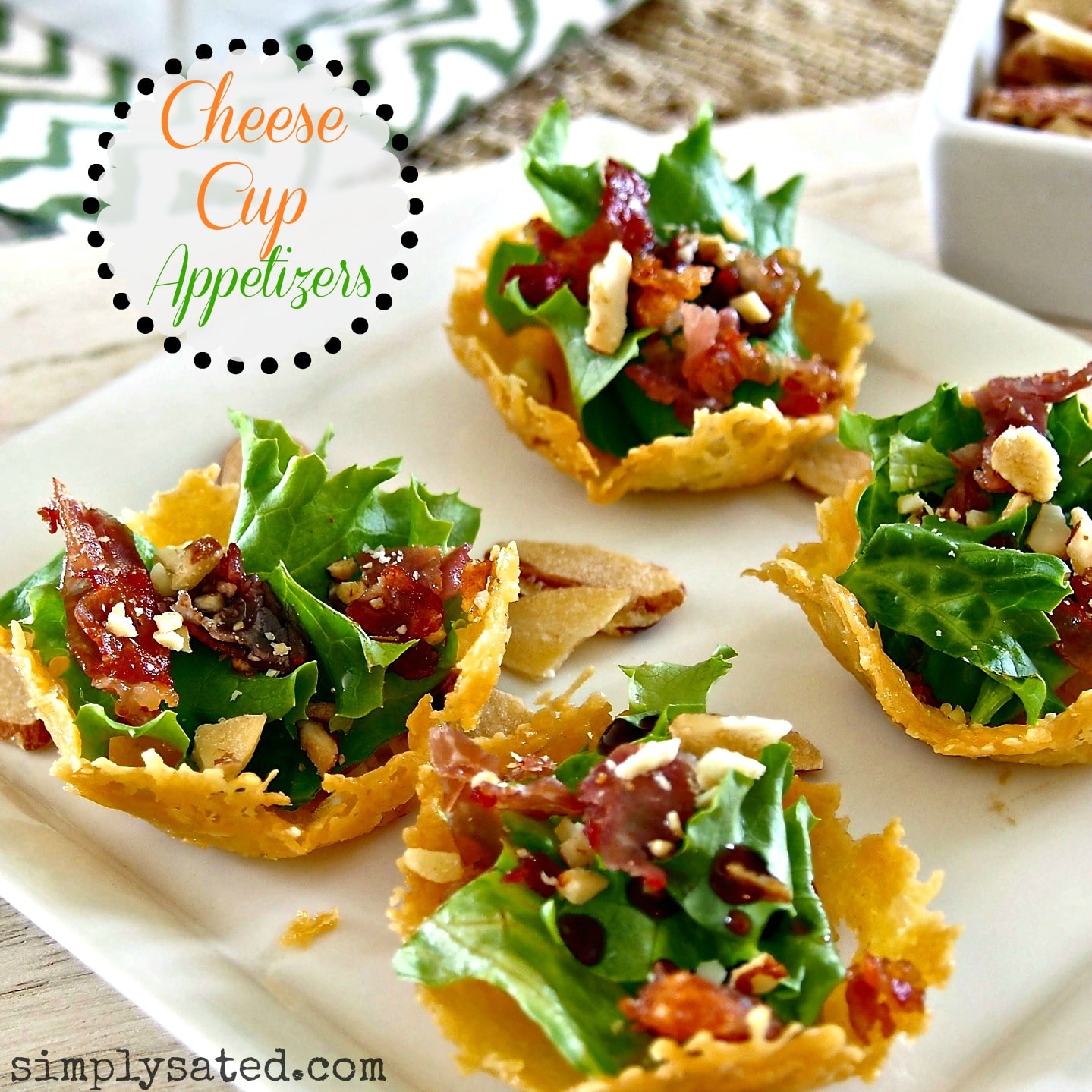 Cheese Cup Appetizers, yes!  Please give me one moment. All righty – I'm good now. I had to take a break to stare at these little beauties. 
My hair stylist, Kathy, came across a magazine she thought I would love and my, oh my, she was correct. Entertain Decorate Celebrate was chock full of beautiful and delicious looking recipes. As I sat with my head stuffed in the convection oven (i.e. hair dryer), I studied each recipe and this one caught my eye. It looked delicious, fun and not too difficult; the trifecta for a perfect recipe. I couldn't wait to get home to make it.
Here, in pictures, are the tricky parts of the process:
Place one-tablespoon mounds of finely grated cheese on a parchment covered pan.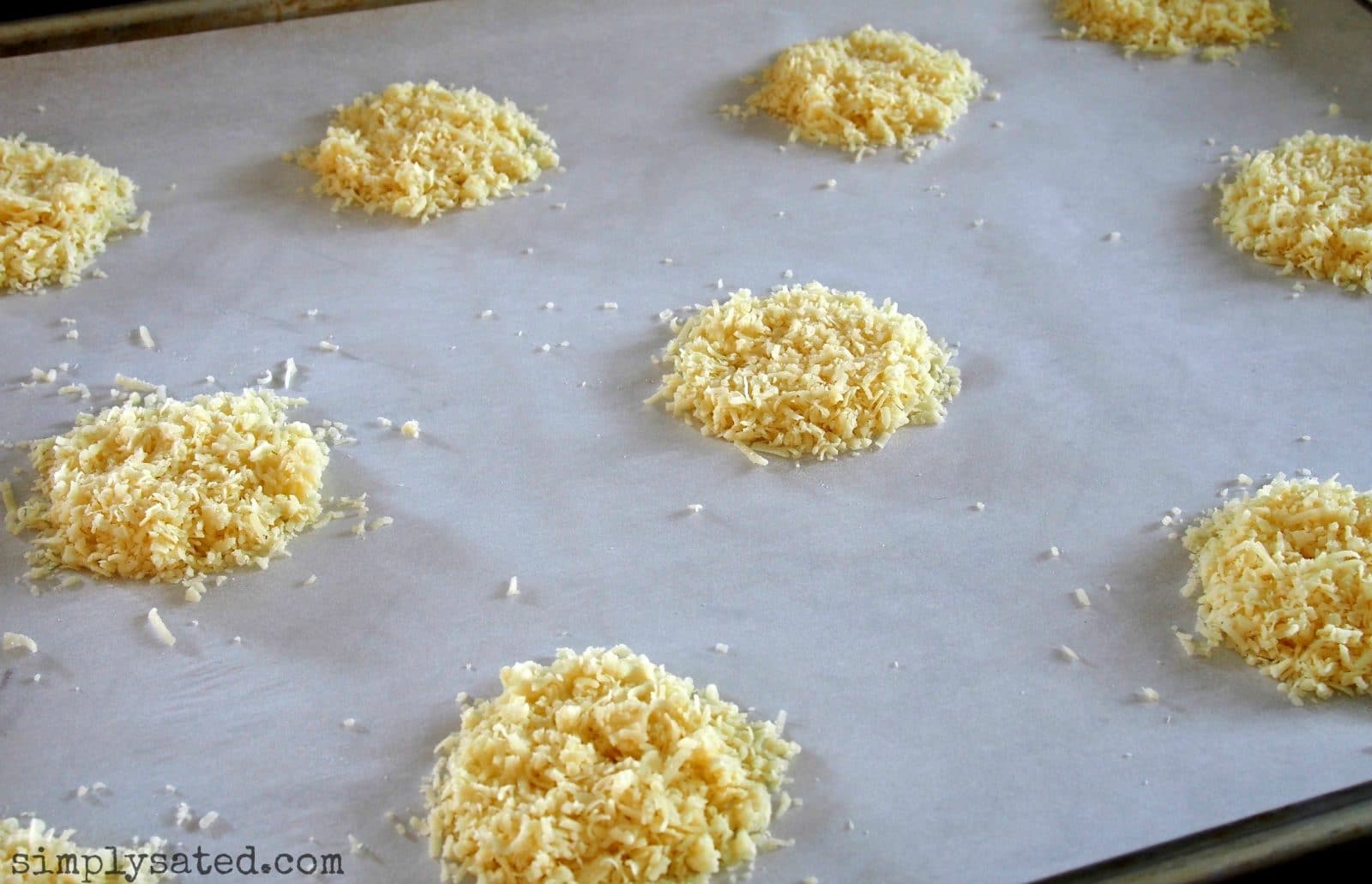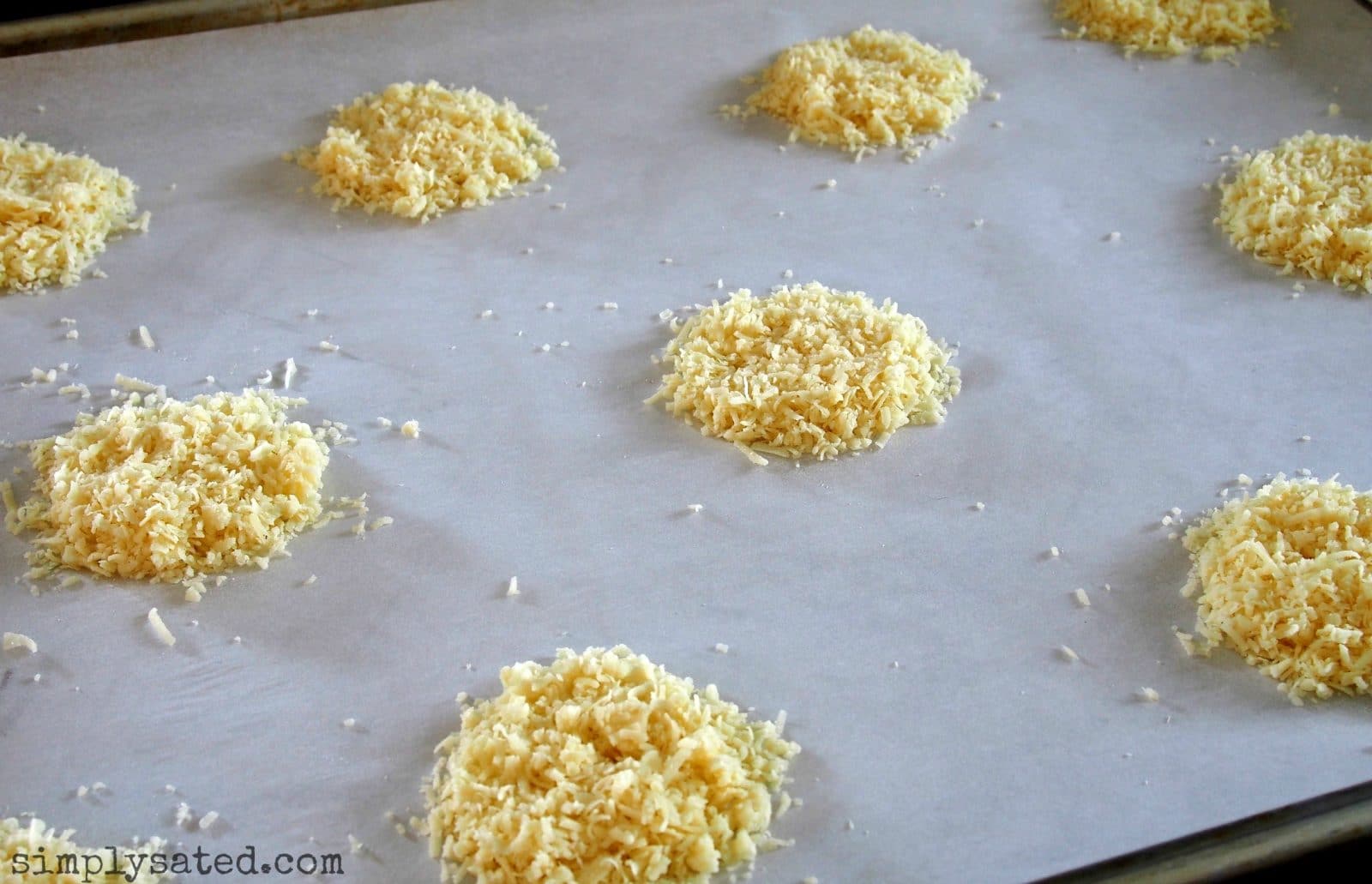 Bake the cheese patties flat, then one minute after taking the cheese circles out of the oven, gently pry them off the baking sheet and place them on an upside down mini-muffin pan to set.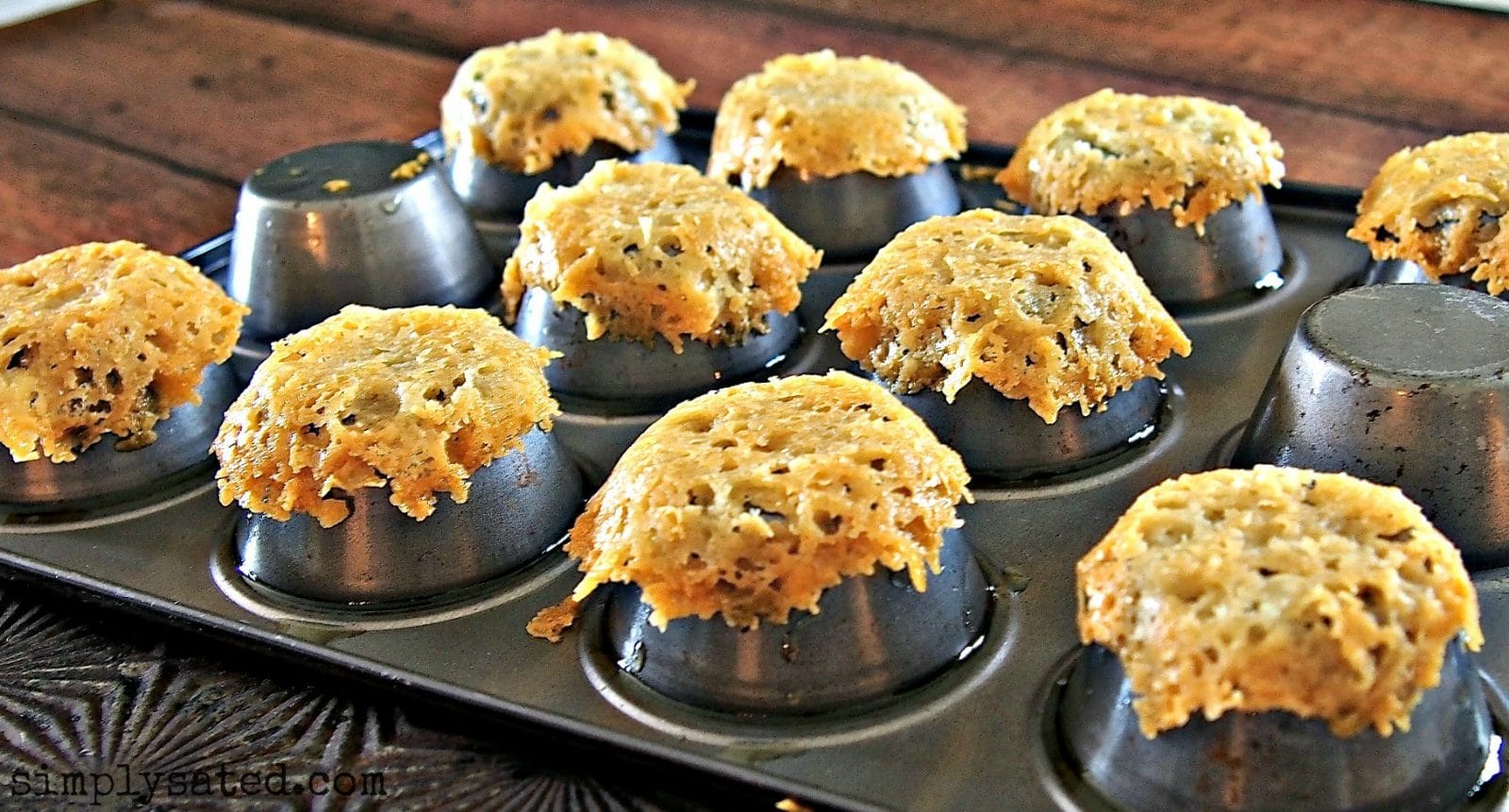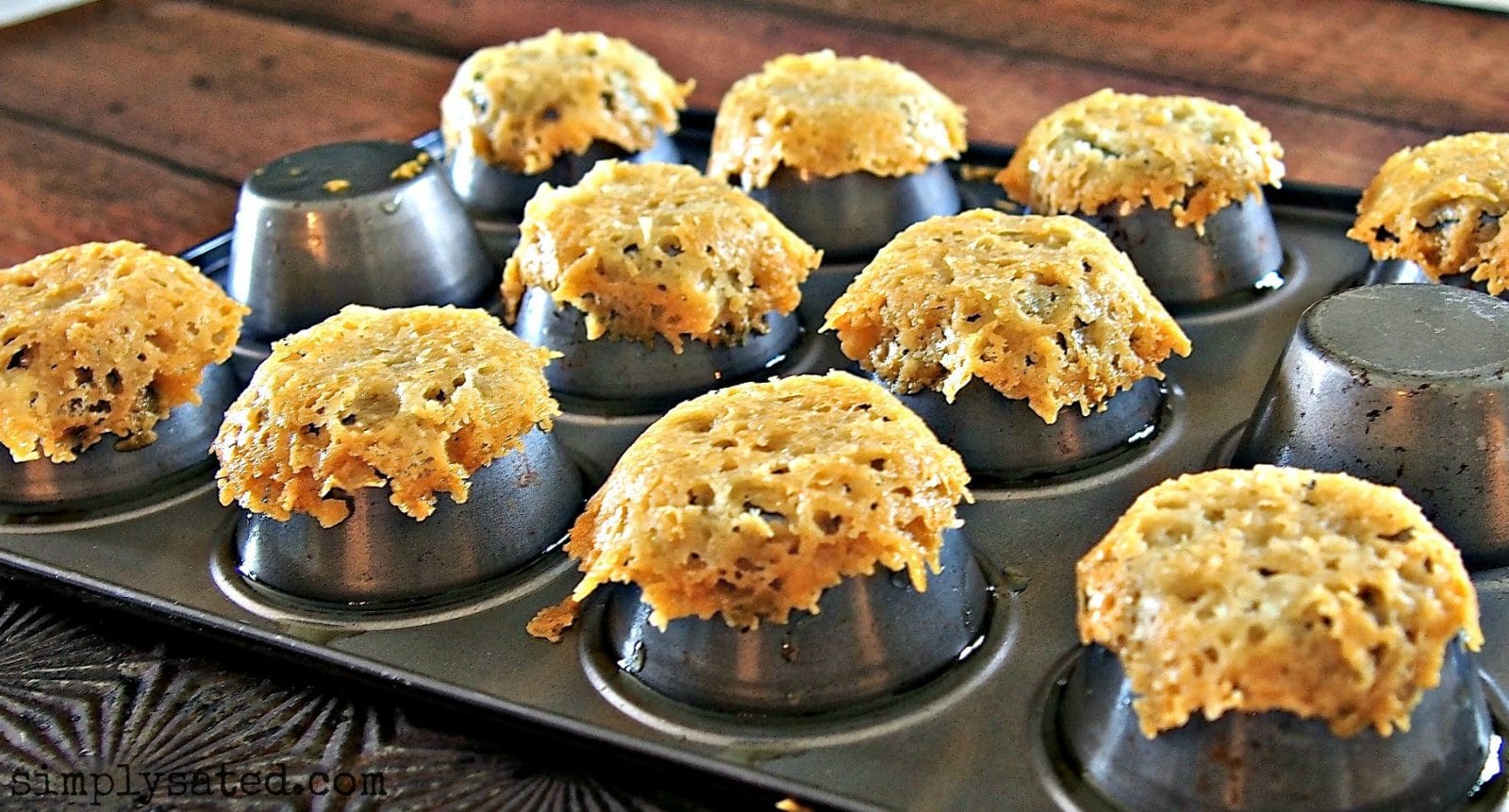 The cheese cups will be set once they completely cool.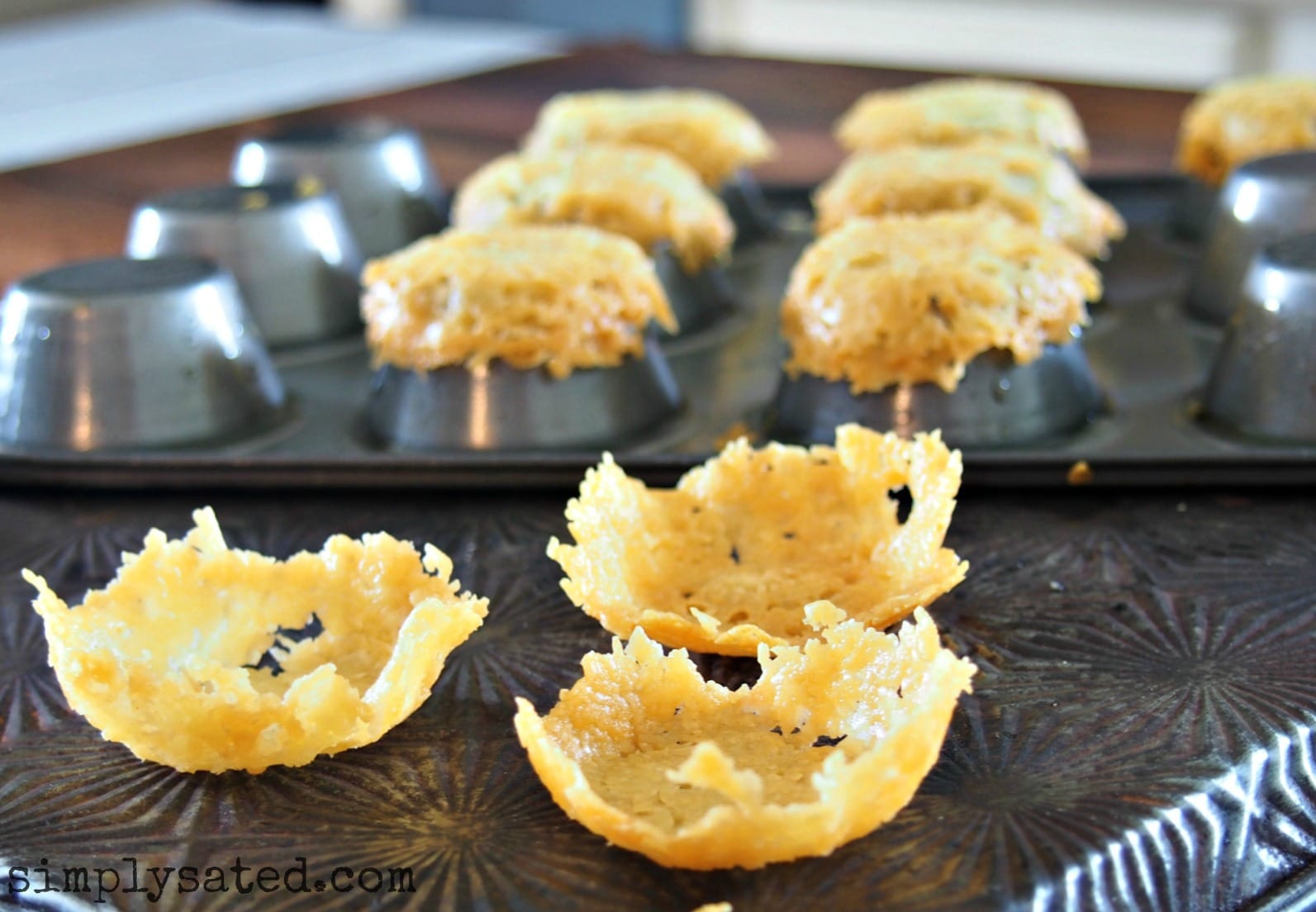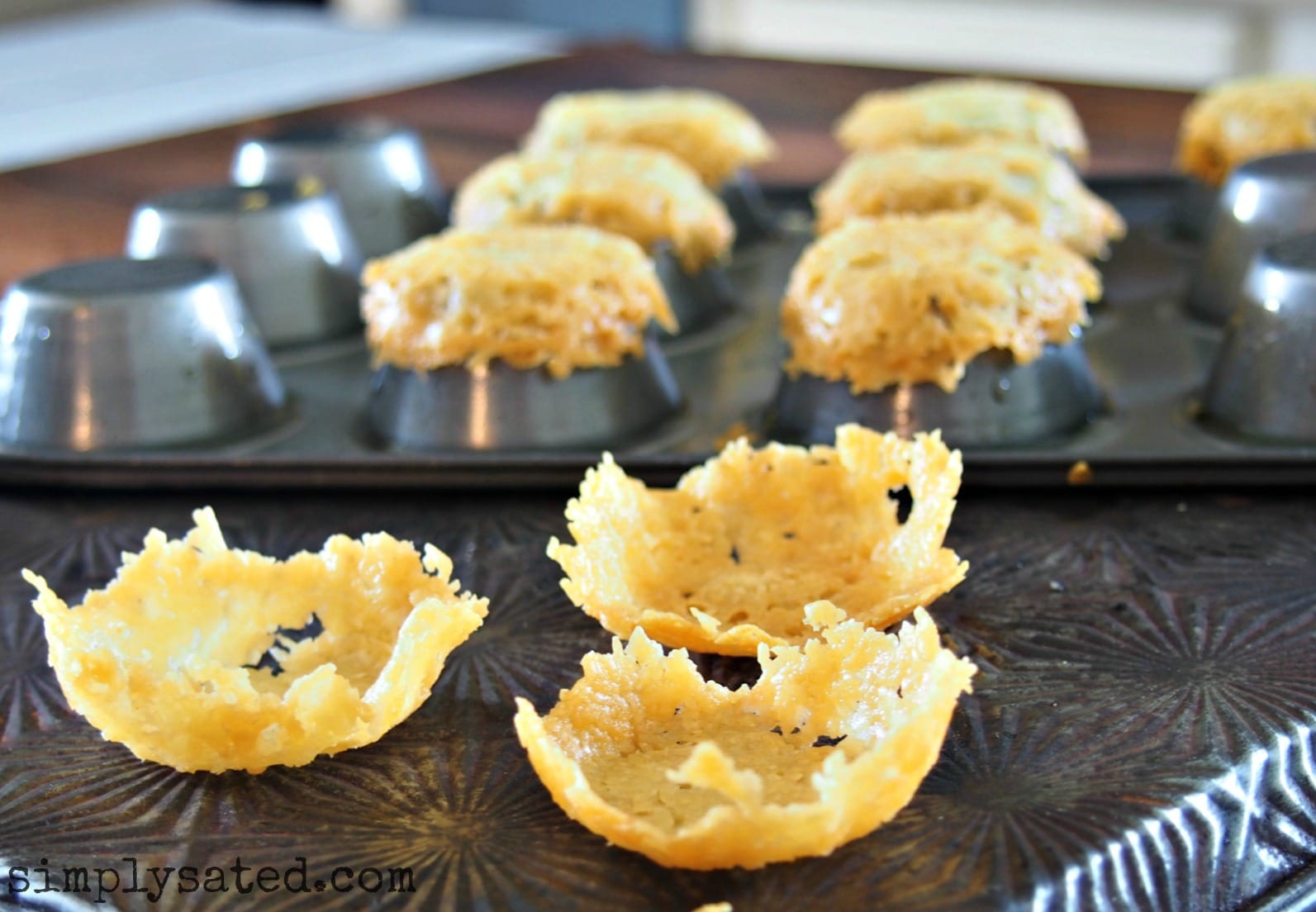 Once the cups are made, the fun continues. Let your imagination run wild and fill them anyway you wish. The possibilities are endless.
Here is my first try. I was thrilled they turned out just right.  They look so appetizing (thus the name Cheese Cup Appetizers). These are just as beautiful as they are delicious. My taste buds are going crazy, and I cannot wait for the next course in this meal.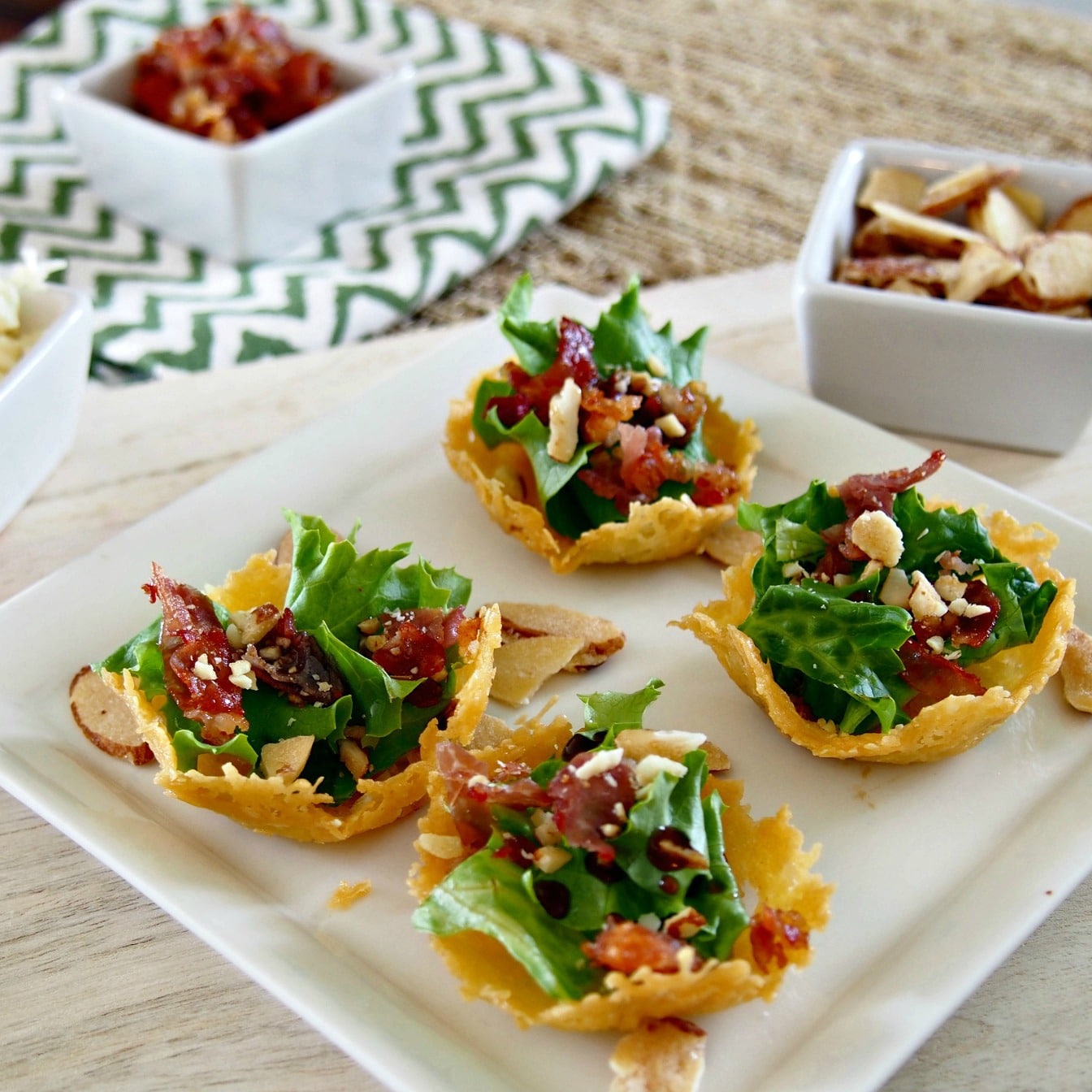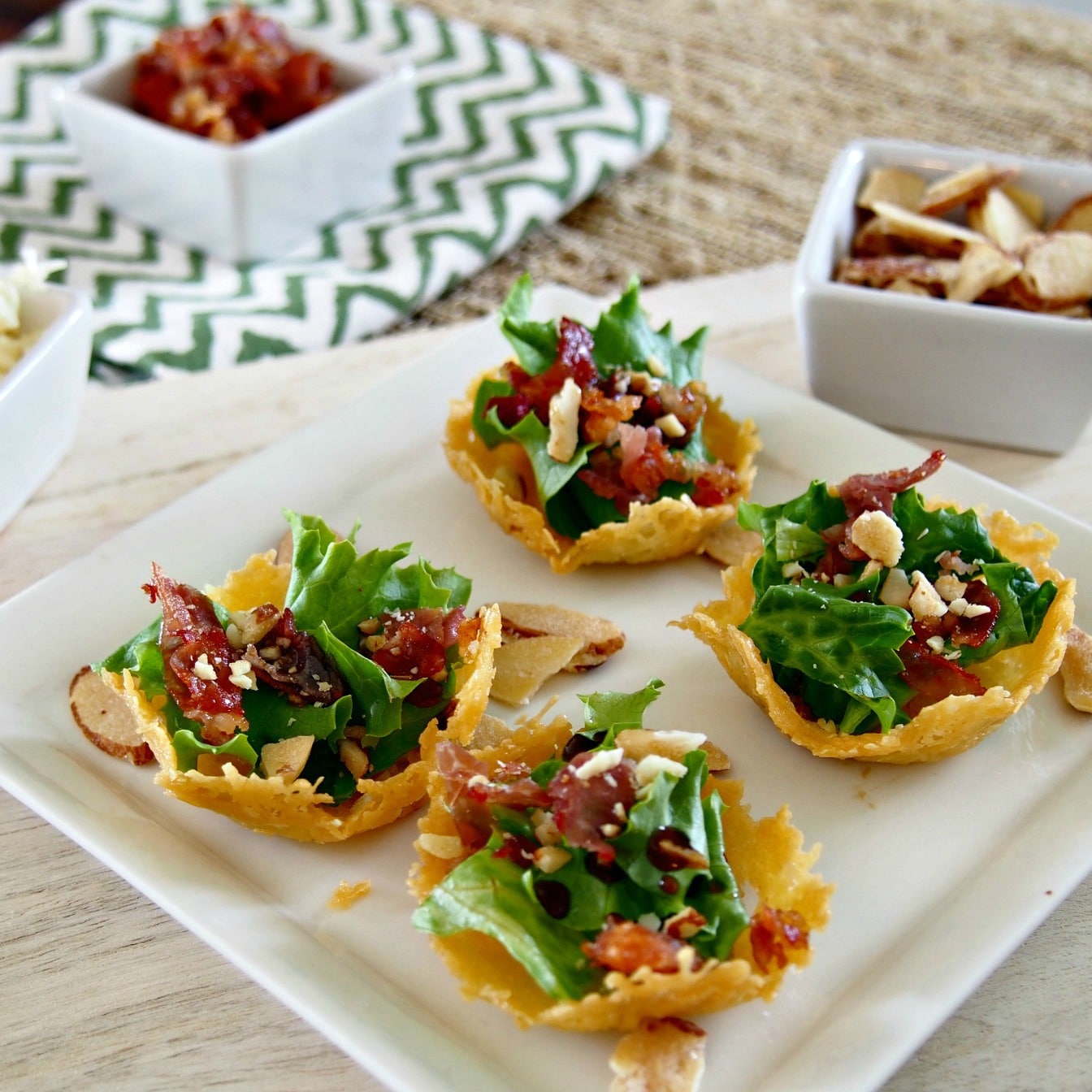 Enjoy!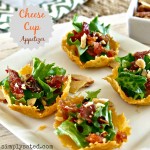 Cheese Cup Appetizers
Beautiful and delicious Cheese Cup Appetizer. Fill with your favorite ingredients for family and friends. Adapted from http://www.celebratemag.com/bacon-arugula-salad-cheddar-cups/
Ingredients
12

tablespoons

finely grated sharp cheddar or Gruyere cheese

½

teaspoon

flour

2

cups

lightly packed loose-leaf lettuce – torn into bite-sized pieces

2-3

strips prosciutto – cooked and crumbled

¼

cup

roasted toffee sliced almonds

¼

cup

balsamic vinaigrette or salad dressing

salt & pepper to taste
Instructions
Preheat oven to 350 degrees.

Cover a baking sheet with parchment paper.

Combine the grated cheese and flour in a medium bowl and mix well.

For each cheese cup, spoon 1 tablespoon of the cheese mixture onto the prepared baking sheet. Each cheese cup should be a 2-inch circle and placed 2 inches apart from the next circle.

Bake for 5-7 minutes. The cheese circles should be lightly browned around the edges, but not set.

Remove from the oven and let set 1 minute. The cheese circles should be pliable and easily removable with a metal spatula.

Place the cheese rounds on an upside down mini muffin cup pan. Press down gently to form the shape of a cup. Leave alone until completely firm and cooled then carefully remove from the muffin pan.

Place 1-2 pieces of lettuce in each cup.

Top the lettuce in each cup with prosciutto, almonds, salt & pepper.

When ready to serve, sprinkle balsamic dressing or vinaigrette over the cheese filled cups then serve immediately.

Enjoy!
Recipe Notes
If the cheese circles set too quickly and are difficult to remove from the baking sheet, place the baking sheet back in the oven for a few seconds until the circles soften a little, then try again.
Cheese cups can be made 3-4 hours ahead and stored on parchment paper - uncovered. They should NOT be made the day before since they will get a little soggy.
These might not work well if made in humid conditions.
Add the dressing (vinaigrette or balsamic) right before serving – you sure don't want to ruin these gorgeous appetizers by making them soggy.