Rum-Glazed Soft Gingerbread Cookies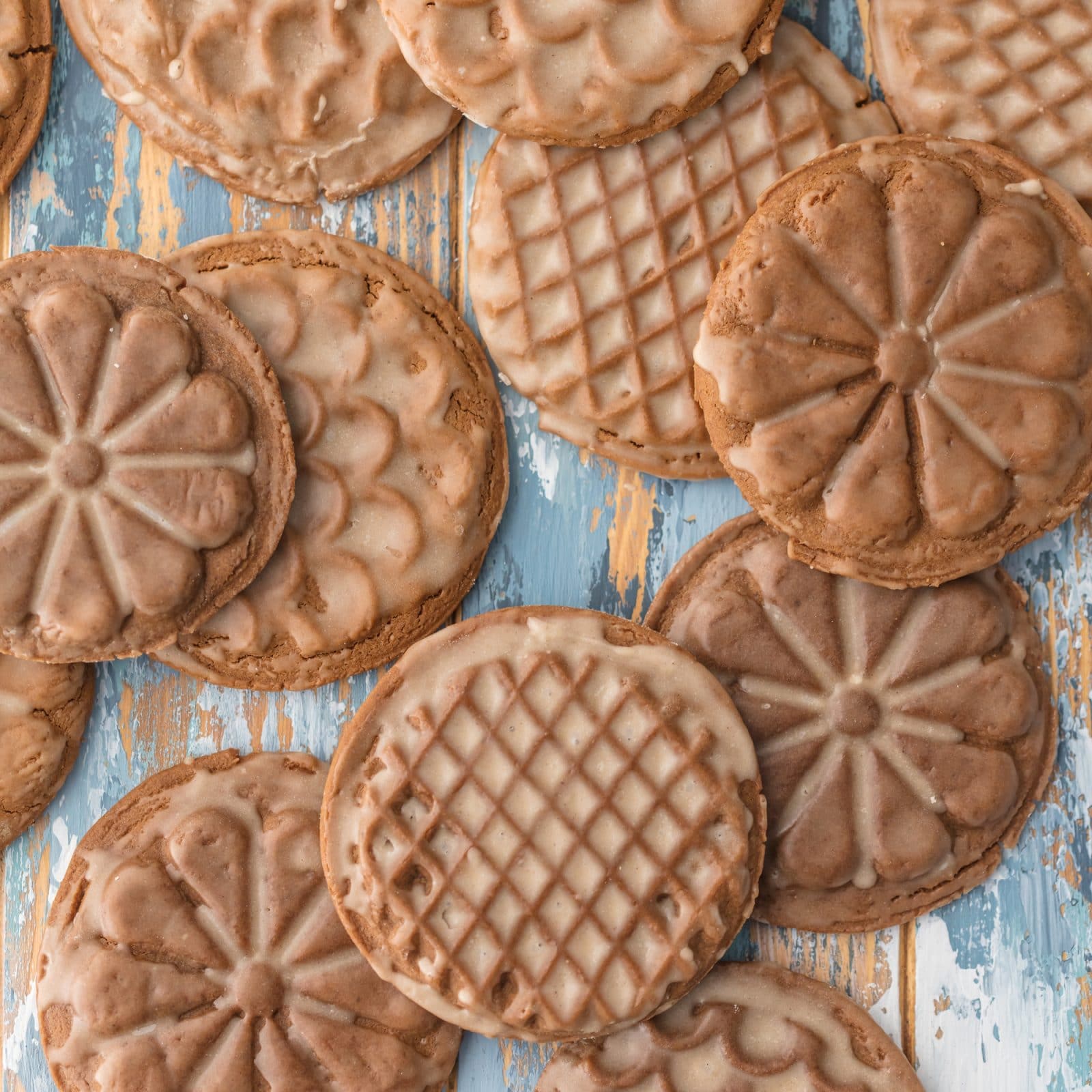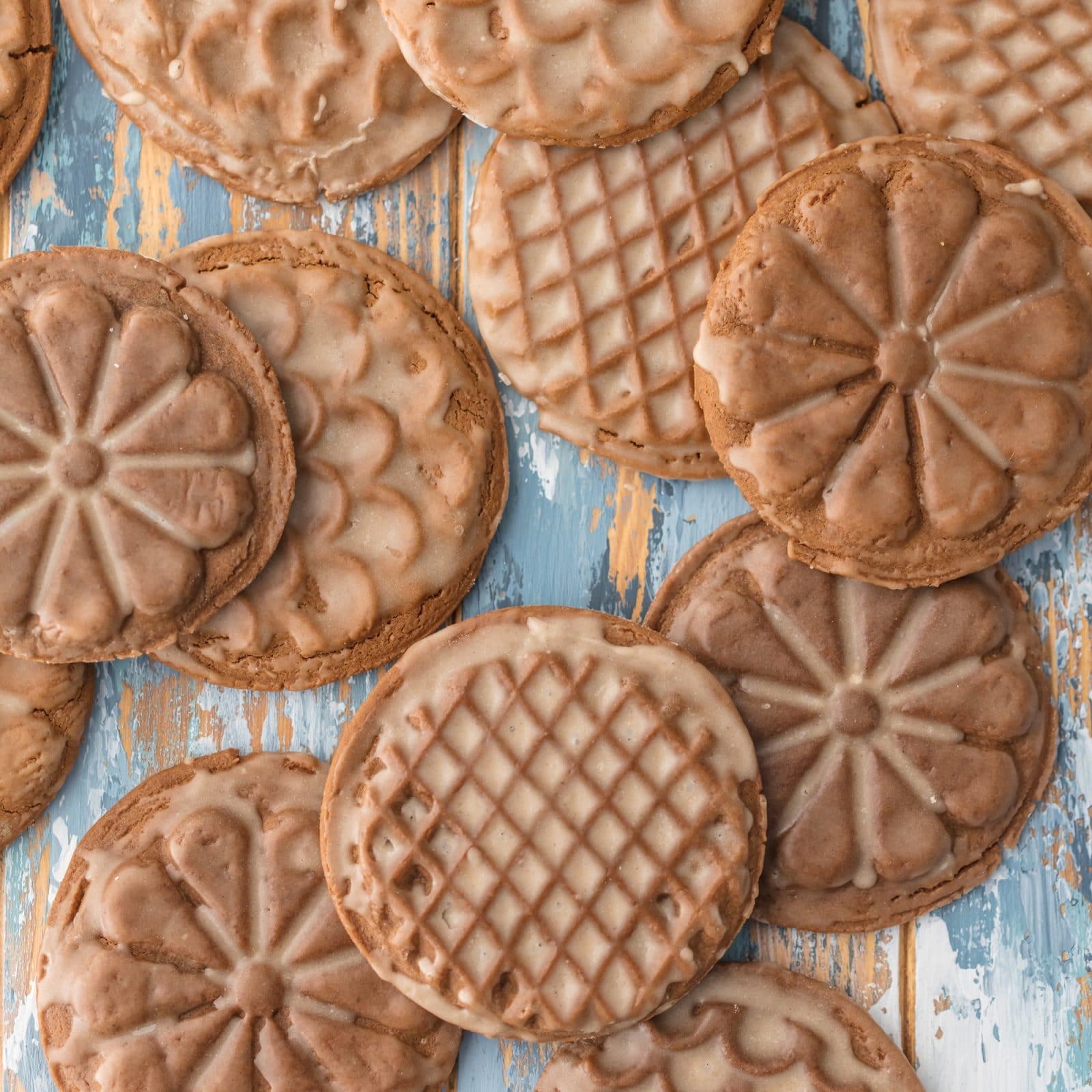 I have found a new true love. You probably think I'm exaggerating my feelings about Rum-Glazed Soft Gingerbread Cookies, but I assure you, I am not! What I feel is love, true love, or maybe I should say it how I always hear those words, wuv, twoo wuv?
Let me explain my gibbering digression. Anytime I hear or think about the words true love, I am reminded of a scene from one of my favorite movies – the marriage scene in Princess Bride.
Watch a video clip of Chris Cox, playing the Impressive Clergyman, in Princess Bride HERE.
This is the translation:
"Mawwiage. Mawwiage is what bwings us togethew today.
Mawwiage, that bwessed awwangement, that dweam with a dweam.
And wuv, twoo wuv, wiww fowwow you fowevah…
So, tweasuwe youw wuv.
…Have you the wing?"
Now I'm sure you understand why the words "true love" always remind me of that scene, and why speaking of true love brings me back to Rum-Glazed Soft Gingerbread Cookies. Are you still with me?
I found the recipe for Rum-Glazed Soft Gingerbread Cookies in the sensational, dessert cookbook, SWEET by Yotam Ottolenghi and Helen Goh. The cookies are called tiles in the cookbook, and I understand why. They look just like antique tiles.
The second I saw the photo of them I was hooked and decided to make the cookies right then. I had all the ingredients, but then I realized I didn't own any cookie stamps. I did own a round cookie cutter that is needed to use along with the stamps (see the recipe), but if a round cookie cutter is needed, HERE is the exact set I own. Of course I could make the cookies with regular cookie cutters and without stamping them, but they wouldn't look so amazing. Thank goodness for online shopping. I found these cookie stamps, by Nordic-Ware on Amazon – just what the cookie doc ordered. Now I just had to wait a couple of days to test the recipe.
Surprisingly, my stamps arrived the next day and I got busy. I cranked up my favorite Nat King Cole Christmas record (plugged in Pandora), built a blazing fire (flipped the switch on my gas fireplace) and trimmed the tree (plugged in the lights). I was ready.
The dough came together quickly and soon, after letting it cool in the fridge an hour, my lovely cookies were in the oven. While scents of molasses, ginger and cinnamon filled my home, I hoped these cookies would be fantastic.
I wasn't disappointed.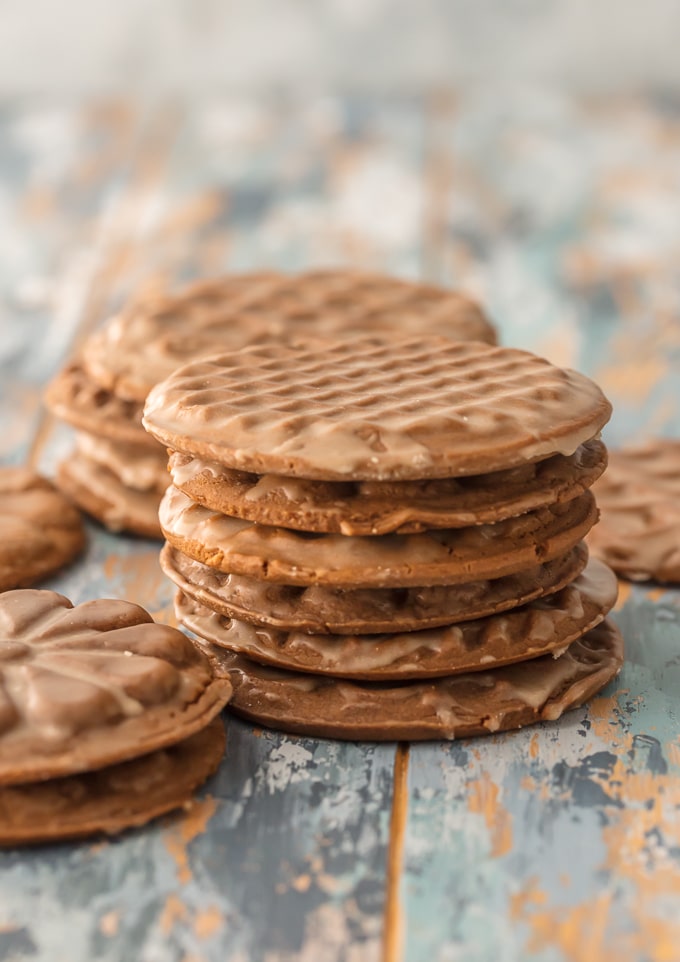 Rum-Glazed Soft Gingerbread Cookies are as impressive in taste as they are in beauty. They are firm, yet soft, and the texture was still perfect after five days. They are full of spicy warmth, and the glaze is ideal with just a hint of rum flavor (Of course, rum can be substituted for lemon or vanilla).
I love these cookies so much I decided to write a thank you note to the authors of the recipe. I asked the Impressive Clergyman from Princess Bride to read it aloud.
"Wuv, twoo wuv! I wuv you Ottowenghi and Goh for witing SWEET, one of the aww-time best dessewt cookbooks on the pwanet. I wuv you, awso, for shaawing the wecipe fow the gweatest and most beautiful, soft gingewbwead cookie – evew!! Wum-Gwazed Soft Gingewbwead Cookies awe my newest twooest wuv. Sincewewy, Susie Gall"
Please take time to check out some of my favorite Ottolenghi recipes on Simply Sated:
Roast Chicken with Saffron, Hazelnuts & Honey
Sweet Potato & Honey Goat Cheese Pizza
HERE is my favorite & amazing Butter/Shortbread Cookie for cut-out cookies
Becky Hardin, aka: The Cookie Rookie, aka: my daughter…I wuv her and wuv her photos of these gorgeous cookies!! Please check out these delicious cookies on her blog:
Chocolate Gooey Butter Cake Cookies
Nutella-Stuffed Snowball Cookies
Rum-Glazed Soft Gingerbread Cookies
This is an amazing soft gingerbread cookie. It has perfect texture and is filled with the warm flavors of molasses, ginger, cinnamon, cloves and black pepper. The rum glaze is a perfect finishing touch. This cookie was shared in the cookbook Sweet by Ottolenghi & Goh. They discovered the recipe in Tartine by Prueitt & Robertson, so I'm unsure to whom I should give credit. With that said, please, please check out both cookbooks - the word amazing doesn't begin to give enough credit. The only thing I changed about Ottolenghi & Goh's Soft Gingerbread Tiles is the addition of coarse sea salt. I find a tiny crunch of salt simply irresistible.
Ingredients
6

tablespoons

85g unsalted butter, room temperature

1/3

cup

+ 2 tablespoons

90g, packed dark brown sugar

¼

cup

100 g blackstrap or unsulphured regular molasses

1

large egg yolk

1 ¾

cup

+ 2 tablespoons

235g all-purpose flour, plus extra for pressing

1

tablespoon

Dutch-processed cocoa powder

½

teaspoon

baking soda

1

teaspoon

ground ginger

½

teaspoon

ground cinnamon

1/8

teaspoon

ground cloves

¼

teaspoon

freshly ground black pepper

1/8

teaspoon

table salt

1/8

teaspoon

coarse sea salt

For the Rum Butter Glaze:

2/3

cup

80 g confectioners' sugar

1/8

teaspoon

ground cinnamon

1

tablespoon

15 g unsalted butter, melted

1

tablespoon

dark rum or lemon juice

1

teaspoon

warm water
Instructions
In the bowl of an electric stand mixer; mix butter, sugar and molasses on MED speed until smooth, about 2 minutes.

Add the egg yolk and beat until fully incorporated.

Over a large mixing bowl, shake the flour, cocoa powder, baking soda, ginger, cinnamon, cloves, pepper and table salt through a large mesh sieve. Add the coarse salt directly into the flour mixture.

Add the flour mixture to the butter mixture. Beat on LOW just until the flour is fully incorporated.

Place the dough on a lightly floured work surface and gently knead. On a sheet of parchment paper, roll the dough to ¼" thickness. Transfer the dough, with the parchment, to a cookie sheet and chill the dough at least 30 minutes.

Preheat oven to 375°F and line two baking sheets with parchment paper.

Remove dough from the fridge.

To stamp the cookies: If using a cookie stamp without enclosed edges (like I did), you will also need a circle cookie cutter the same size, or a tad larger, to use with the cookie stamp.

Dip the circle cutter and the bottom of the stamp in flour. Press the circle cutter into the dough then press the stamp into the dough inside the circle cutter. The dough will rise a little during baking, so be sure to press the stamp firmly into the dough to ensure an imprint. Transfer the stamped cookie to the lined baking sheet. Repeat until all gingerbread is used, rerolling the dough when needed. *See note.

Bake 5 minutes, and rotate the baking sheets. Bake another 4-5 minutes or until firm to the touch. Don't be tempted to bake the cookies longer than 10 minutes – they will continue to firm up as they cool.

Since the cookies need to be glazed while warm, prepare the glaze while the gingerbread is baking.

Make the glaze by sifting powdered sugar and cinnamon into a small bowl. Add melted butter, rum (or lemon juice) and water, and whisk the ingredients together until smooth. The glaze will thicken slightly as it cools, so if needed, add a small amount of hot water – it should be the consistency of maple syrup.

Remove cookies from the oven and allow to cool 1 minute. Transfer the gingerbread to a cooling rack and let cookies cool 4 more minutes. Brush the Rum Butter Glaze over the gingerbread with a pastry brush.

Enjoy!
Recipe Notes
Note: After the dough has been made, it can be kept refrigerated up to 2 days before baking. Be sure to wrap the dough, tightly, in plastic wrap.
The cookies will keep up to 5 days in an airtight container, but I doubt they last that long.
*Cookie Stamps aren't necessary to make these cookies. The dough can be rolled then cut-out with any cookie cutter.