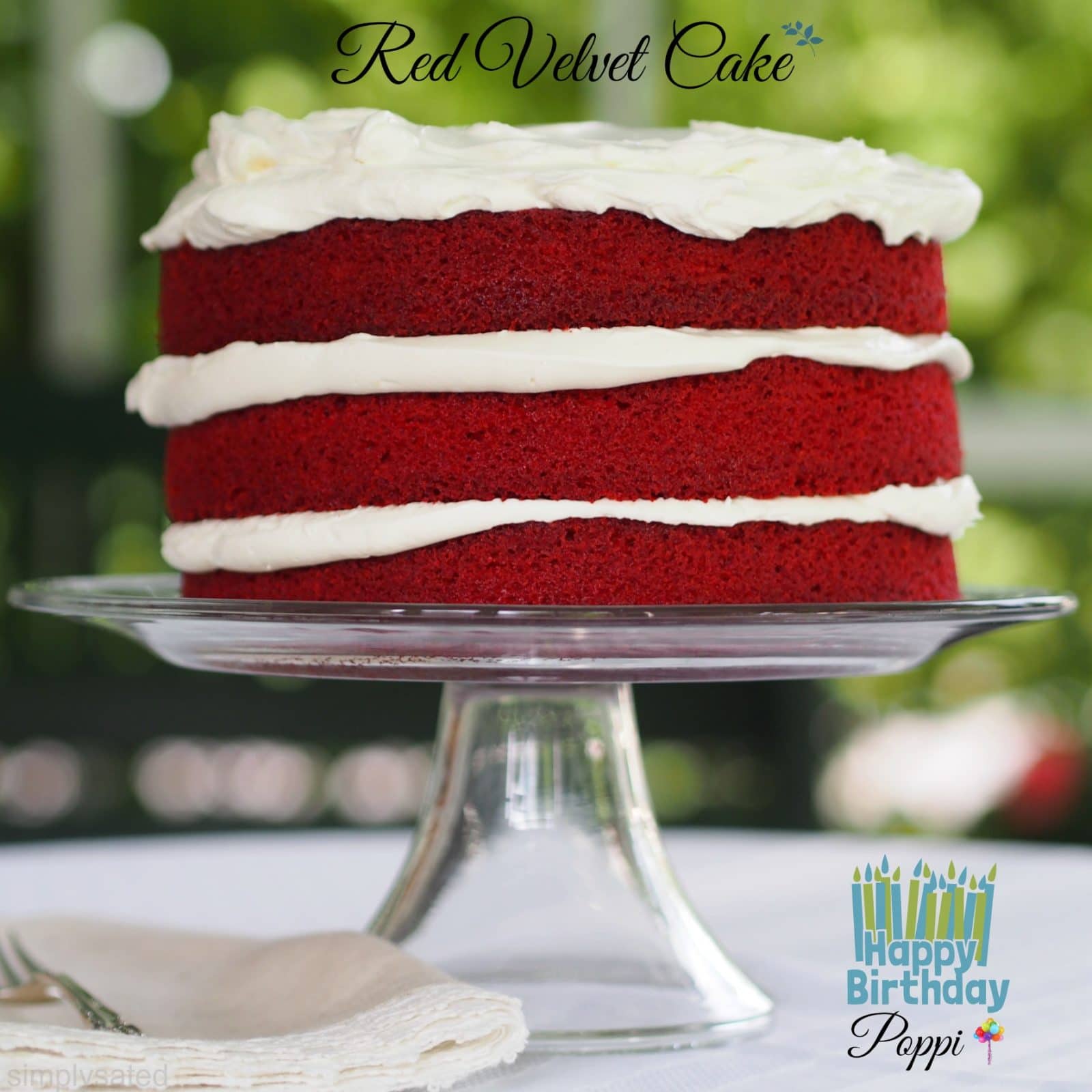 Yay!! Red Velvet Cake, our children and granddaughter are here and that means one thing – it's birthday party time.   That's right, anytime Red Velvet Cake is in the house it is time for a birthday party.  This time it is my husband's 60th birthday.
This is the cake my husband still requests and my daughter and son requested for their birthdays when they were young. Their birthdays fall within six weeks of each other so every summer we ate our fair share of this delicious cake.
I was smitten with Red Velvet Cake the first time I tasted it as a child. My dad used the Waldorf Astoria recipe that was shared in many newspapers across the country, and I loved it. I had never seen a more beautiful cake or tasted anything as delicious in my life. If allowed, I would have eaten the whole cake.  On the flip side, my sisters, Pat and Linda, became ill after eating too much cake then going outside to jump-rope.  Pat has never eaten it since.  To avoid that same dreadful fate, I made a pledge to stop eating after just one (large) piece and avoid jumping-rope afterward.
This year's birthday-cake-baking was the best ever!! The cutest, little baker-in-training helped make this cake extra special. My granddaughter, Sweet D, was excited to help her DoozDooz (yes, that would be me) make her Poppi's 60th birthday-party cake.
I think Sweet D is pretty proud of our accomplishment.
Happy, Happy Birthday, Poppi!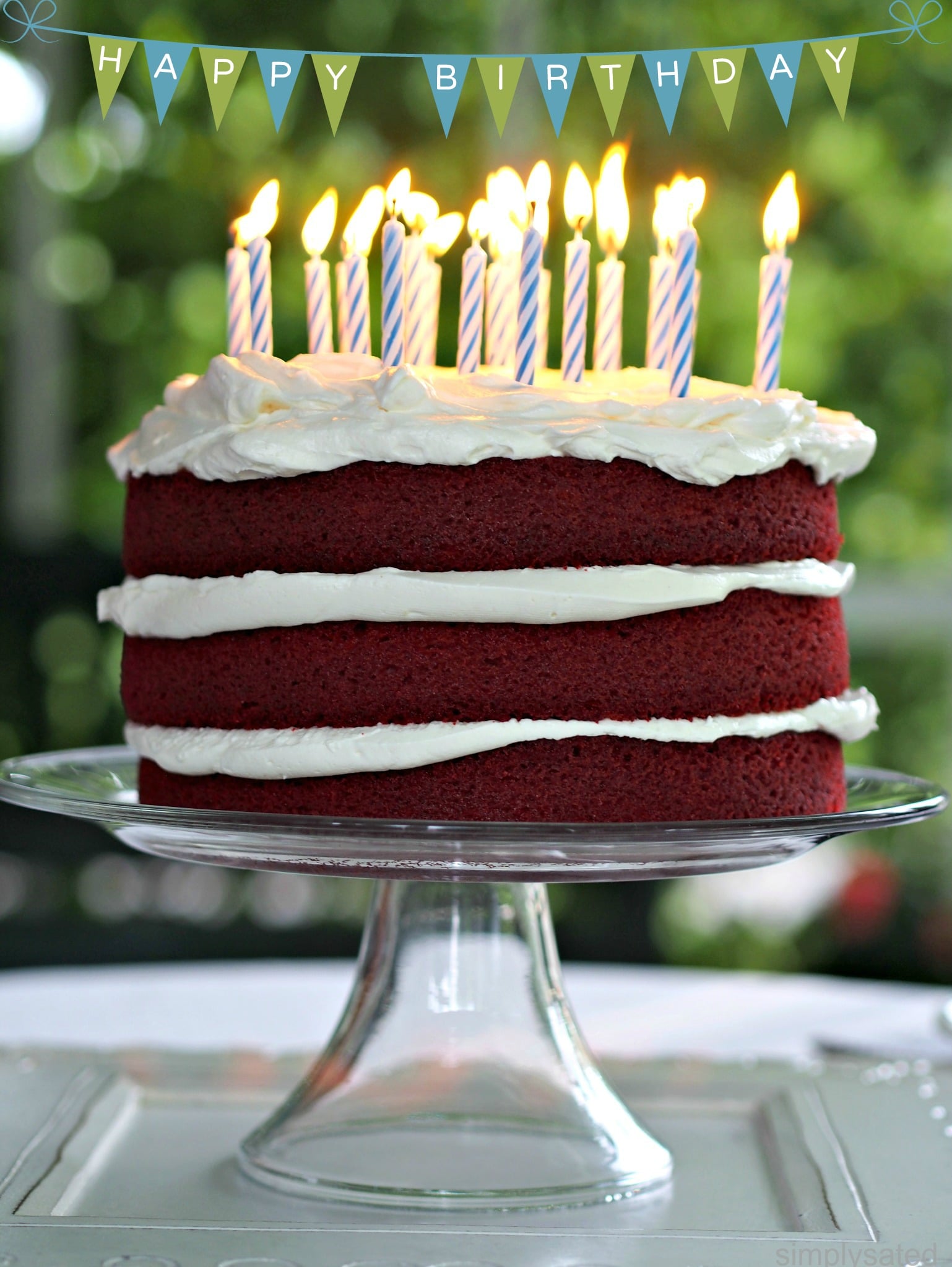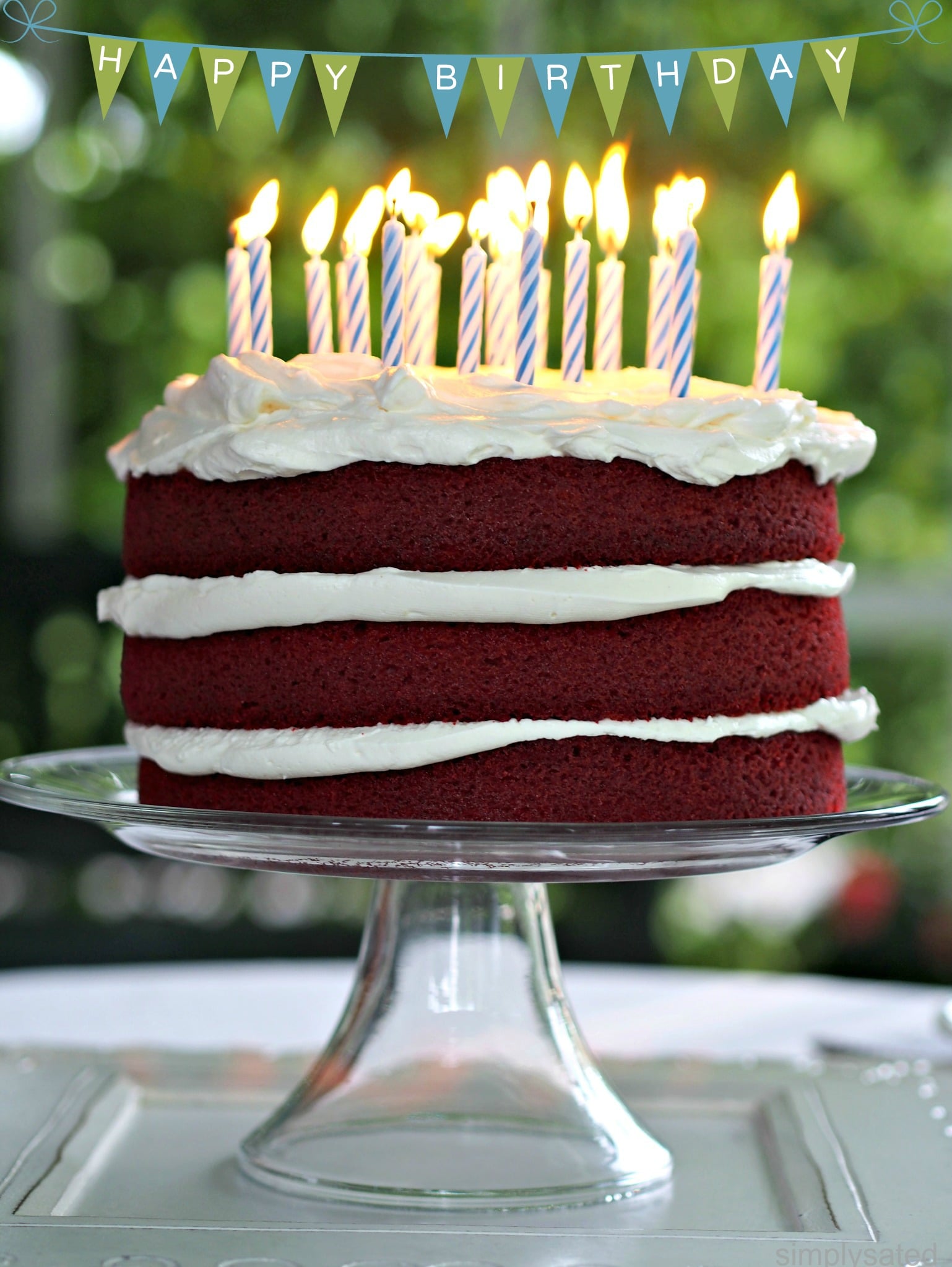 I am now married to a sixty-year-old, but my husband is married to a much younger woman – a woman still in her fifties.   I can claim this truth and will wear it proudly and share it loudly for the next (almost) 3 months.
We love you Poppi and will gladly make you a Red Velvet cake for each of your next 60 birthdays.
Yes!! This is exactly how every birthday cake should be enjoyed after blowing out the candles.
Enjoy!
PS – We missed you, Patrick.  The family wasn't complete with you absent.
PPS – A huge thanks to my daughter, Becky Gall-Hardin, for taking such beautiful photos for this post.
PPPS – Over the years, I have used two recipes for Red Velvet Cake:  the Waldorf Astoria Version (which I will share in the future) and the recipe I am sharing today.  Both are equally delicious.  This recipe is a very easy version which I love.  It makes a deliciously moist cake with a light crumb and has a hint of chocolate.  The original recipe can be found at Bakerella.
For the icing, I use a recipe I came across 32 years ago.  The name of it is Grandma Housman's Ice Cream Icing, but I call it The Best Icing Ever!  I have posted it on my daughter's food blog, The Cookie Rookie.  It is a roux-based icing and is to die for.

Red Velvet Cake
Red Velvet Cake - an easier version of the Waldorf Astoria Classic.
Ingredients
2 1/2

cups

all purpose flour

2

cups

sugar

1

Tablespoon

cocoa

1

teaspoon

salt

1

teaspoon

baking soda

2

eggs

1 1/2

cups

oil

1

cup

buttermilk

1

Tablespoon

white vinegar

1

teaspoon

vanilla

2

oz.

red food coloring

The Best Icing Ever - http://www.thecookierookie.com/the-best-icing-ever/
Instructions
*The flour/milk mixture for the icing needs time to cool completely in the fridge, so start the icing at least 1 hour before starting the cake. (see notes)

Preheat oven to 350F

Grease and flour three 8-inch cake pans. (Or spray them with baking spray)

In a medium bowl, place the cracked eggs and whisk until egg whites and yolks are blended.

Add remaining liquid ingredients and whisk until well incorporated. Set aside.

In the mixing bowl, place all dry ingredients and mix until completely combined.

Add the wet ingredients to the dry ingredients.

Mix on medium-high speed for 1 minute or until mixture is completely incorporated.

Pour batter into cake pans.

Gently drop the pans on the counter a few times to release any air bubbles from the batter.

Bake 20-25 minutes or until a toothpick inserted in the middle of the cake comes out clean.

Let the cakes rest 10 minutes, then remove from pans and cool completely on a cooling rack.

Opt. These cakes can be covered in plastic wrap while the cakes cool – this will result in a softer outer crust of the cake.
Recipe Notes
For THE BEST ICING - EVER! - go to The Cookie Rookie - http://www.thecookierookie.com/the-best-icing-ever/
This cake can be baked in 2 or three pans. If using 2 pans, after the cake is completely cool, cut each cake in-half horizontally using tooth floss. This will result in a 4-layer cake.
If using 3 pans, place 1 cake layer on a cake plate, ice the top, then add the next layer. Repeat.