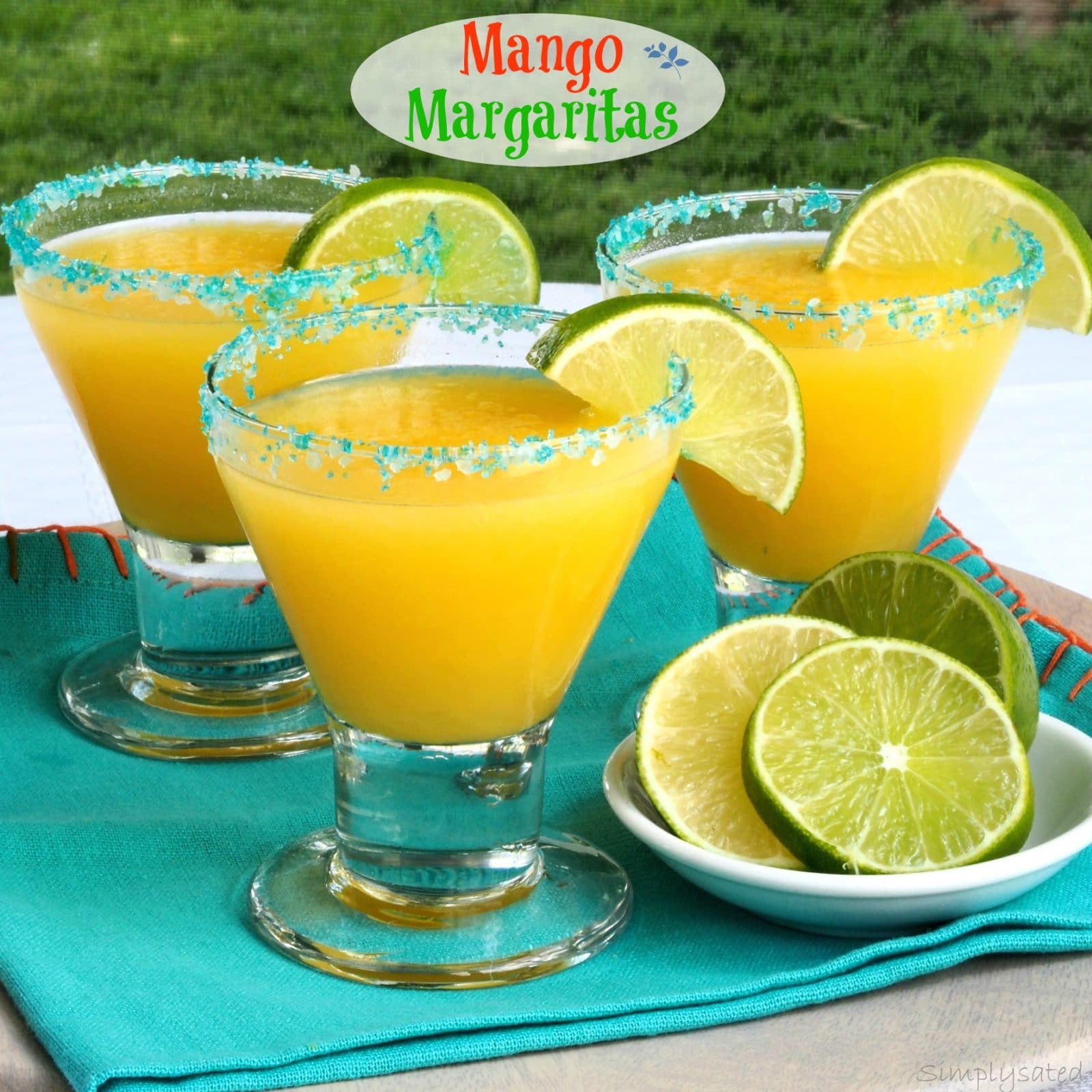 Mango Margaritas and Texas Hospitality are what this post is all about. 

Mango Margaritas were introduced to my husband, Jeff, and me on a trip to Dallas while visiting his cousin Cathy and her husband Craig last March.   Cathy is a fabulous cook and she pampered us with her culinary skills.  First on her list of yummy surprises were Mango Margaritas by Ree Drummond – they are refreshing, fabulous and the perfect way to kick-start our time with them.  Cathy had a cute smile on her face while fixing them.  I think she was smiling because she knew how good they were and knew we would love them.  She was correct – Mango Margaritas – even the virgin variety have quickly become one of our favorite drinks.  By the way, it was Kathy's ingenuity to rim the glasses in blue.
Cathy and Craig are the most gracious host and hostess and they showed us why Texas is indeed a great state. We ate, visited with them and their children, ate, played with their grandchildren, ate, traveled, laughed ourselves silly and ate again. It was our type of vacation and it was glorious!  I came across this quote by Robb Walsh, cookbook author and food critic at Houstonia Magazine and I love it.
"I didn't drive eleven hours across the state of Texas to watch my cholesterol."
We were concerned only with enjoying each other, getting caught up and having a great time.  If that meant we had to eat whatever, whenever and wherever we wanted – so be it.  We would suffer this fate happily!
One of our favorite parts of our Texas trip was visiting with Jeff's Uncle Bill.  Jeff and Bill have a special connection due in part to their loves of baseball and history and could visit for hours. It would be wonderful if we lived closer so these two could visit more often.  The last time we were in Dallas was due to the death of our dear Aunt Laura, Bill's wife and Cathy's mother.   We all miss Aunt Laura so much.  Laura loved needlepoint and made several Christmas ornaments throughout her life.  Cathy graciously gave me one after Laura's death and I have it hanging on a cabinet in my kitchen.  I think of her every time I glance at it and when there is any mention of the Andy Griffith Show  (I better not share that story here).  She was fun, opinionated, ornery and I adored her. We were thrilled to see Bill is doing well in spite of losing the love of his life.
Another great thing we did while in Dallas was visit the George W. Bush Presidential Library and Museum located on the campus of Southern Methodist University where we stood inside the replica of the George W. Bush Oval Office. I was surprised how tiny it seemed compared to the huge decisions made within.  Of course, being a food blogger, I could not leave the library gift shop without purchasing Dining at the White House, a cookbook written by John Moeller; a White House chef of thirteen years who served the presidencies from George H. W. Bush to Bill Clinton to George W. Bush. It is filled with recipes and terrific stories of Moeller's time working in the White House.
During our visit, we traveled from Dallas to the Texas Hill Country, across to San Antonio, north through Austin then back to Dallas. Along the way, we ate several memorable meals. I will be sharing my favorites in the coming months; favorites such as Lindsay's Crock-Pot Chicken Fajitas, German Home Fries from the Friedhelm's Bavarian Inn in Fredericksburg, Mile-High Lemon Meringue Pie from the Blue Bonnet Café in Marble Falls, and Mexican Rice, Fiesta Lime Chicken, Brandy Alexanders and Waffles from Cathy's own kitchen.
While driving through the Texas Hill Country we stopped at the LBJ Ranch at the Lyndon B. Johnson National Historic Park in Stonewall near Fredericksburg. It is LBJ's birthplace and the place where his body rests today. Be sure to check out the LBJ Ranch link to see all the great things to do while there.
One of my favorite days in Texas was the day spent in Fredericksburg. It is a charming, historic town nestled in the Texas Hill Country and it is one of the most popular getaways in Texas. Luckily for us, it isn't too far from Cathy's & Craig's daughter Lindsay and her family. Proud German families settled Fredericksburg and the German culture and spirit are alive and well in this beautiful town. While Craig and Jeff explored the famous Nimitz Museum of the Pacific War, Cathy and I strolled the shops where we made a few purchases for our grandchildren. We also perused every kitchen supply shop where I bought a few blog-friendly props as used in Loaded New Baked Potato Casserole.  I better clarify that my husband isn't the prop of which I am speaking.
Lindsay is one of the best mom's – ever! I was so impressed with her during our visit and her ability to balance beautifully and sweetly all things parenting.  My parental skills pale in comparison. It was wonderful spending time with Lindsay, her brilliant (and funny) husband Tracy and their darling children.
We headed east from Texas Hill Country to visit Jeff's cousin, Julianne, in San Antonio. Julianne brought her boyfriend (now fiancé), Mike, to lunch and meeting him was a terrific surprise. Jeff and I were honored when Julianne sang at our wedding oh-so-many years ago and, I'm hoping, she will return the honor and ask us to sing at theirs next month.  Congratulations Mike and Julianne (I am kidding, Julianne.)
From San Antonio, we traveled to Austin to see Cathy's alma mater, the University of Texas. Cathy and her family are huge UT fans and it was great fun to see where and to hear how she spent some of her "formative" years. Cathy, her mother and her two daughters are UT alums and all are proud alums of Delta Gamma Sorority. THAT  is pretty amazing! We ate at one of their favorite haunts, Dirty Martin's, a hamburger joint that has been one of the stars of Austin since 1926. Laura, Cathy's mother, frequented Dirty Martin's when she was in college.  She carried a revolving line-of-credit and every month Dirty Harry's would send Laura's mother the bill to be paid.  Cathy & Craig promised us great burgers and onion rings and we were not disappointed.  I hope Dirty Martin's lives forever! The top picture in the collage below is a picture taken of their family posing with Bevo – THE University of Texas mascot.  Hook 'em Horns!!
Further north on I-35, between Waco and Dallas, is one of the most unusual bakeries I have ever visited. The Czech Stop/Little Czech Bakery is a gas station and bakery all in one where "fill-'er-up" takes on a whole new meaning and the kolaches are amazing. I never dreamed there were so many sweet and savory flavors. If ever in that area of Texas, make it your pit-stop destination – you won't have any regrets.
On our last night in Texas, we had the pleasure of eating supper with Craig's & Cathy's second daughter, Lexie. She is an incredible young woman and we could talk "food" for hours. She is a food-blogger at heart and a fabulous baker. Lexie wrote The Best Ever Cinnamon Rolls guest post for The Cookie Rookie so please check it out. She is blessed with crazy good writing and baking skills so watch out Pioneer Woman.
We left Texas happier and heavier (I am not complaining, mind you.) than when we arrived. We had a great 5-night, 6-day Texas tour and a fabulous vacation. Seriously, Craig & Cathy should become Texas tour guides. They love their great state, showed her off well and Texas should be equally proud of them.  Thank you Cathy & Craig for opening your home and sharing your lives with us.  These Mango Margaritas are for you!
Enjoy!

Mango Margaritas and Texas Hospitality
Mango Margaritas (alcoholic or non) are refreshing and delicious served immediately or frozen for later. Original recipe - Ree Drummond
Ingredients
For the Alcoholic Version:

2

Limes - zest and juice

2

Tablespoons

Coarse Sugar

decorator's Sugar

2

Tablespoons

Margarita Salt

2

jars

20 Ounce Mango Chunks, Drained

1-1/2

cup

Silver Tequila

1-1/2

cup

Triple Sec

1/4

cup

Sugar

Lemon-Lime Soda - use when serving the margaritas frozen

see notes

-------------

For the Virgin Variety:

2- 20

oz

jars of Mango Chunks

2

limes - juice

1-1/2

cups

Lemon-Lime Soda

1/4

cup

Frozen Orange Concentrate.

2

tablespoons

sugar

Additional Lemon-Lime soda to use when ready to serve.
Instructions
For Rimming the Glass:

Zest two limes and place the zest in a shallow bowl or small plate to allow it to dry a few minutes.

Add coarse sugar

Add margarita salt.

Mix well.

Rub the glass edge with a lime wedge, the turn the glass upside down and dip the rim into the sugar/salt mixture. Turn the glass upright.

Set the glasses aside until the margaritas are ready to serve.

Repeat with each glass.

---------------

For the Alcoholic Margaritas:

Juice two limes.

Place mango slices into a blender.

Add tequila, triple sec, sugar and lime juice.

Top it all off with ice and blend until smooth or until you get the desired consistency.

Pour the margarita into the sugar/salt-rimmed glasses. (see notes)

Garnish the glass with a lime slice.

Enjoy!

Pour in the margaritas and serve immediately!

---------------

For the Virgin Version:

Place mangoes, orange juice, sugar, & lemon-lime soda in the blender.

Top with ice.

Blend until the desired consistency is achieved.

Follow directions above for serving.
Recipe Notes
These Mango Margaritas are delicious served immediately or frozen for later use. When serving frozen margaritas, add a splash of lemon-lime soda after placing the frozen margarita in the glass and right before serving.