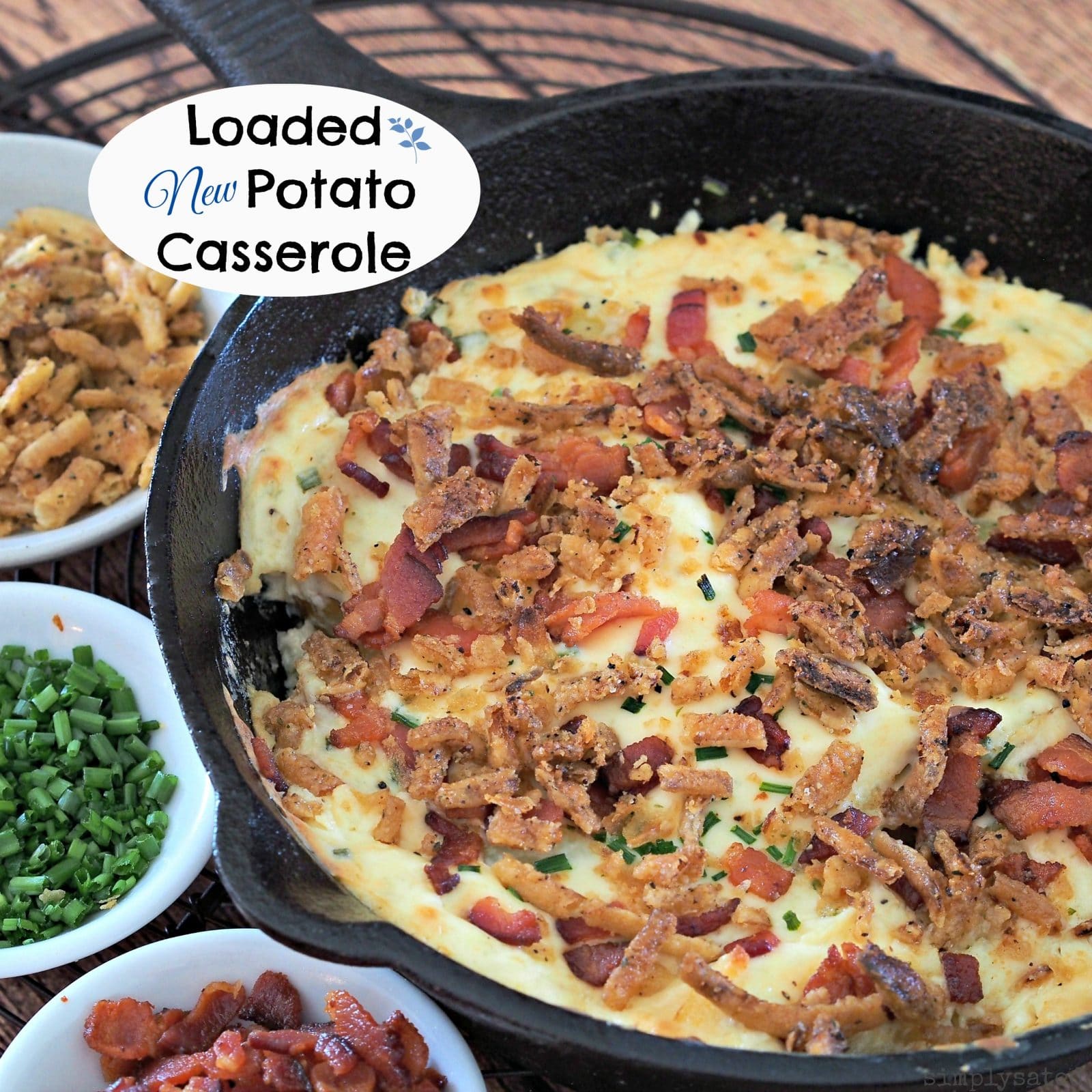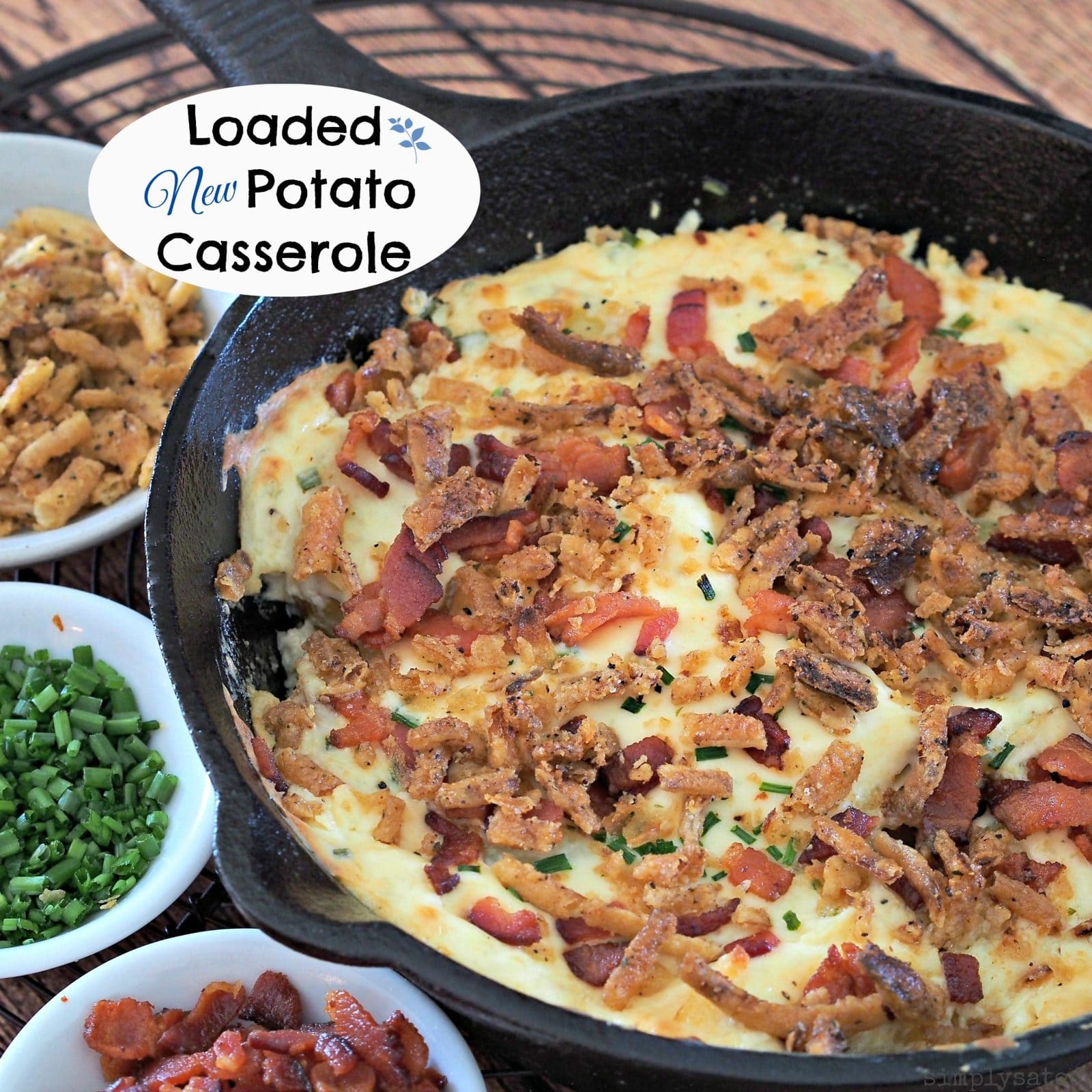 Loaded New Potato Casserole is just what the doctor ordered – for the potato.
There are few foods more basic than the good old potato. Its shape is round to oval. Its color is beige, yellow-ish or ruddy red. Its taste is bland – whether raw or baked, and it is practically void of any aroma. I bet it gets so bored wearing the same dull skin it probably gets downright giddy when sprinkled with a little salt & pepper.
Don't get me wrong I love the most basic of potatoes – the baked potato, but I bet if it could talk, it would beg to get dressed up every now and then.
The baked potato reminds me of a certain guy who wears khaki slacks all the time. Beige khaki, green khaki, brown khaki, light khaki – no matter which shade it is – it is still khaki.   I begged him, "Please, wear another color." Finally, when that same guy stepped out in a pair of navy slacks and a Kelly green shirt, I said, "Wow, you look fantastic!" That "certain guy" is this guy – my husband. Doesn't he look great? (*)
The experiment with my husband worked out so well I thought I should move on to potatoes. I also thought I should start with baby potatoes since they aren't set in their ways yet.
I combined all the ingredients in Loaded New Potato Casserole: Chives, salt, pepper, bacon, sour cream, mascarpone (or cream cheese), cheese and dried onions then poured the mixture over the baked potatoes.
I let them socialize in the oven long enough for them to fall in love and what do y'know? Deliciousness happened.
Now I know this dish isn't what the doctor would order very often, but once in awhile, it is fun for everyone and everything to put on some fancier clothes.
By the way, these new potatoes make a great appetizer. Serve straight from the oven, stick a toothpick in each and enjoy!
*Disclaimer – no husband's feelings were hurt in the broadcasting of this post.
Loaded New Potato Casserole
New potatoes, roasted then covered and baked with all ingredients potatoes love.
Ingredients
1½

pounds

baby Yukon Gold or Red potatoes

1

tablespoon

olive oil

1

teaspoon

kosher salt

1/2

teaspoon

ground black pepper

1

tablespoon

minced chives

¼

cup

non-fat sour cream

4

ounces

mascarpone or light cream cheese

1

teaspoon

honey Dijon mustard or honey mustard

opt.

½

cup

each – cheddar cheese

Monterey jack cheese

1/2

pound

Bacon – fried crisp

½

cup

Fresh Gourmet Crispy Onions with Garlic Pepper or French's French Fried onions

1/2

teaspoon

ground black pepper
Instructions
Preheat oven to 400F.

Cover a baking sheet with aluminum foil and spray the foil with cooking spray.

Wash potatoes then pat them dry with a paper towel. (remove any large eyes)

Place potatoes in a medium bowl and add the olive oil. Mix well.

Sprinkle potatoes with salt and pepper - mix well.

Pour potatoes onto the foil-lined baking sheet and spread them out.

Bake 30 minutes or until soft when pierced with a fork.

---------

While potatoes are cooking, and in medium saucepan, combine chives, sour cream, mascarpone, honey mustard & cheeses. Cook over low-medium heat stirring continuously until cheeses are melted and mixuture is well combined. Set aside until potatoes are cooked.

Fry bacon until crispy (http://www.thecookierookie.com/perfect-bacon-crumbles/) then place on a paper towel until ready to use.

----------

When potatoes are soft, remove from the oven.

Turn oven temperature down to 350F.

Let potatoes cool 5 minutes, then cut them in-half.

Place the halved potatoes (flesh side up) in a cast iron skillet or an oven-proof skillet that has been rubbed with oil.

Pour cheese mixture over the halved potatoes, sprinkle with bacon and crumbled crispy onions.

Bake 15-20 minutes or until cheese mixture is melted and golden brown.

Enjoy!