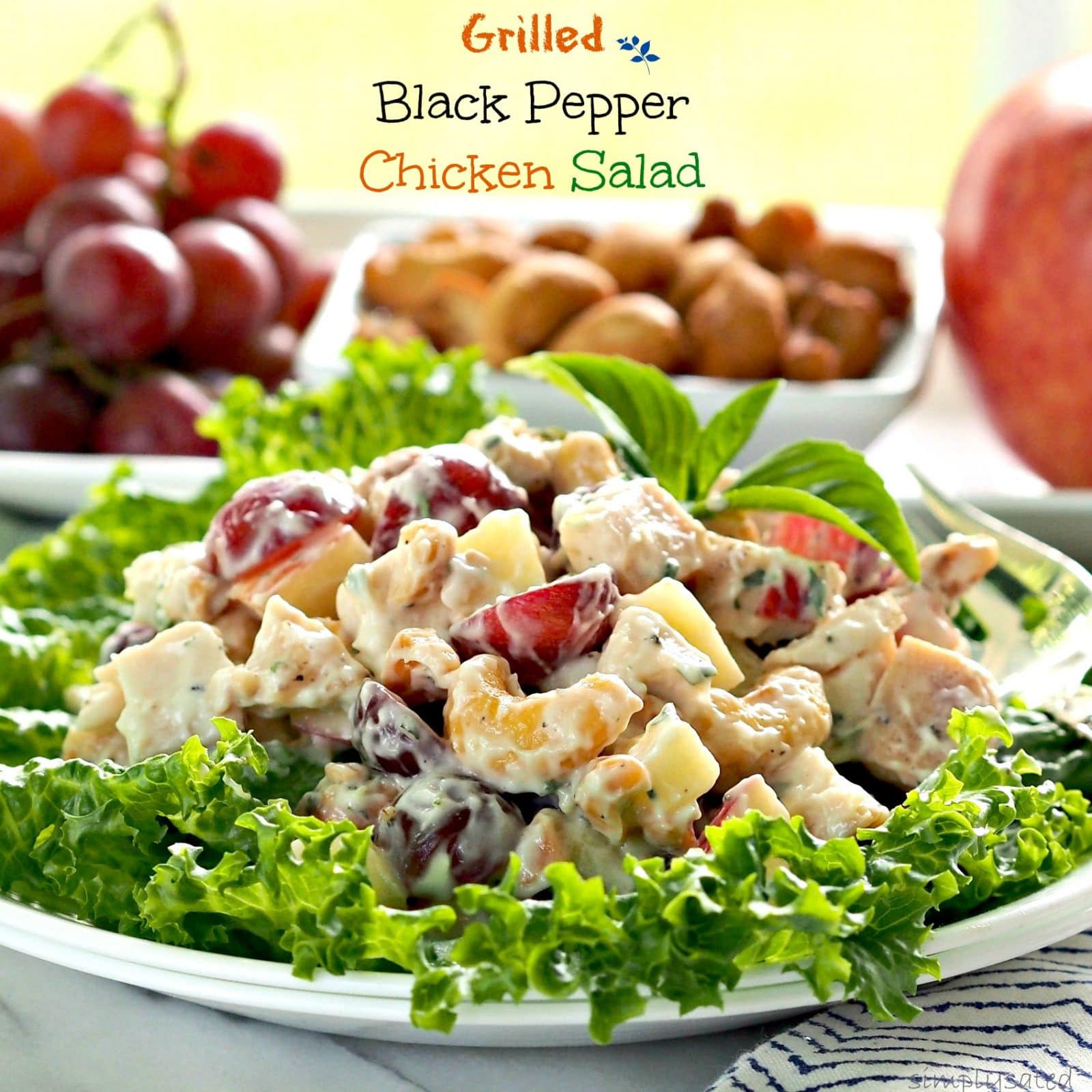 Keepsake recipes trigger memories and Grilled Black Pepper Chicken Salad is one that reminds me of some of the best days of my life.
My husband and I had the immense pleasure of living in London the first four months of 2009.  We lived in a flat on Hornton Street off Kensington Road and just a few blocks from Kensington Palace.  We had THE best time, and it was an experience I plan to share in more detail in the future.
This dish reminds me of one of the funniest and most embarrassing moments while in London. Food in London is very expensive and that is why we often took chicken salad sandwiches with us while exploring. My son and daughter-in-law were our first visitors and we were so excited to show them around London. It was mid-January and 25 degrees but the cold didn't keep us from showing off our favorite spots.   We were downtown London, freezing and hungry, and were trying to find a spot to warm our bodies and refuel. After looking for what seemed an hour, we finally found an eatery on the bottom floor of Fortnum & Mason, one of London's most prestigious stores. We stood in line, bought some warm drinks and some sweets and sat down thinking we could (subtly) eat the sandwiches we brought with us along with our purchased items. It wasn't too long before we felt Londoners' eyes on us and it wasn't too long after that we were asked to leave. We were all a little embarrassed, but I also felt unjustly expelled. I suppose, looking back, it wasn't the best idea I ever had and now offer my sincerest apologies for stepping over the line of English propriety.
Another great memory associated with this chicken salad is the day Jeff and I took my sister, Linda and her husband, Donny, to Greenwich. We rode the tube, hopped onto a small ferry, shopped the stalls at the market, purchased cute purses for the females in our families then found our way onto the grounds of the Royal Observatory in Greenwich.
We sat on the grass, people & dog-watched, ate chicken salad sandwiches and the sweets Donny & Linda bought at the market.  We reveled in the delightful day and our good fortune. We couldn't believe we were actually in England together – with nothing else on our minds – enjoying a picnic on a glorious day.  We then walked to the top of a very steep hill to visit the Greenwich Royal Observatory and stood over the Greenwich Meridian Line with one foot in the eastern hemisphere and one foot in the western hemisphere. We set our watches by Greenwich Mean time – the perfect time – and saw the first chronometer ever made.
I think of both of these days ever time I eat my chicken salad.
In my not-so-humble opinion, Grilled Black Pepper Chicken Salad is the best chicken salad. It is forgiving and fun and pretty and somewhat healthy and even loves to have a makeover every now and then.
Have fun with it – add your favorite ingredients or subtract your not-so faves.  Serve it on a bed of crispy lettuce, on a toasted croissant, as a dip with crostini or presented like a Cobb salad and let each person build their own.
We lived in London 122 days and had company 52 of those days. I made chicken salad every week, shared it with all our guests and never tired of it. While in London, I didn't have a grill so I used rotisserie chicken instead of grilled chicken and it was just as delicious.
Simply put – Grilled Black Pepper Chicken Salad fills the chicken-salad-nook in my heart.  Enjoy!
YES!!  That is Emeril Legasse in the photo below.  This was one of my most memorable moments while in London.  My sister, brother-in-law and I spotted Emeril Legasse in St. James Park and we introduced ourselves (and Barbie) to him.  He and his beautiful wife could not have been more gracious and he will always hold a special place in my heart.  He is such a sweet man!!  (My husband says Emeril looks like he is being held hostage.  I think he was just a little overwhelmed with two of his most enthusiastic fans.)
Grilled Black Pepper Chicken Salad
Grilled Black Pepper Chicken Salad is full of flavor & texture. Perfect served as a sandwich, salad or dip.
Ingredients
2

chicken breasts - grilled

or 2-3 cups rotisserie chicken meat cut into bite-size cubes

salt - to taste

freshly ground black pepper - to taste

1

cup

cashews - toasted

1

cup

firm grapes – cut in half

1

crisp apple – Gala or Granny Smith work well

1/4-1/2

cup

Hellman's regular or low-fat mayonnaise

Parissien Herb or fresh herbs if available - to taste

salt & pepper - to taste
Instructions
Preheat oven to 400F.

Prepare coals for grilling.

Pat chicken breasts dry with a paper towel.

Brush chicken breasts with canola or olive oil.

Sprinkle the chicken breasts with ground black pepper (as much or little as you like - I like a lot)

Sprinkle the chicken breasts lightly with kosher salt.

When coals are ready, place chicken breasts on the grill over the hot coals and cook - turning every 3-4 minutes and approximately 15-20 minutes or until juices run clear.

Take the chicken off the grill and let it rests for 5 minutes. After 5 minutes, cut the chicken into bite-size pieces.

While chicken is cooking - place cashews on a baking sheet and cook 5-10 minutes until fragrant and darker gold in color. Watch closely so they don't burn.

Take the cashews out of the oven and let cool.

In a medium bowl, place all ingredients and gently mix until well combined.

Serve on a bed of lettuce, as a sandwich or as a dip.

Enjoy!
Recipe Notes
This recipe is so versatile - add your favorite ingredients and herbs to make it your own.