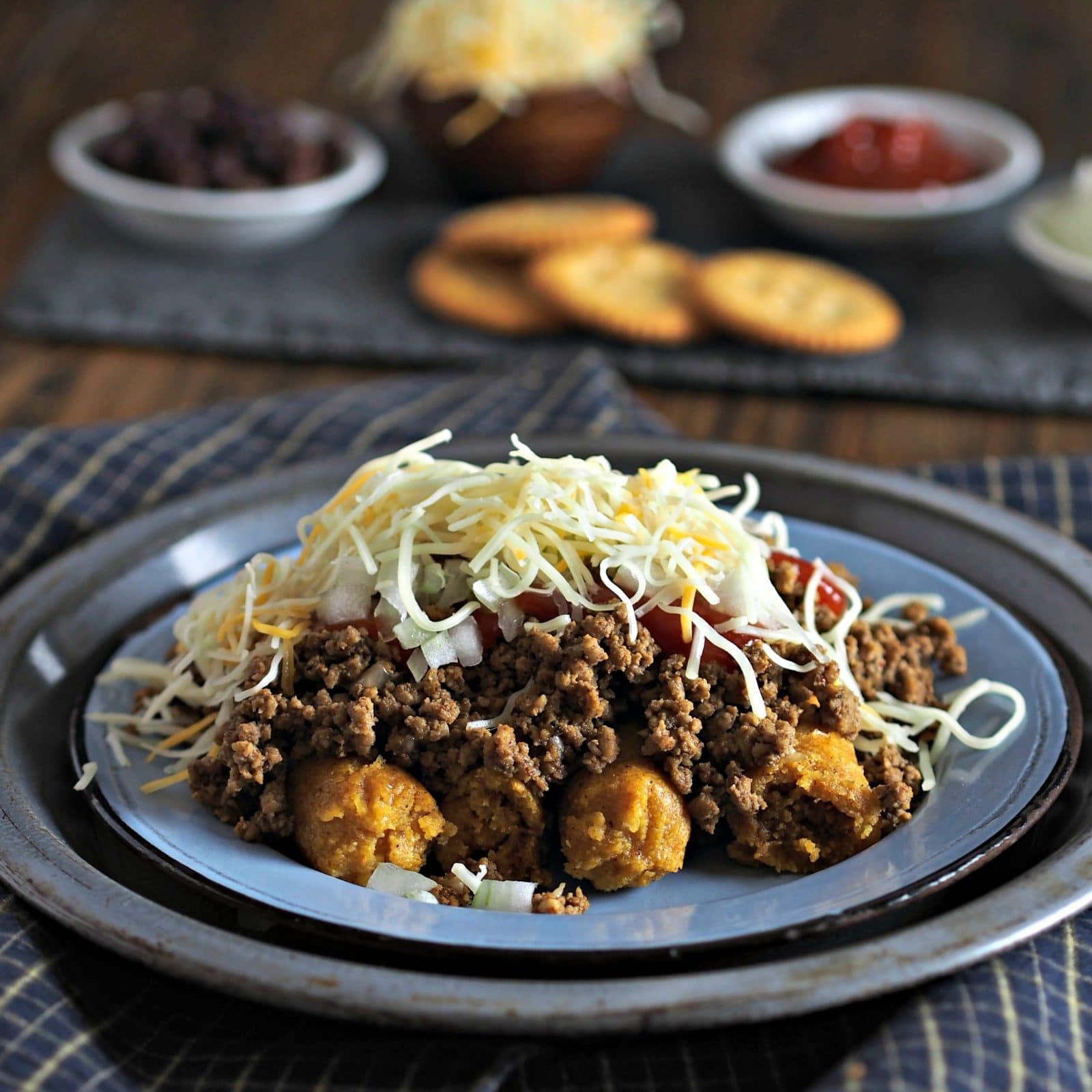 Copycat Dixon's Chili & Tamale Spread.
Dixon's Chili Parlor in Kansas City, Missouri opened for business in 1919 and is the longest family owned restaurant in the area.   That means 96 years for this one-of-a-kind establishment.  It is a beloved institution and has been one of my favorite places to eat since I was young.   It was also a favorite haunt of President Harry S. Truman's.  Like stated on the Dixon Chili Parlor website, "Dixon's is famous for a reason and, after just one visit, you will know exactly why!"
The basic chili is without juice but can be ordered one of three ways: juicy (natural meat juices), dry (without juices) or soupy (with bean broth). Not only does Dixon's Chili Parlor serve chili, they also have chili dogs, tacos, spaghetti chili, taco salad, burgers, burritos and homemade pies.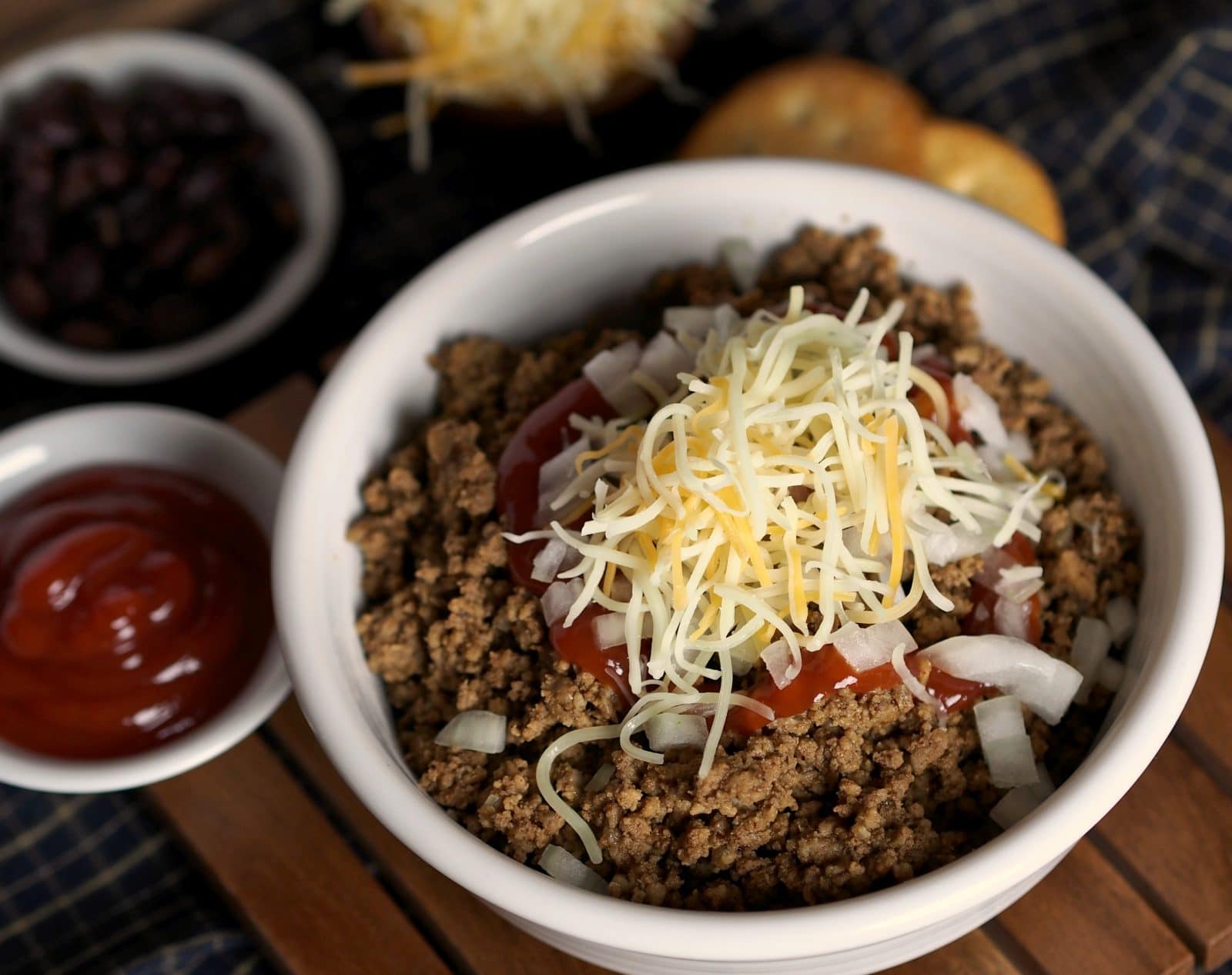 My personal favorite, and the dish I always order, is the Tamale Spread. I order the Tamale Spread dry with ketchup, cheese, beans, onions and crackers on the side and I love it. Dixon's uses Jim's Famous Tamales for the base of their tamale spread. I just realized this and it makes me very happy. The tamales, that made Jim's Tamales famous, hold a special place in my heart.

As a child in the 1960s, my mom would take my sisters and me to Sears on Independence Avenue to look around. It could be a little boring except for the best part of the whole trip and the part I looked forward to the most. While mom shopped, I would think about the cart full of tamales right outside the entrance and hoped she had some change leftover in order to buy some. If my sisters' and my memory serves us right, the tamales cost 10 cents each. On the rare occasion when mom could buy a few tamales, each of us was given one half. The tamales seemed almost heavenly, were steamy hot, slightly spicy and delectable.  The year before my mom died, I found out Jim's Tamales were still being sold – and by the same family. Jeff and I took mom to Jim's Tamales in Independence, where we bought six tamales to eat on our trip home and two large bags of frozen tamales for later use. Not too many things have ever tasted better.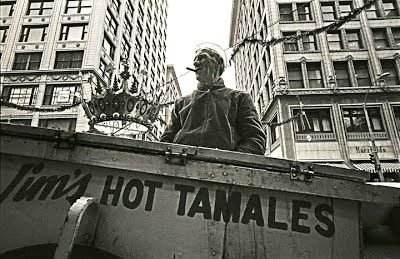 Here is some interesting history about Jim's Tamales as mentioned on The Pitch Dining:
"Jim Shepard came to Kansas City in the 1920s from Springfield with a tamale recipe and started selling them from a white cart," DiCapo says. "By the 1940s, he had fifteen or twenty guys out selling the tamales for him, all with carts outfitted with a steamer, a bell and a lantern. The lantern was because these guys would be out all night. One customer of mine remembers coming out of a bar at Ninth and Walnut one night, right after World War II, and buying some hot tamales to eat on his way home."
Jim's Tamales has since closed their restaurant, but I did purchase Jim's Famous Tamales at Sam's Wholesale Club in Kansas City just last month and know they are available at Price Chopper Stores (in Kansas City, anyway).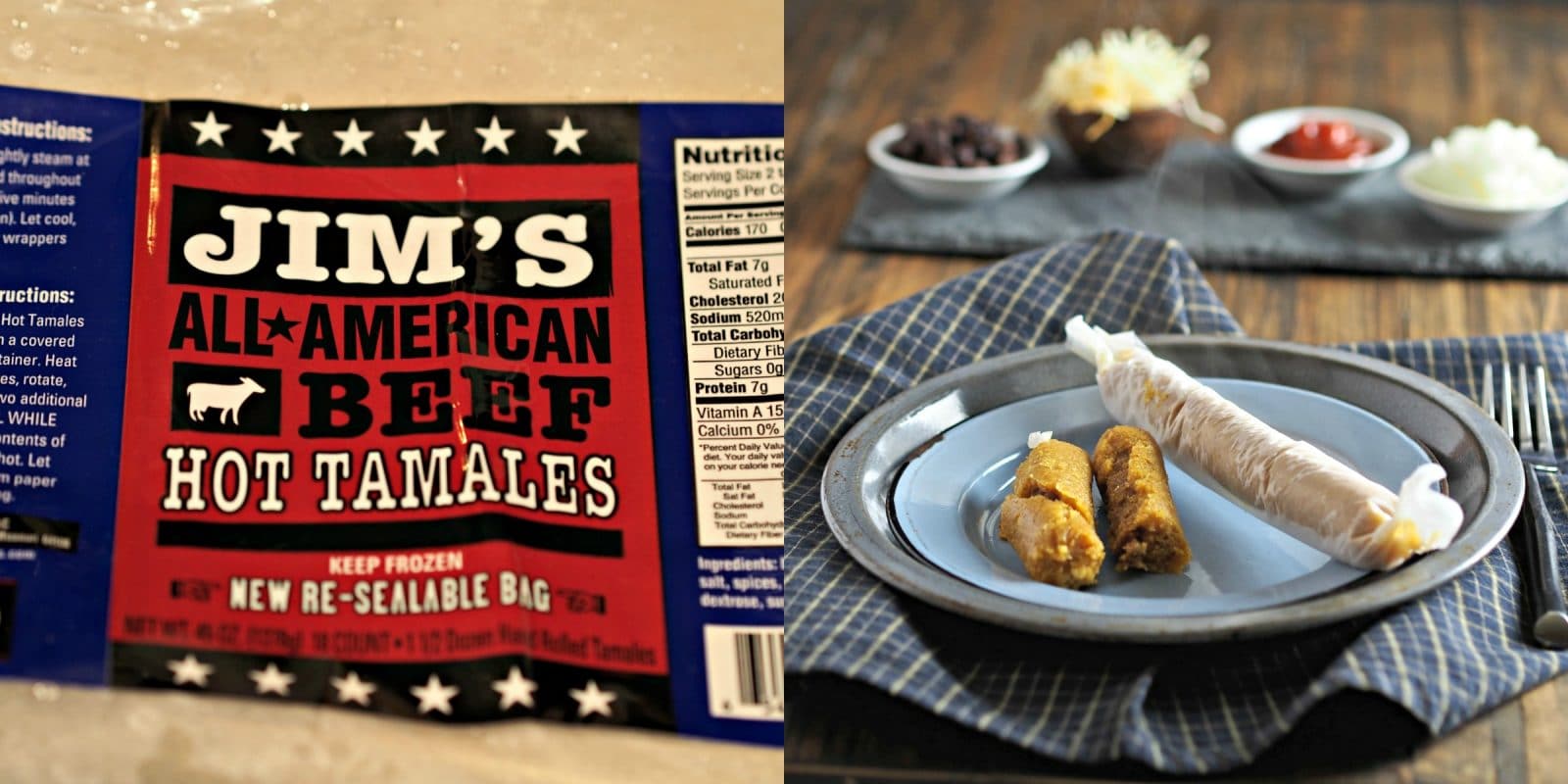 Last December, my husband and I ate at Dixon's Chili. It had been months since we had eaten there, but the food tasted exactly as it always had. When leaving the restaurant, I was saddened to think it would be several more months, or longer, before I would have a chance to eat there again. I decided then to try to replicate the meal once I returned home.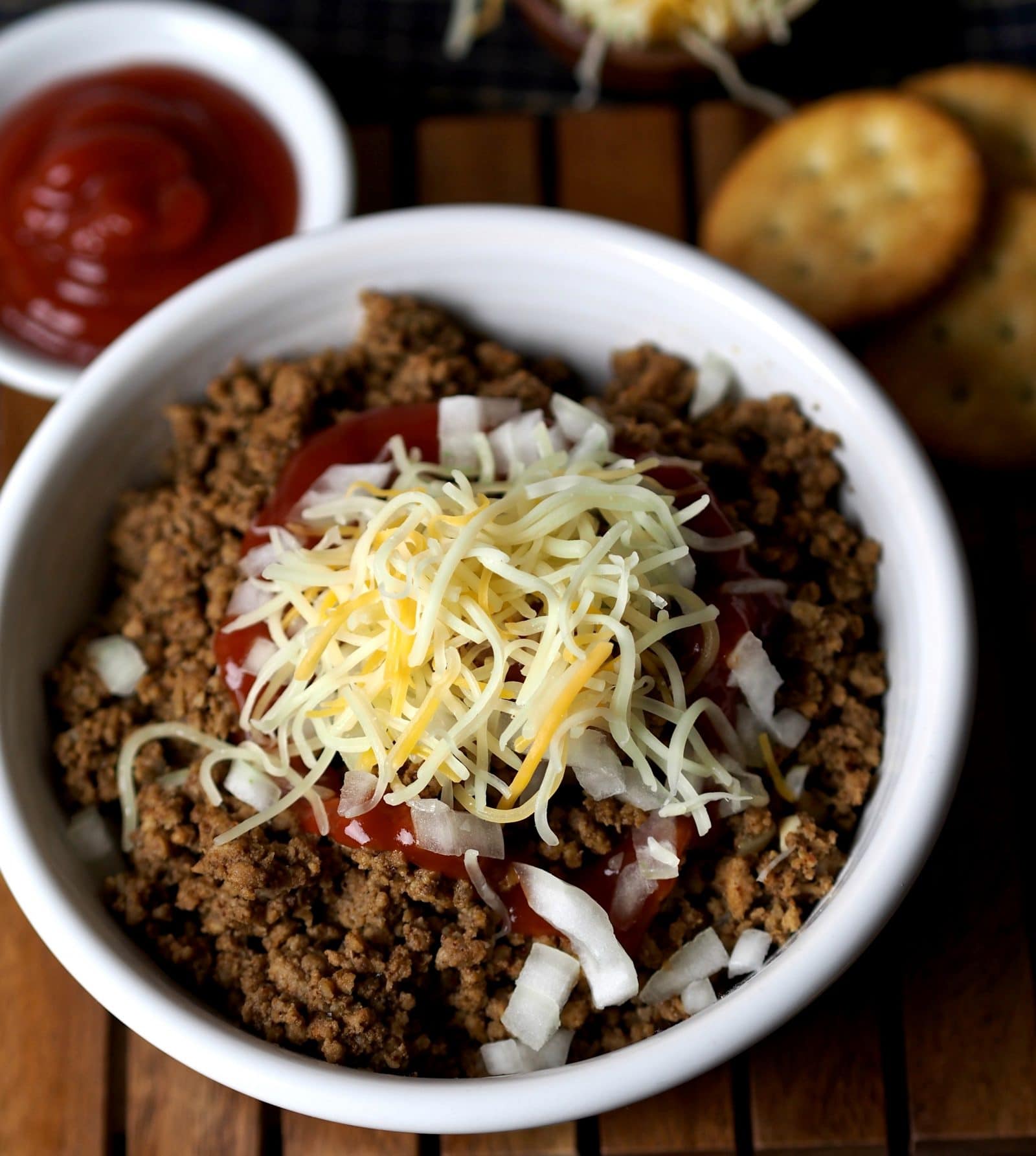 I might not have their exact Tamale Spread recipe down, but my version tastes very close to the original. Of course, I use Jim's Famous Tamales as the base, and I know my mom would love it.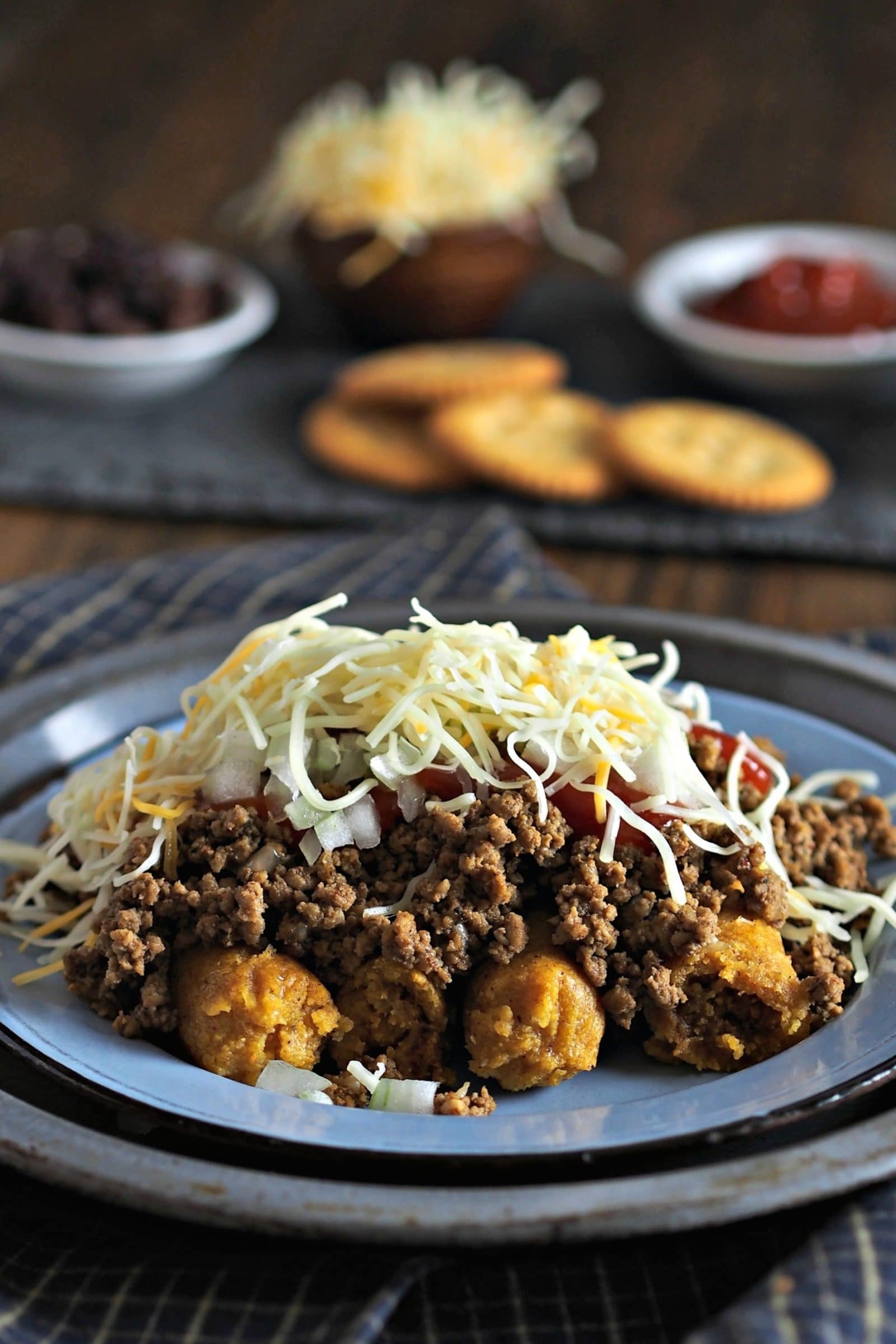 Enjoy!
I love and miss you, Mom. This recipe is for you.

Copycat Dixon's Chili & Tamale Spread
Ingredients
2

pounds

ground chuck

2

cups

water

2

tablespoons

canola oil

1

large onion

diced. Half the diced onion will be sautéed and half will be used as topping.

2

cloves

garlic

minced

4½

teaspoons

chili seasoning – I use Penzey's 3000 Chili Seasoning

1½

teaspoons

ground cumin

½

teaspoon

oregano

1-

teaspoon

kosher salt

½-1

teaspoon

ground black pepper

1-

cup

water

Tamales – Jim's Tamales are so good

Sam's Wholesale Club

Toppings:

Black Beans

seasoned with onion powder, salt & pepper

Sharp Cheddar Cheese or Mexican Blend Cheese

shredded

Onions

diced

Ketchup

Saltine Crackers

Hot Sauce

optional
Instructions
In a large stovetop pan, boil ground chuck in 2 cups water until fully cooked and browned. Drain ground chuck then return to the pot.

In a medium skillet, sauté diced onion in 2 tablespoons oil until translucent.

Add minced garlic and sauté 30 more seconds. Add onion/garlic mixture to drained ground chuck.

Add chili seasoning, ground cumin, oregano, salt, black pepper and water, bring to a boil then turn heat to medium-low until liquid is reduced by half.

-------------------

While chili is cooking, steam tamales until heated through.

-------------------

While chili is cooking, place beans in a small saucepan, add onion powder, salt & pepper, to taste, and cook until heated through.

-------------------

To serve:

Remove husk/paper from tamales and place tamales on a plate.

Layer chili, beans, onions, ketchup, and cheese on top and serve with saltine crackers and hot sauce.

Enjoy!