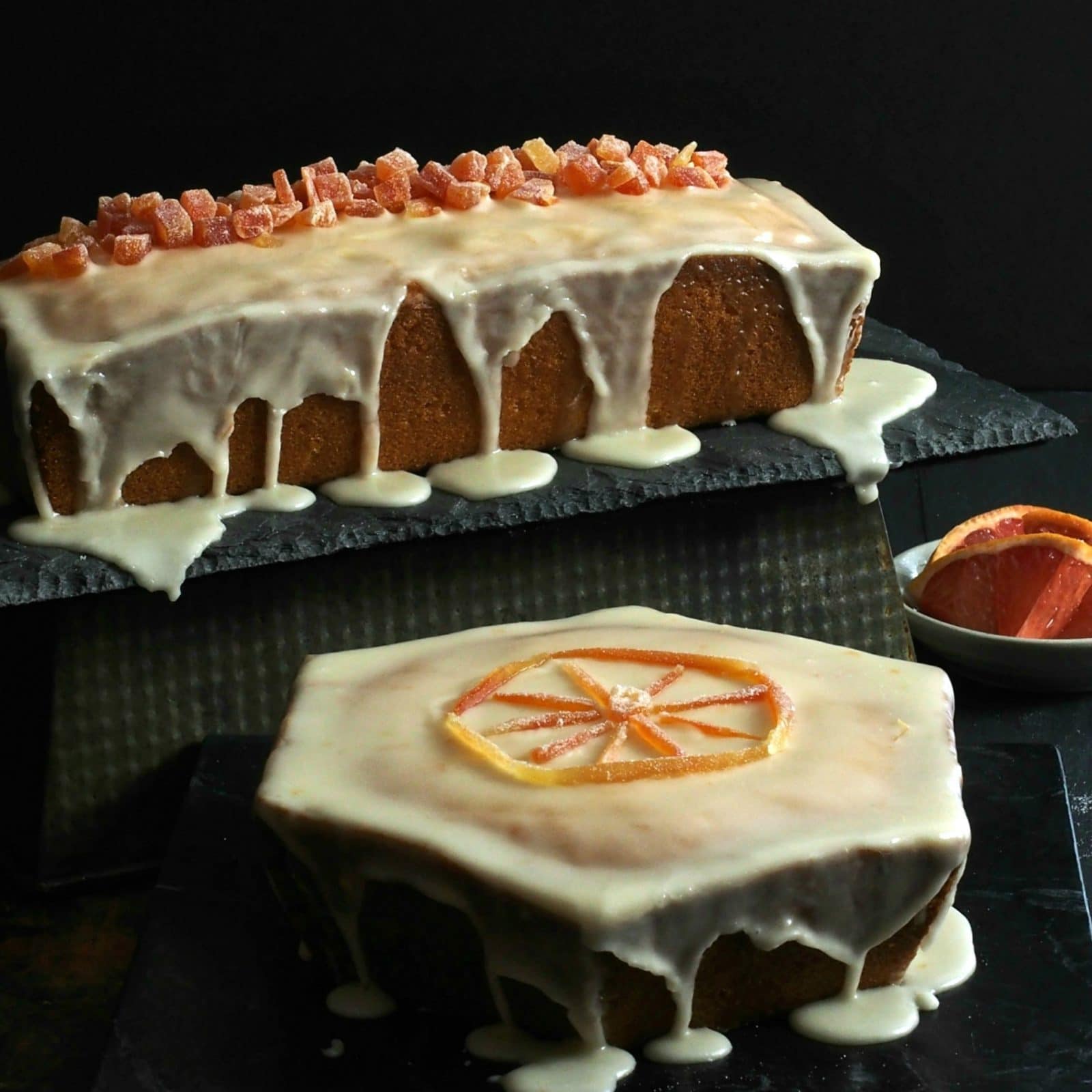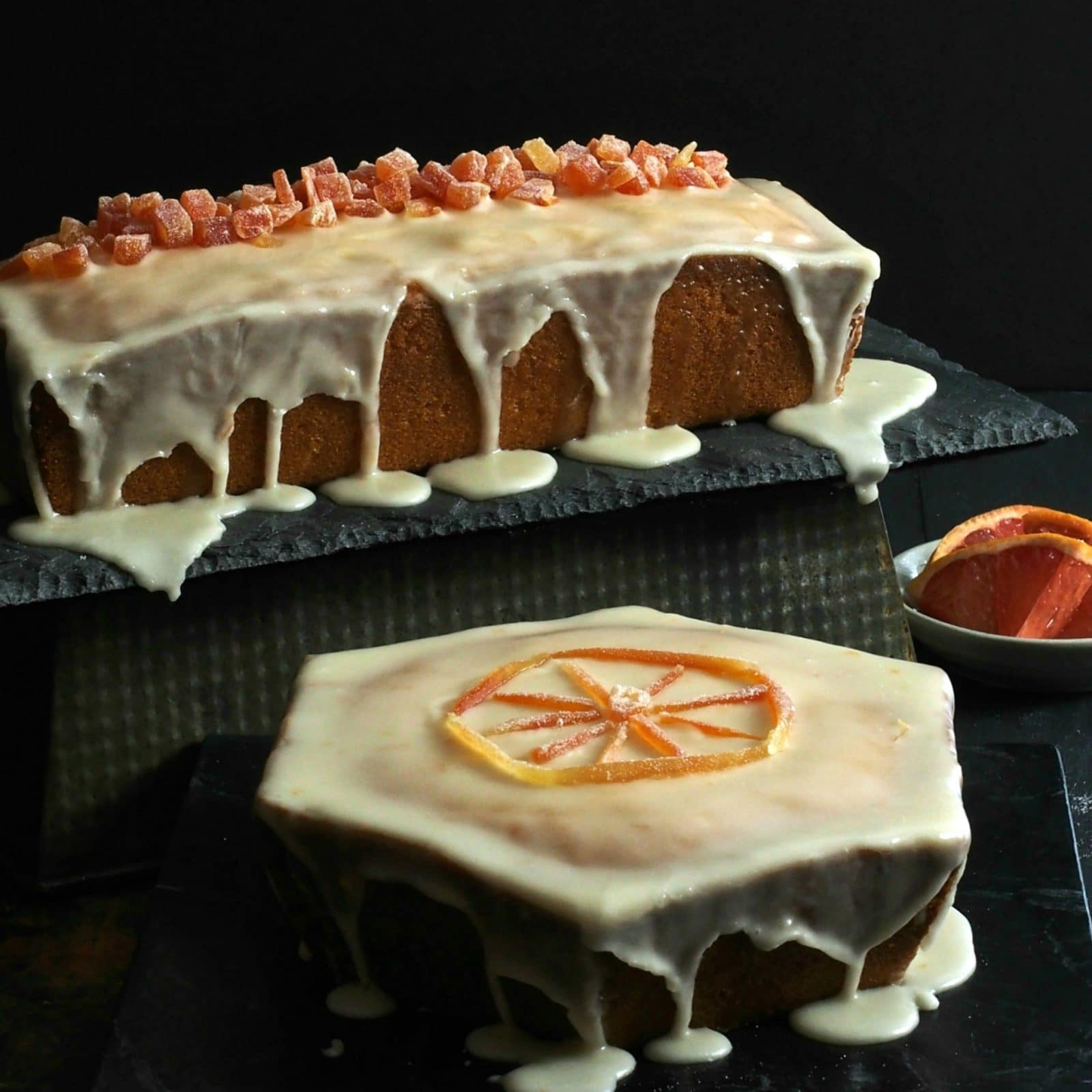 I was making Grapefruit Pound Cake with Grapefruit Glaze today and wondered how this spunky fruit got its name. Do you know why grapefruit is called grapefruit? If you do, please be patient, and give the uninformed on this topic a moment to read the following paragraph.
Unbeknownst to me until today, the mighty grapefruit grows on trees in clusters. It seems these clusters reminded the person, given the responsibility of naming said fruit, of the way grapes grow in clusters. Thus, the moniker "grapefruit." Now, aren't you glad you learned that nugget of information today?
The next tidbit you are going to learn is how to make Grapefruit Pound Cake with Grapefruit Glaze. The third thing you will want to do is thank me, because this is one of the tastiest, most moist and loveliest cakes I have ever eaten.
The pound cake has a subtle grapefruit flavor and a tight, light crumb that practically melts in the mouth. The glaze adds tons of citrusy love with a delightful and refreshing grapefruit flavor.
The decorations aren't necessary, but they are fun. They make the cake look so much more appealing just like fresh flowers brighten any room. I kept things easy by using store bought candied grapefruit peel. (If you are wondering, that isn't supposed to be a wheel on top of the hexagonal cake; it is supposed to be a grapefruit slice. Thank you very much.)
I am so excited to share this recipe with you, because I am in love with Grapefruit Pound Cake and its glaze. It is so delicious and versatile.   If you don't want grapefruit, make it any citrus flavor you love. It would taste as delightful made with oranges, limes or lemons.
Before I leave you today, I want to share a few additional gems about the lovely grapefruit to keep in mind.
When picking out grapefruit, choose firm, springy and heavy fruit. The heavier it is, the juicier it is.
Choose thin, smooth-skinned fruit. (Keep in mind a 20 year-old face:-)
Grapefruit will keep in the fridge two-three weeks.
If eating the fruit within one week, store them at room temperature and the fruit will stay juicier.
Grapefruit is super rich in Vitamin C and A and has a ton of other nutritional value.
Now, it is time to leave – to move on to my next recipe. I wonder if I will wonder how it got its name.
Enjoy!
PS. This cake is superb even without the glaze.

Grapefruit Pound Cake with Grapefruit Glaze
Pound cake - citrusy & sweet with a tender crumb and citrus glaze. The perfect dessert for almost any occasion. The glaze adds extra grapefruit flavor and a citrus punch, but the cake is superb even without the glaze. (I am a glaze-lover, though.) ----------Original recipe at Cooking Light: http://www.myrecipes.com/recipe/grapefruit-pound-cake
Total Time
1
hour
15
minutes
Ingredients
For the Pound Cake:

9

ounces

about 2 cups all-purpose flour

1-

teaspoon

baking powder

½

teaspoon

salt

1 2/3

cups

granulated sugar

6

tablespoons

butter

softened

8

ounces

low-fat cream cheese

2

large eggs

¼

cup

canola oil

2

tablespoons

grapefruit zest

½

teaspoon

vanilla extract

½

cup

2% milk

--------------------

For the Grapefruit Glaze:

½

cup

fresh grapefruit juice

1 grapefruit

1-

tablespoon

grapefruit zest

1 grapefruit

2

tablespoons

oil

3-4

cups

confectioner's sugar
Instructions
For the Pound Cake:

Preheat oven to 325F.

Spray a 10-inch tube or Bundt pan with baking spray.

In a large bowl, sift flour, baking powder and ½ teaspoon salt. Whisk together and set it aside.

Place granulated sugar, butter and cream cheese in a large mixer bowl, beat with an electric mixer at HIGH speed until light and fully. Add eggs, 1 at a time then beat in oil, zest and vanilla.

Alternately, add the flour mixture and milk – beginning and ending with flour.

Spoon batter into pan.

Bake at 325F for 60-70 minutes or until a wooden toothpick inserted in the middle comes out with a few moist crumbs.

Cool the cake in the pan on a wire rack 10 minutes then invert cake.

Once the cake has been removed from the pan, completely cool the cake on the wire rack.

-----------------------

For the Grapefruit Glaze:

Combine grapefruit juice, zest, oil and powdered sugar in a medium bowl and mix well until glaze is smooth. If the glaze is too thick, add a little grapefruit juice, if it is too thin, add a little more juice.