Secret Ingredient White Chicken Chili.
Have you ever thought about all the different types of chili in the world? Up until the past few years, I thought there were two types – everyone else's chili and my chili, the best darn chili on the planet (according to my husband). Well, if you ask my kids and my husband, that statement about my chili con carne might still be true, but knowing more about chili now than I did then, that statement might not be true.
If I begin to list all the different types of chili, I won't be able to stop until the rooster across the street crows again this time tomorrow morning, so here is an abbreviated list: Chili, Chili Dogs Chili, White Chili, Taco Chili, Green Chili, Chili Con Carne, Chili Mac, Vegetarian Chili, Chili Frito Pie, Chile Verde, Fish Chili, Cincinnati Chili, Chili Burgers, Chili-Tamale Spread, Dixon's Chili, Slow-Cooker Chili, Southwestern Chili, Texas Chili and Black Bean Chili. I'll stop there.
Chili is an incredibly versatile dish, and that's one of the reasons I love it. I can incorporate my favorite meats, beans, cheeses, vegetables and spices, or I can choose to leave them out. The resulting masterpiece will be determined by my mood at that particular moment. If happy, I'll add more sweetness, if bored, I'll add extra spice; if daring, I'll add more beer to see what might happen.
I'm trying to remember the first time I made White Chicken Chili, but I think it was in 2008. I came across a recipe in a local cookbook I had purchased a few years earlier, and decided it was time to come up with my own version. My Secret Ingredient White Chicken Chili is my latest chili creation. It is packed full of flavor from the beer, to the cumin, to the secret ingredient. With the first bite, your taste buds will be shaking their maracas.
One day I might have a chili party and prepare my favorite chili recipes. I'll serve all my favorites and let a panel of chili experts decide which is the best of the best, but until then, there are two things I know for certain:
1. I still make the Best Darn Chili-Dog Chili.
2. My Secret Ingredient White Chicken Chili will make you want to shake your bum while your taste buds shake those maracas.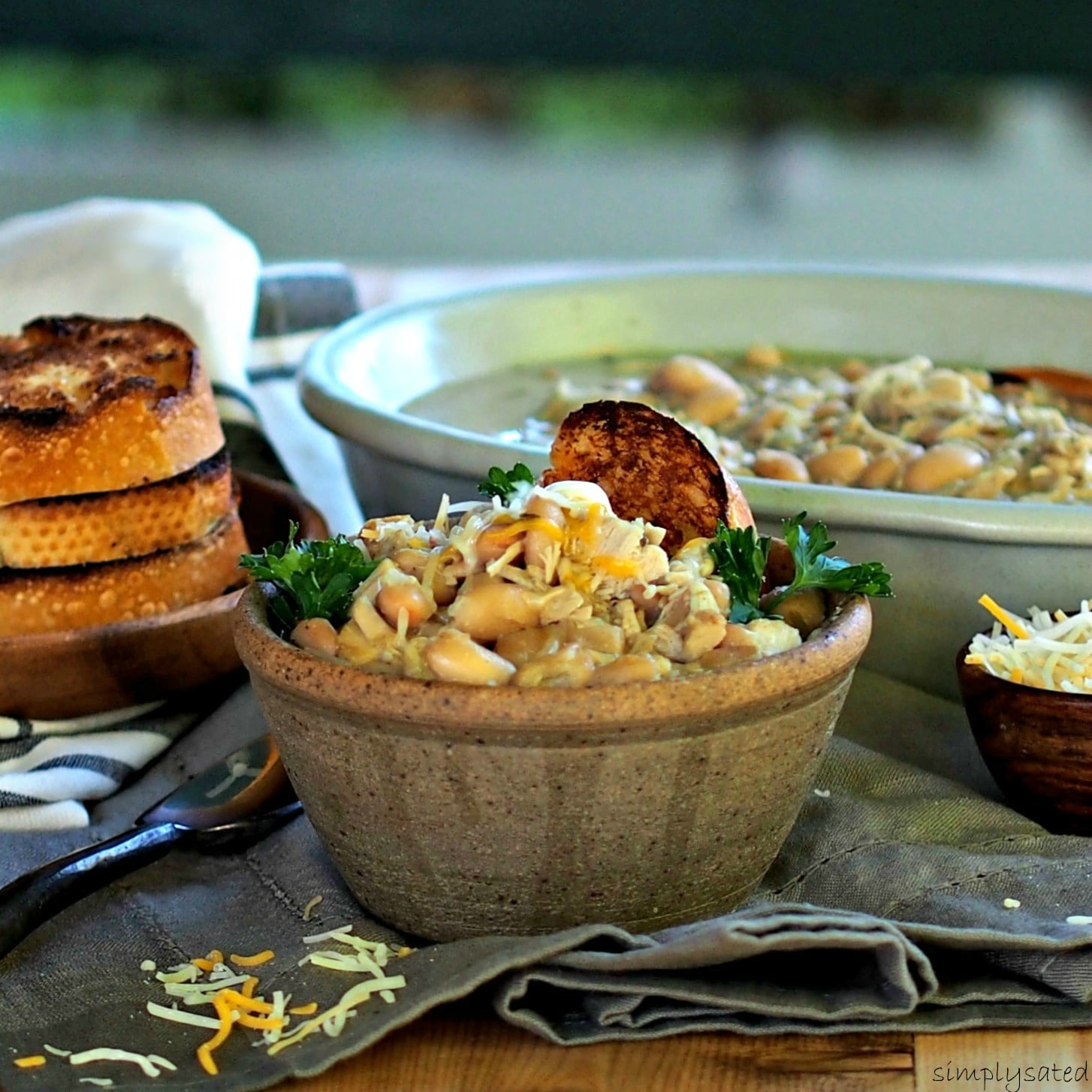 Enjoy!
White Chicken Chili
Total Time
1
hour
15
minutes
Ingredients
1½

cups

diced onion

1

Granny Smith apple

peeled, cored & diced

3-4

cloves

garlic

minced

2

tablespoons

canola oil

2

tablespoons

butter

unsalted

4

cups

cooked

cubed or shredded chicken (4 chicken breasts or 1 large rotisserie chicken)

3

cups

chicken broth – low sodium or unsalted

12

ounces

beer – your favorite, Dos Equis or Main & Mill Green Chile Blond Ale

1

can chopped green chiles

drained or 1 fresh Anaheim or California green chiles, seeded & chopped

2

cans Great Northern Beans

drained

1

lime – juice only

¼

teaspoon

ground red pepper, opt.

2

teaspoons

ground cumin

1

teaspoon

dried oregano

½

teaspoon

Ancho chili powder

½

teaspoon

chili powder

½

teaspoon

apple pie spice

1

teaspoon

ground black pepper

¾

teaspoon

kosher salt

1

cup

Half & Half, whole milk or heavy cream

½

cup

fresh cilantro

chopped

--------------------

For Garnish:

Sliced avocado

Fresh cilantro

chopped

Low-fat sour cream

Mexican blend or sharp cheddar cheese

Crackers or crusty bread

tostito-style chips
Instructions
In a large skillet, place canola oil and butter. Add diced onion and diced apple and sauté until onion is translucent and apples are soft. Add garlic and sauté 30 seconds more.

In a Dutch oven or large pot, place all ingredients except the half 'n half, cilantro and garnish ingredients. Bring to a boil, then reduce heat to medium-low and simmer 50 minutes.

After 50 minutes, add chopped cilantro and Half & Half. Turn heat to medium, stir and cook until heated through.

Serve with your choice of garnishes.

Enjoy!