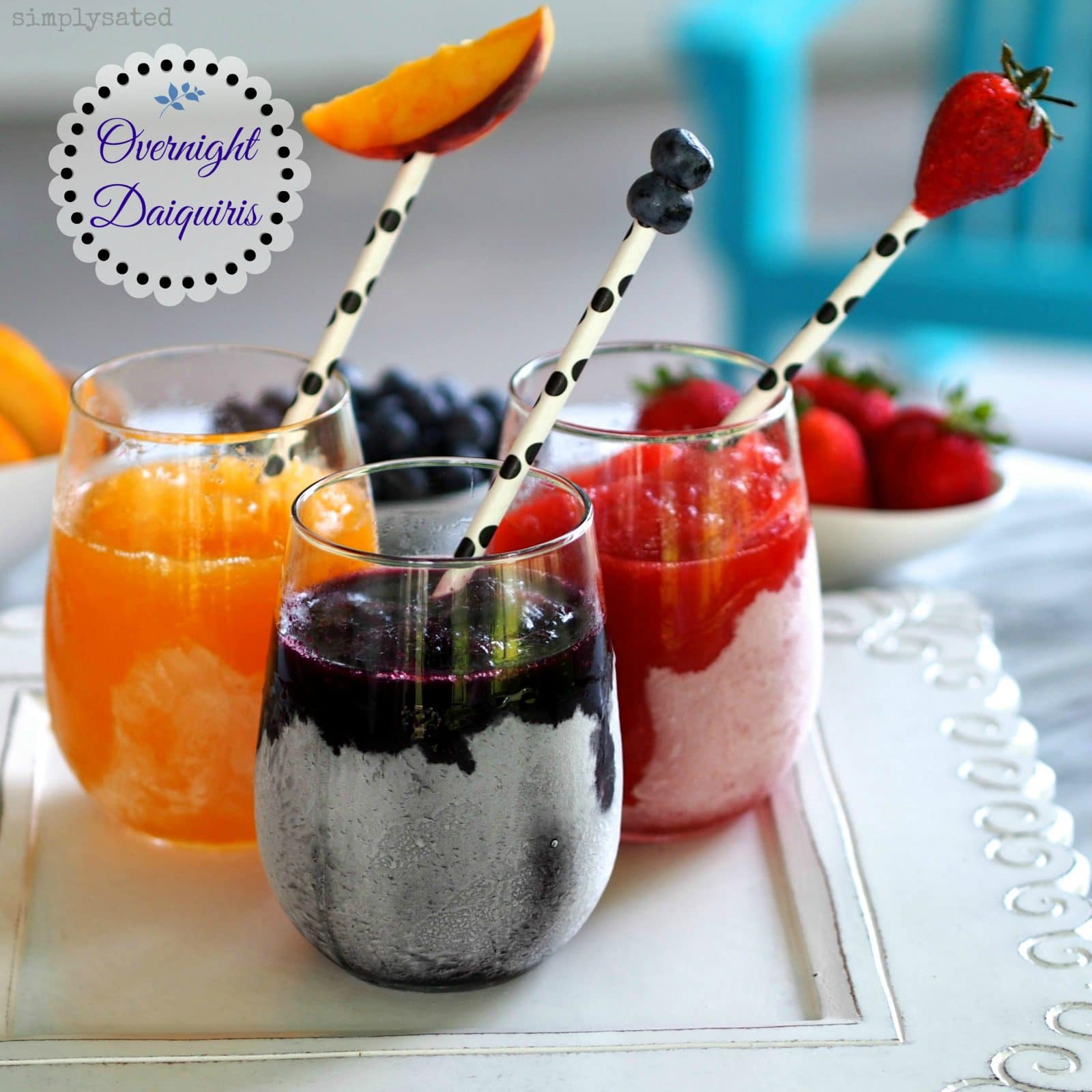 Am I too old to have a slumber party? If not (heck, even If I am) I have the perfect libation in mind. Now here is a real plus –  Overnight Daiquiris can be made as a virgin version and would taste just as good.  See?  Now even the kiddos can have fun with it.
This recipe is fun, fun and more fun. It is easy, versatile and can be made days ahead for any occasion.
You could even double the recipe and make half alcoholic and half non-alcoholic. Just choose your flavor and substitute the fruit – you really cannot go wrong. It is as easy as that!!
I am giving you three versions to get you started. Now it's time to play "Eeny, meeny, miny, moe, catch a daiquiri…" to create your own favorite versions.
Enjoy!!

Overnight Daiquiris
Overnight Daiquiris - a fun and versatile make-ahead drink. ------- Recipe inspriration - Entertain, Decorate, Celebrate Magazine - May/June 2013
Ingredients
For Peach Daiquiris:

1

16 ounce package frozen peach slices

3/4-1

cup

granulated sugar

2

cups

water

1/4

cup

orange liqueur

for non-alcoholic use orange juice

juice of 1 1/2 lime

1/2-3/4

cup

light rum

1

can lemon-lime soda

for non-alcoholic version only

Garnish with lime slices or mint sprigs

----------------

For Strawberry Daiquiris:

Substitute frozen strawberries for the frozen peaches

----------------

For Blueberry Daiquiris:

Substitue frozen blueberries for the frozen peaches
Instructions
For any flavor:

In a medium saucepan, combine frozen fruit, sugar, water, orange liqueur and lime juice.

Cook until sugar is dissolved and fruit is thawed and softened. Approximately 5 minutes.

Pour the fruit mixture into a blender and pulse until smooth or desired consistency.

Pour into a pitcher and add the rum. Stir until well blended.

Pour into a freezer container and freeze overnight.

Remove from freezer 15 minutes before ready to serve.

Pour into glasses (if serving as a non-alcoholic drink - add a splash or two of lemon-lime soda)

Garnish with a lime slice or mint sprig. (opt.)

Enjoy!