Oven Roasted Melting Potatoes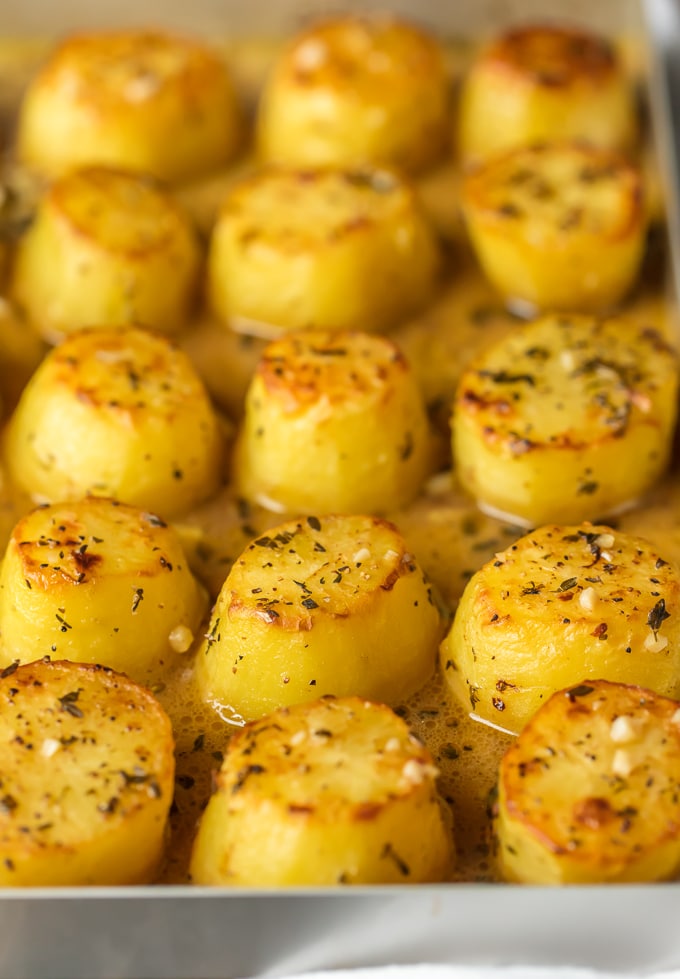 Oven Roasted Melting Potatoes or Booby Trap? My new favorite potato or one of my old favorite board games? My mind is about to explode, is yours?
I can just imagine playing Booby Trap Melting Potatoes…kind of a "reverse" Booby Trap.
The object of the game would be to get the most potato disks to pop into one's mouth. Get it now? If not, I can't help you. Or…maybe…I should say I can't help myself?!
Why, oh why, could I not be the one to create this amazing recipe? Why, oh why, did it take me so long to discover such deliciousness?
I apologize for not giving credit (where credit is due) to the one who came up with Melting Potatoes.
With a teeny bit of research I learned these cutest of cute cylinders live life with a different moniker in England; Fondant Potatoes. I kid you, not!!
Fondant Potatoes were originally trimmed into the shape of eggs, fried in butter then baked. Why? Why shape them like eggs? I don't get it, but this recipe is genius none-the-less.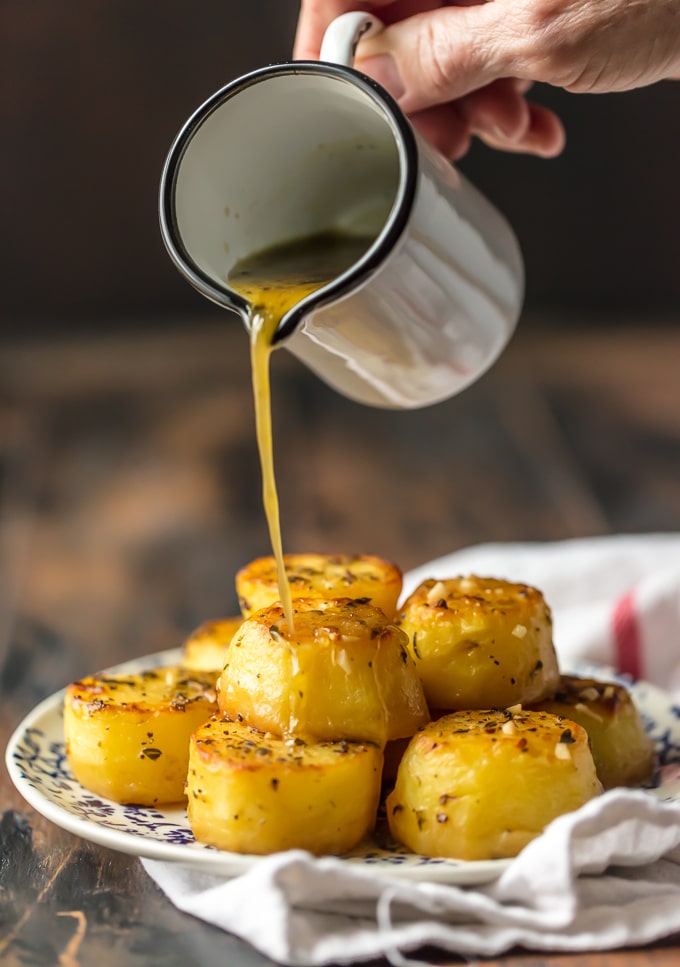 What I do know is this. I can give credit to somebody at Cook's Country for coming up with this particular recipe and the idea of simplification – skipping the stove-top frying and using the oven to roast them. Ah-mazing!!
These are the bullet points of Oven Roasted Melting Potatoes:
Use a metal pan. The oven temperature is set at 500°F and we do NOT want any glass breaking in our ovens or to have all this gorgeous scrumptiousness wasted.
The absolute best potatoes to use are Yukon gold potatoes – creamy and delicious.
These potatoes need a thick midriff – you know, similar to a suma wrestler's girth. They need to be cut into 1″ disks. Use a ruler – it is surprising how large an inch can be when slicing potatoes. And, use potatoes that are at least 1½ inches in diameter.
Butter and fresh thyme are musts – no ifs, ands or butts (oops) buts!!!
Almost any flavor of broth can be used: chicken, beef or vegetable. I suppose even Mexican Tortilla-Flavored-Infused Broth could be used (This does exist, and I'm looking into it…and I get no pennies from this link. Dang it!)
I love Oven Roasted Melting Potatoes and I know every single one of my peeps at Downtown Abbey loves them. I know you will, too!!
While visiting Simply Sated, please check out a couple of my other favorite potato recipes:
Also and always, another huge thanks to Becky Hardin, my daughter, aka: The Cookie Rookie for taking these remarkable photos. Please click over to check out some of our favorite potato recipes on her site: How To Cook Perfect Baked Potatoes and Best Herb Roasted Potatoes. Goodness glory, just how great are spuds?!!!
Melting Potatoes
Melting Potatoes have crispy outsides, creamy soft insides and are surrounded by an herby, buttery, savory sauce. They are easy and always get rave reviews. Melting Potatoes fit right in at any family meal or served on a silver platter at an elegant dinner party. Enjoy!
Ingredients
Ingredients:

3

pounds

Yukon Gold potatoes

peeled *See note.

1

½ cup stick unsalted butter, melted

1

tablespoon

minced fresh thyme

1

teaspoon

kosher salt

½

teaspoon

freshly ground black pepper

1

cup

chicken broth

2

garlic cloves

peeled and minced

Optional:

1/8

teaspoon

crushed red pepper

red pepper flakes

½

teaspoon

herbs de provence

favorite fresh herbs: rosemary

sage
Instructions
Do NOT use a glass baking dish – it could shatter in a 500°F oven.

Adjust oven rack to middle position and heat oven to 500°F.

Spray a 12 x 8 inch (or similar sized) pan with cooking spray.

Square off the pointed ends of the potatoes and cut into 1-inch-thick disks. The potatoes should be very similar in size.

Place the potatoes in a large bowl and toss with the melted butter, thyme, salt and black pepper.

In the prepared pan, place the potatoes in a single layer with at least ½ inch between potato disks.

Roast the potatoes 20 minutes or until bottoms are beginning to brown around the edges.

Remove pan from the oven and flip the potatoes over using a flat metal spatula. Loosen the potatoes from the bottom – do not pull up on the potatoes.

Return the potatoes to the oven and cook another 15 minutes.

In a medium sized bowl, whisk together the chicken broth and minced garlic.

Remove pan from the oven, flip potatoes and pour the broth/garlic mixture over the potatoes.

Cook another 15 minutes. The potatoes should be tender and sauce reduced slightly.

Remove from the oven and allow to cool 5 minutes before serving.

To serve, spoon a little of the sauce over the potatoes.

Enjoy!
Recipe Notes
*Note: Use potatoes that are at least 1½ inches in diameter.