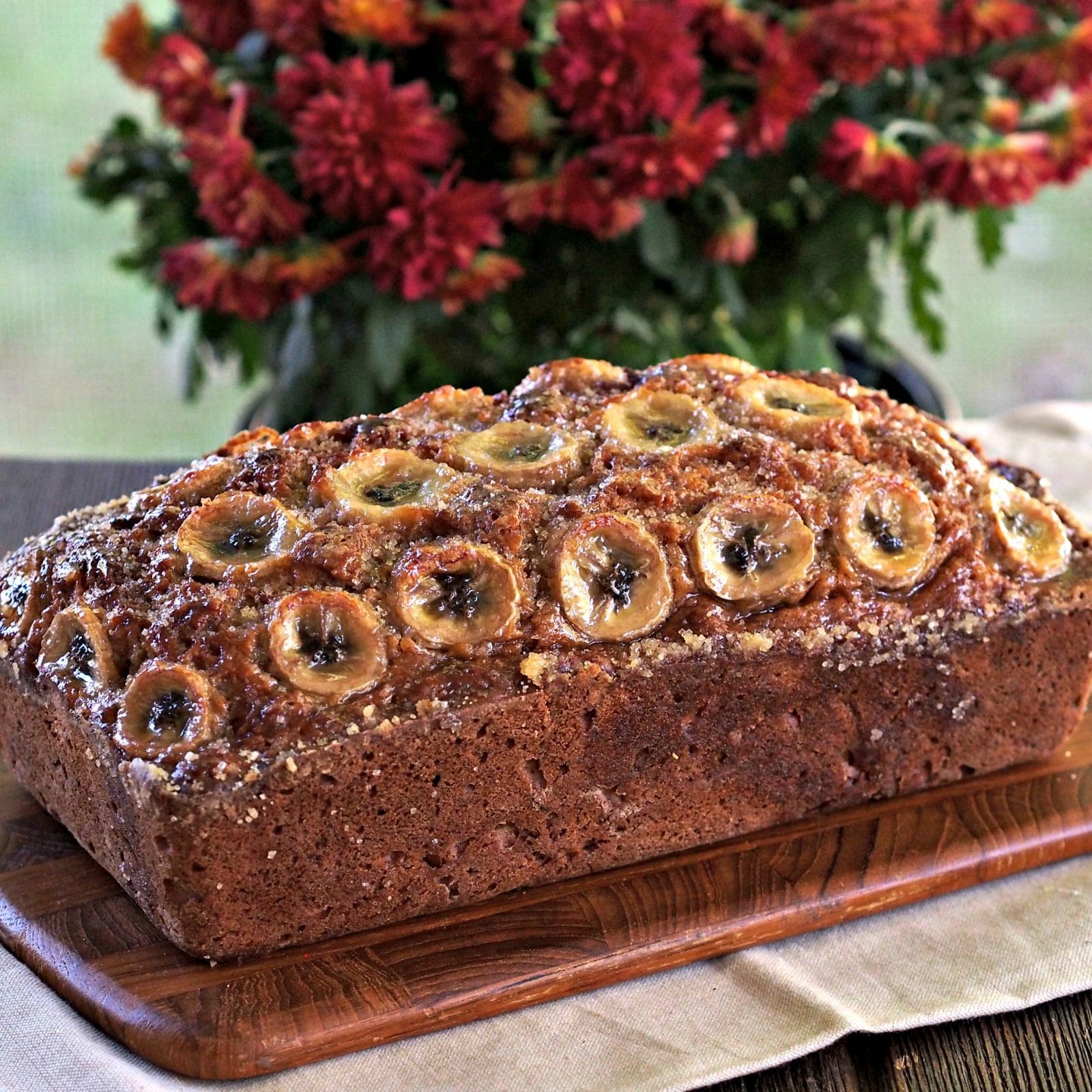 A few years ago, my husband and I lived in London for four months while he taught at Imperial College. Upon our return home, I had no job prospects so decided to do what I love to do – cook. I started a home-baking business and sold homemade baked goods at the local farmer' market. My husband was the ultimate food hawker, bringing in potential buyers while handing out samples of homemade cookies, cakes, breads and apple butter. Orange Spice Banana Bread was always a customer favorite.
I love the hint of orange and spice in this version, but the original recipe doesn't include orange zest, cinnamon or nutmeg. In my opinion (and those of my farmers' market customers), it is the addition of these fragrant spices and flavors that make this recipe so special. Of course, if you prefer traditional banana bread, just don't include the extra ingredients, but I encourage you to try this version at least once. It's fun to live on the wild side at times.
I found this recipe in the Baking Illustrated cookbook, which is a compilation of Cook's Illustrated baked items. I LOVE Cook's Illustrated, and have never made one of their recipes I didn't love. Their recipes are well tested and always turn out great. Of course, I did make one very minor change from the original recipe – just because I like brown sugar, and I have the need to tweak every recipe.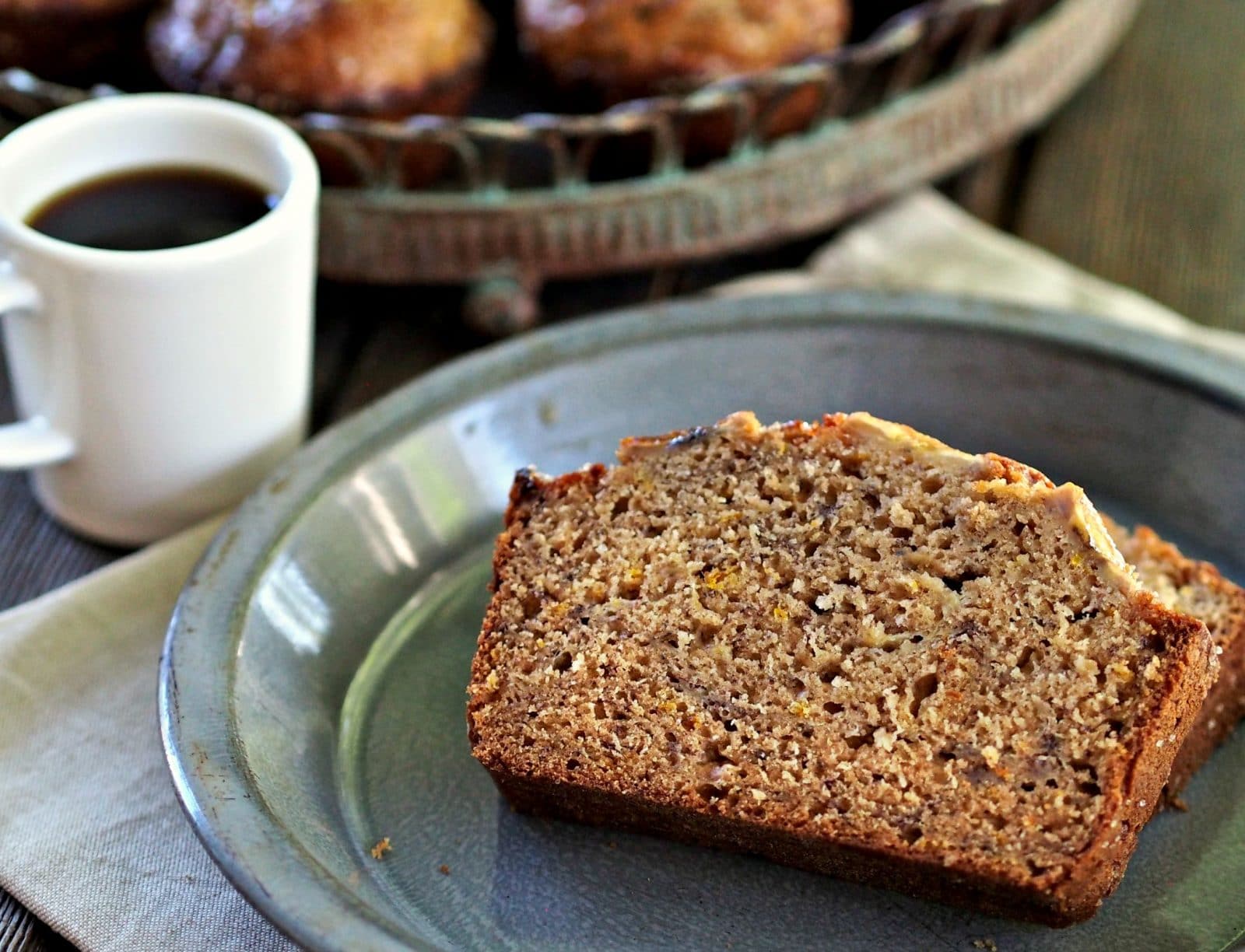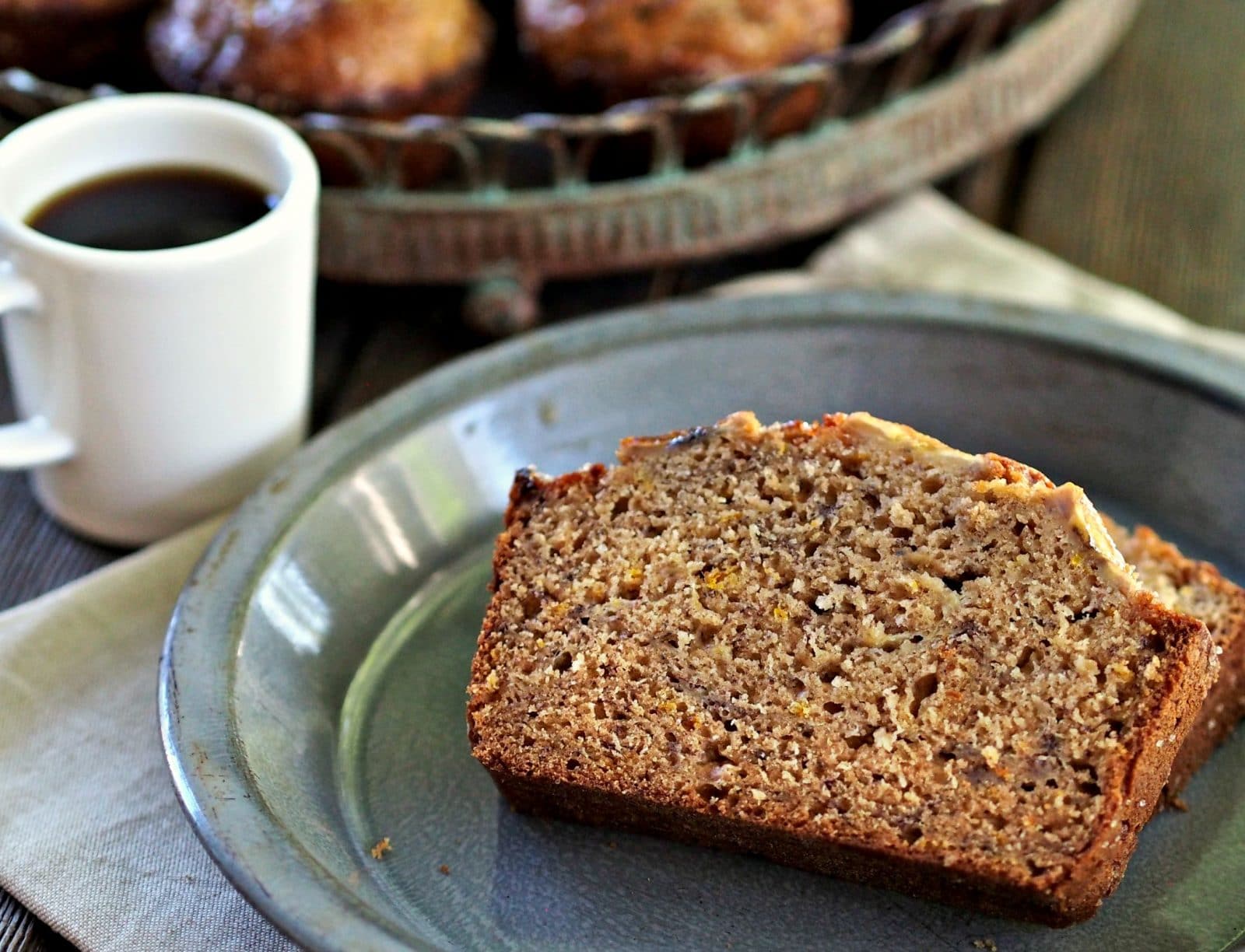 This is the best banana bread- ever!! It is moist, full of bananas, isn't overly sweet and has a subtle acidic note from the yogurt. The toasted nuts add a welcome crunch, but are optional. But, in my opinion, the sliced bananas on top are not optional. The bananas create a gorgeous presentation, and when bitten into, the caramelized, fresh banana is a special surprise.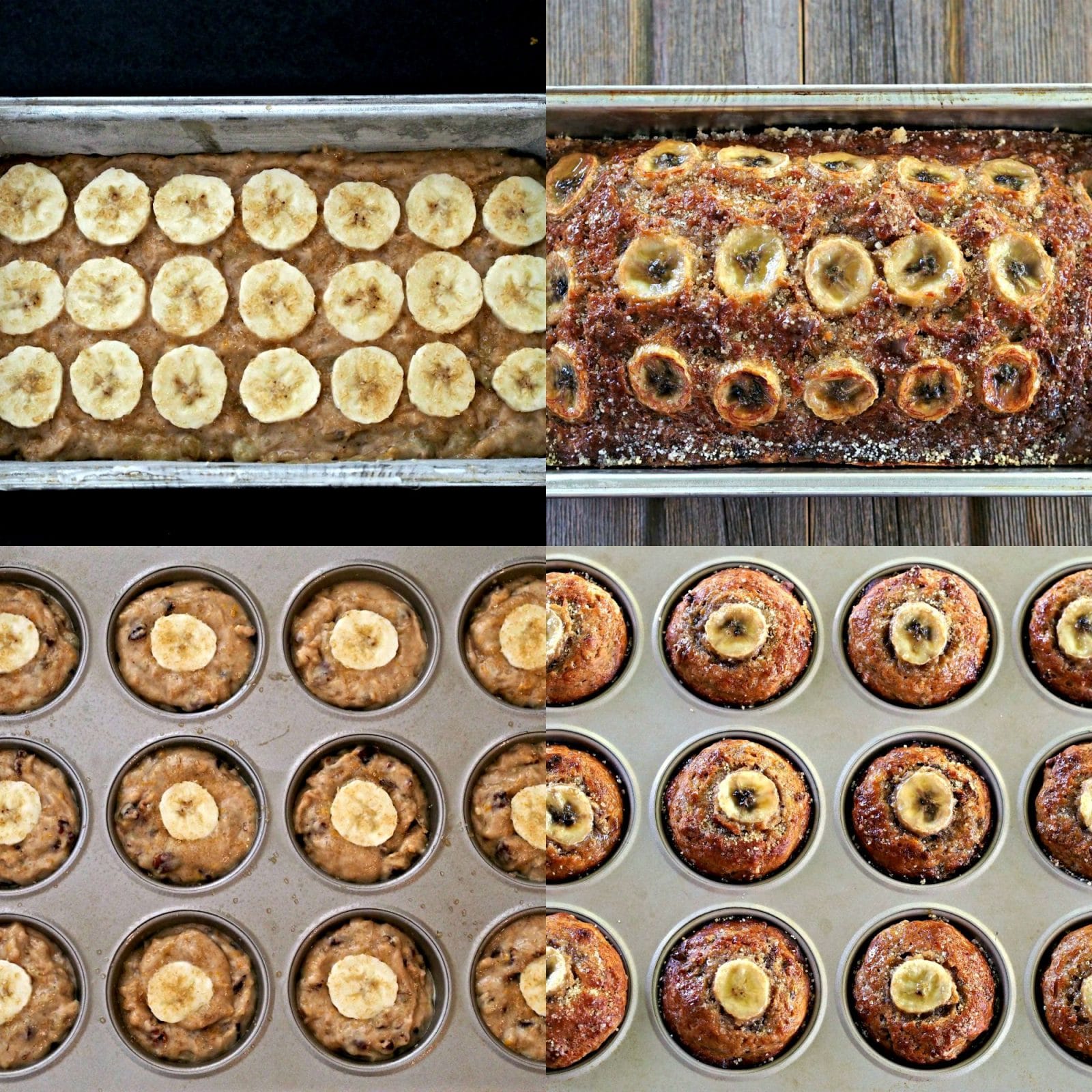 I hope you enjoy this recipe as much as my farmers' market customers did. Many true fans awoke extra early, even on Saturdays, in order to buy Orange Spice Banana Bread & Muffins before they sold out.
Enjoy!
You may be wondering if I saved any for Jeff and myself. The answer is, double-heck yes!!!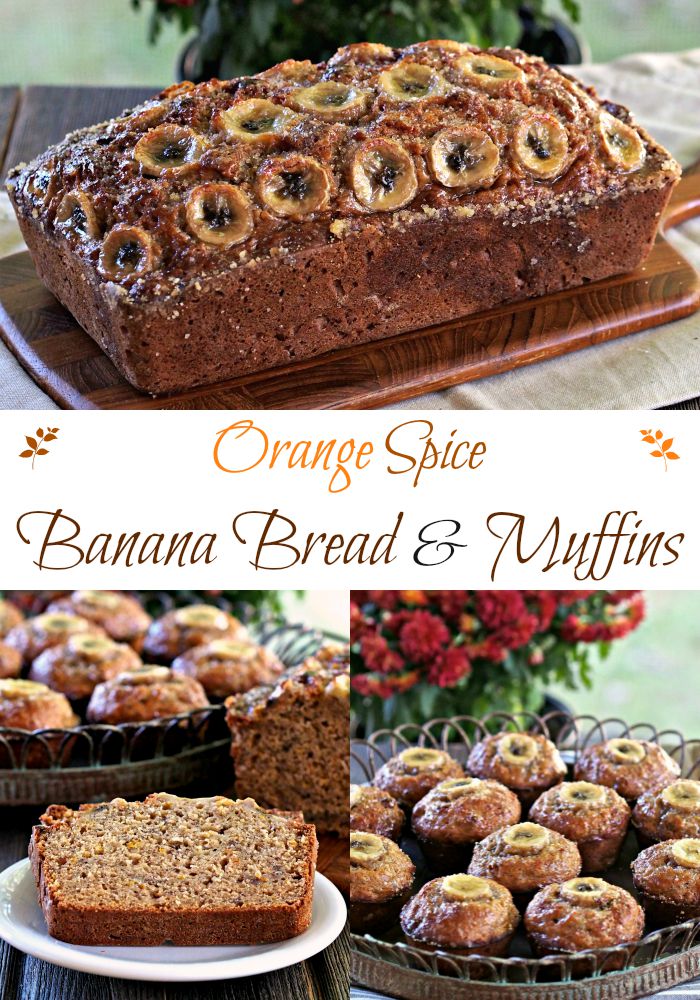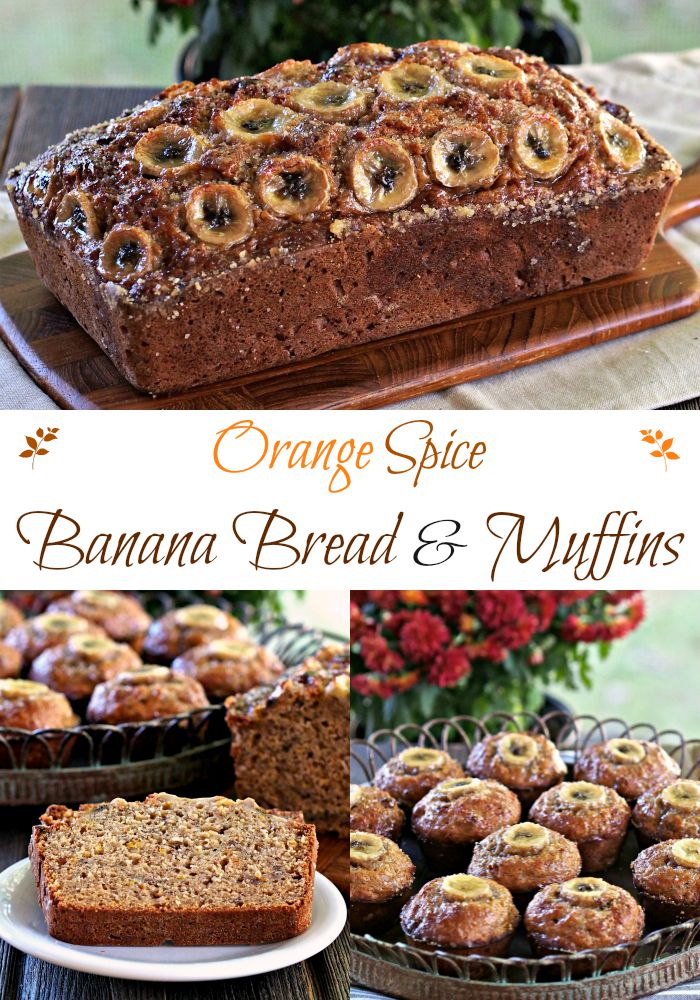 Orange Spice Banana Bread
The BEST Banana Bread & Muffins - ever! Moist & flavorful with toasted pecans, orange zest, cinnamon, nutmeg & caramelized bananas. ------------------ Very slightly adapted from Baking Illustrated, Banana Bread.
Total Time
1
hour
15
minutes
Servings
9
-inch loaf or 12 muffins
Ingredients
Yields: 1 loaf pan

9x5x3 or 12 muffins

*See notes for variations.

----------------------------------

2

cups

10 ounces unbleached all-purpose flour

*see note

1¼

cups

pecans or walnuts, chopped and toasted

½

cup

granulated sugar

¼

cup

dark brown sugar

packed

2

tablespoons

orange zest

freshly grated

¾

teaspoon

baking soda

½

teaspoon

salt

1

teaspoon

ground cinnamon

¼

teaspoon

ground nutmeg

3

large bananas

1½ cups, very ripe, brown-speckled - mashed

2

bananas

ripe & ready to eat (to place on top of bread)

¼

cup

plain yogurt or sour cream

2

large eggs

slightly beaten

6

tablespoons

butter

unsalted, melted and cooled

1

teaspoon

vanilla extract

Demerara

or coarse, raw sugar (to sprinkle on top)
Instructions
Adjust oven rack to lower-middle position.

Preheat oven to 350F.

Grease loaf pan or muffin tin - dust with flour and tap out excess.

Place chopped nuts on baking pan and toast nuts until fragrant, 5-10 minutes. Remove from oven and allow to cool.

Combine flour, baking soda, salt, cinnamon, nutmeg and toasted nuts in a large bowl.

Combine sugars and orange zest in a separate bowl then add to flour mixture and mix well.

With a wooden spoon, combine mashed bananas, yogurt, eggs, melted butter and vanilla.

Use a rubber spatula to lightly fold the banana mixture into the flour/sugar mixture just until combined. The batter should look chunky and thick.

Pour the batter into prepared loaf pan or muffin tin.

Thin-slice two ripe (but NOT overripe) bananas and, if making bread, decorate the top of the banana mixture to your choosing. If making muffins, place 1 banana slice on the top and in the middle of each filled muffin tin. Press down gently.

Liberally sprinkle the entire top of muffins or bread with coarse, Demerara (or raw) sugar and cinnamon.

Bake loaf of bread at 350F for 55 minutes or until golden brown and a toothpick inserted in middle comes out clean.

Bake muffins at 350F for 18-10 minutes.

(If bananas need more caramelization, take bread/muffins out of oven and set oven to broil.

Sprinkle bread/muffins with more coarse, raw sugar and cinnamon.

Set under broiler for 1-2 minutes until bananas are desired color. Watch closely so bananas/muffins don't burn.)

Cool bread/muffins in pan for 5 minutes then place on a cooling rack.

Serve immediately or at room temperature.

The bread/muffins will keep, on the counter, in an airtight container, up to 3 days.

Enjoy!