Yes, thank you for asking.  I did have fun decoratively piping the mashed potatoes on the top of my Open-Faced Roast Beef Sandwich Casserole.  I couldn't help myself.  The more I thought about this dish with all of its yummy layers, the more it reminded me of a cake. Well, as we all know, cakes are just more fun to eat if they look beautiful.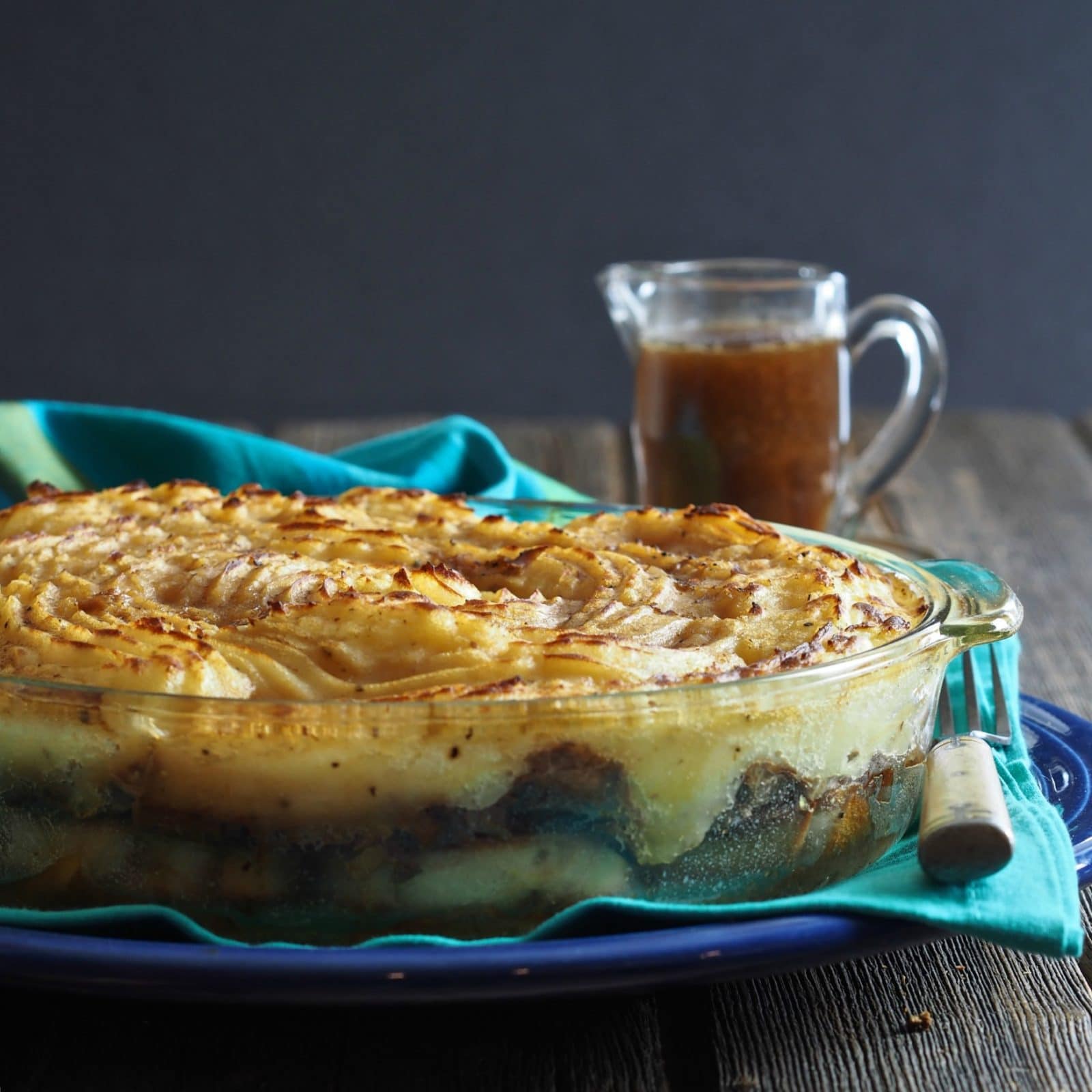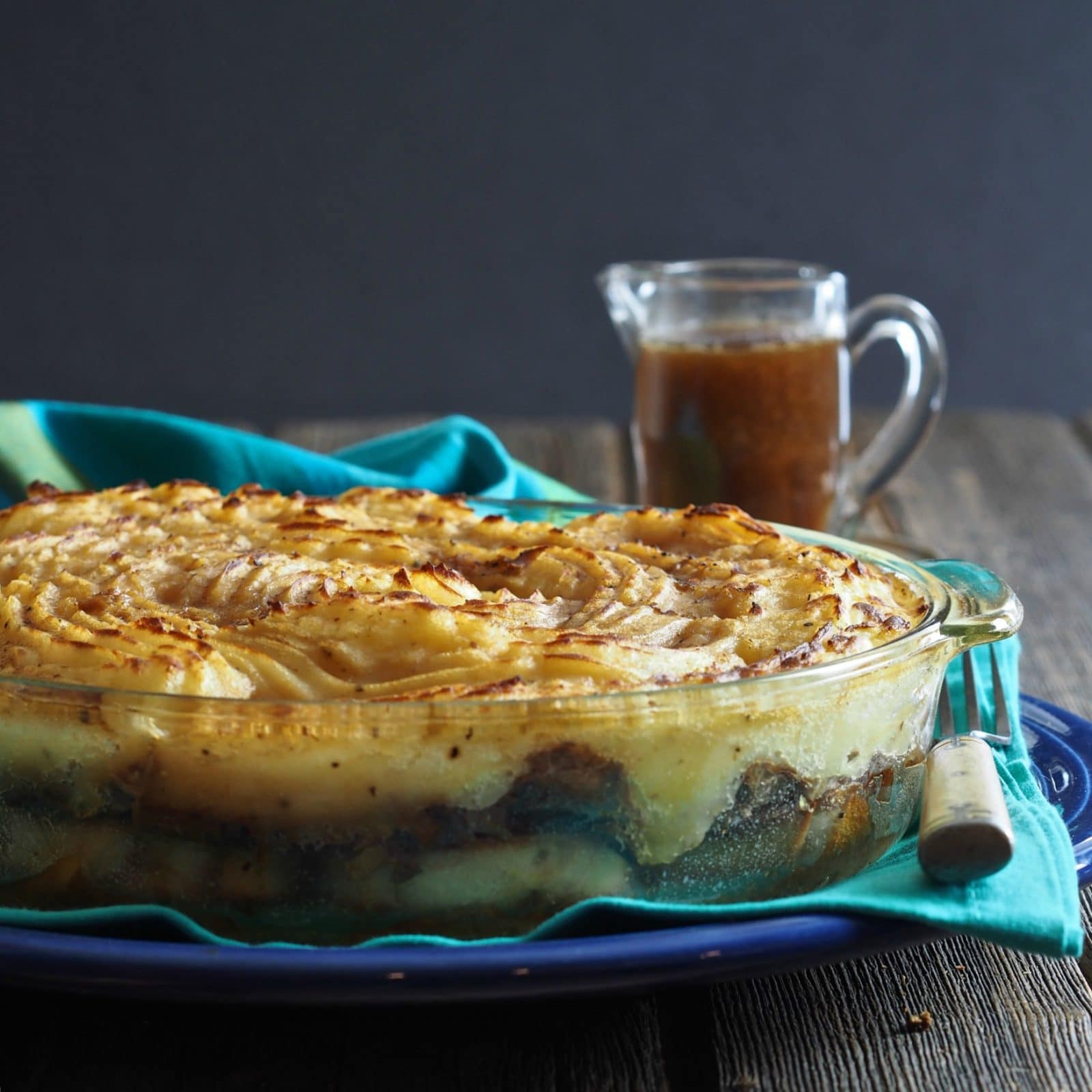 Don't you agree this casserole looks like a layer cake with gorgeous frosting? Thank you, again!
Now, let's take a look inside.
First layer: toasted-on-both-sides crunchy bread
Second layer: the most tender roast beef you ever put in your mouth
Third layer: creamy, buttery mashed potatoes
Fourth layer: perfect au jus from cooking the beef
Fifth layer:  (the sprinkles layer) shredded beef & cheese with your favorite herb
…and that is how to create this delicious meal.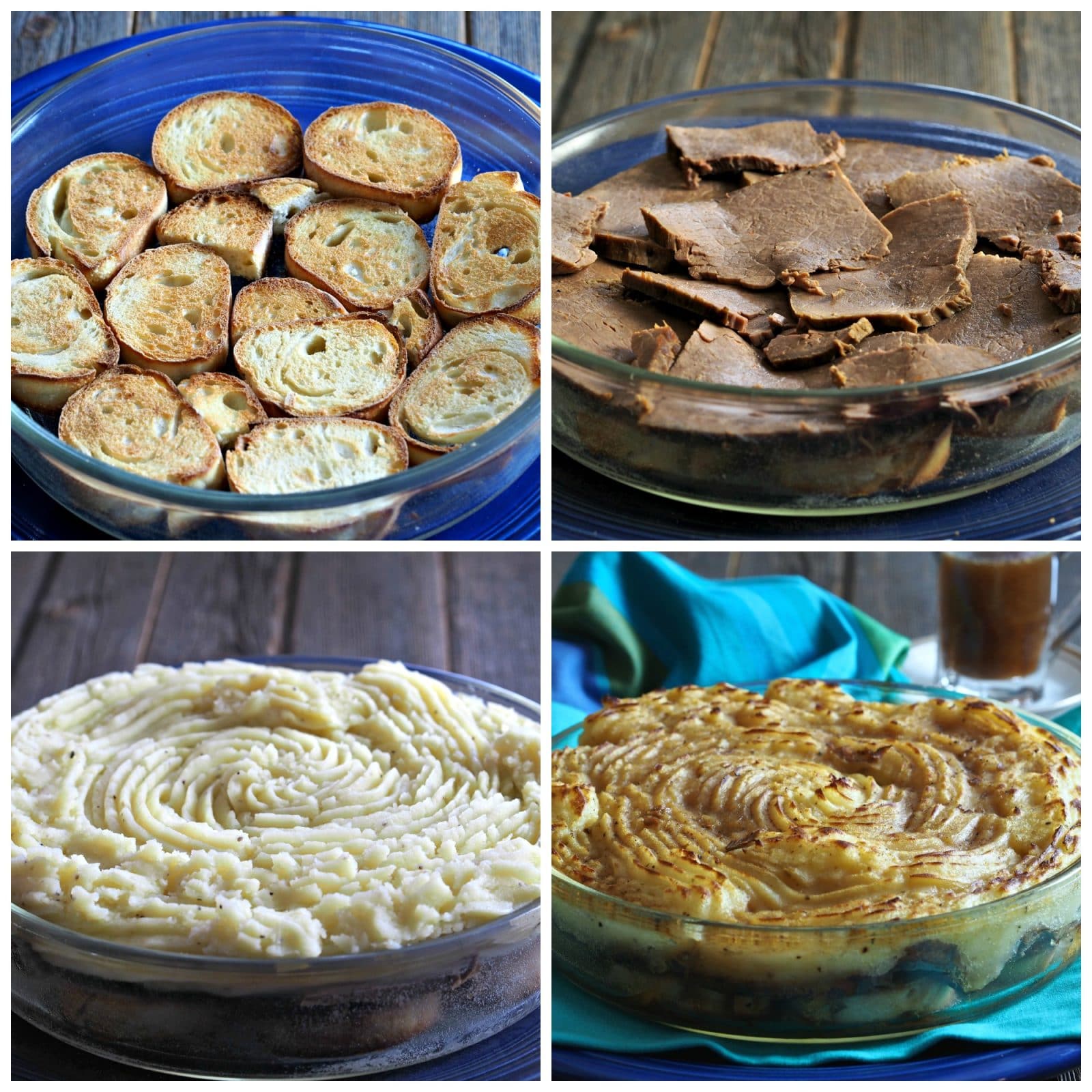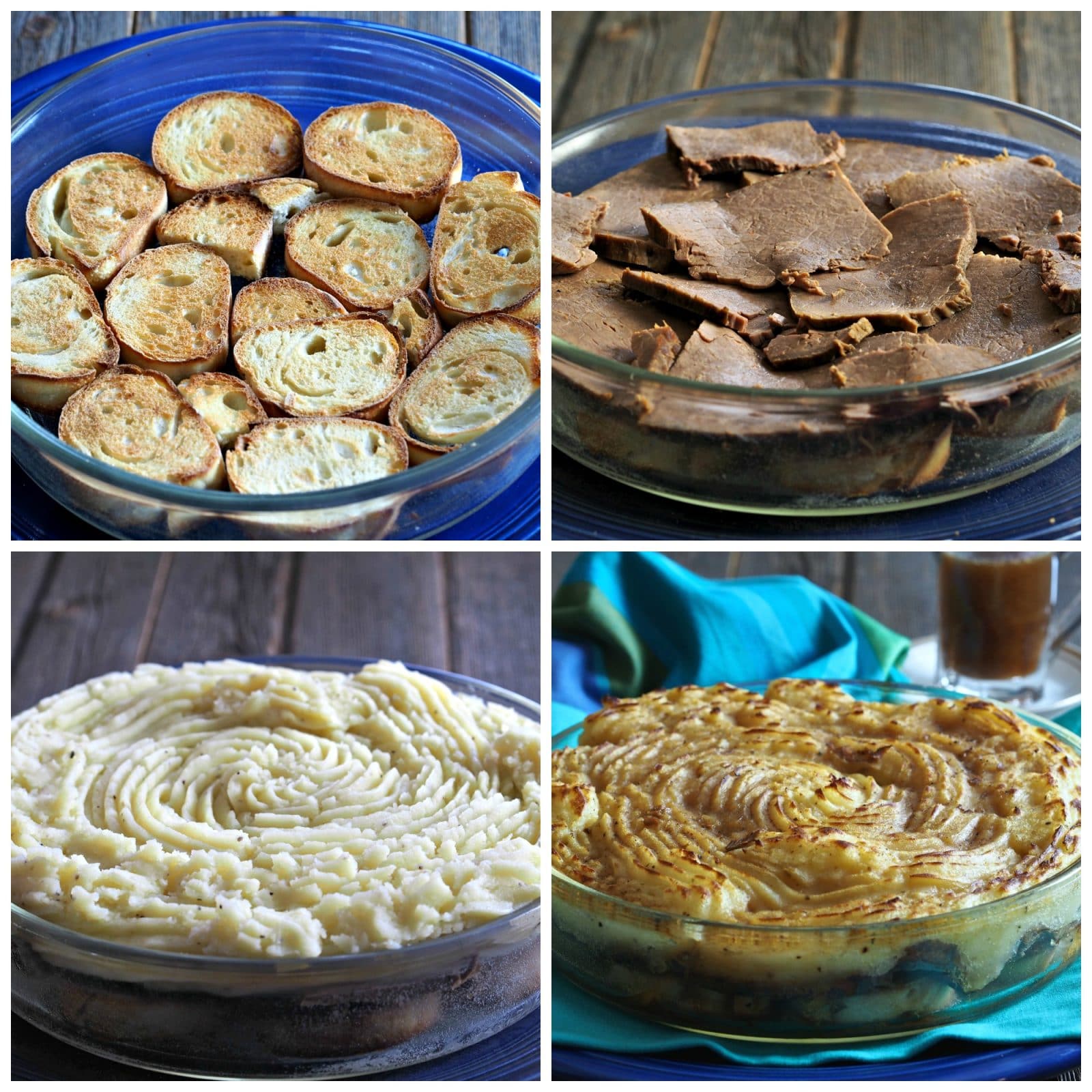 I guess I should tell you up-front, the roast for this dish is cooked in a slow-cooker, so please plan ahead. Maybe cook the beef one day, make Beef Au Jus (French Dip) Sandwiches for supper that night, then make this casserole the next night (or morning – whichever makes you smile).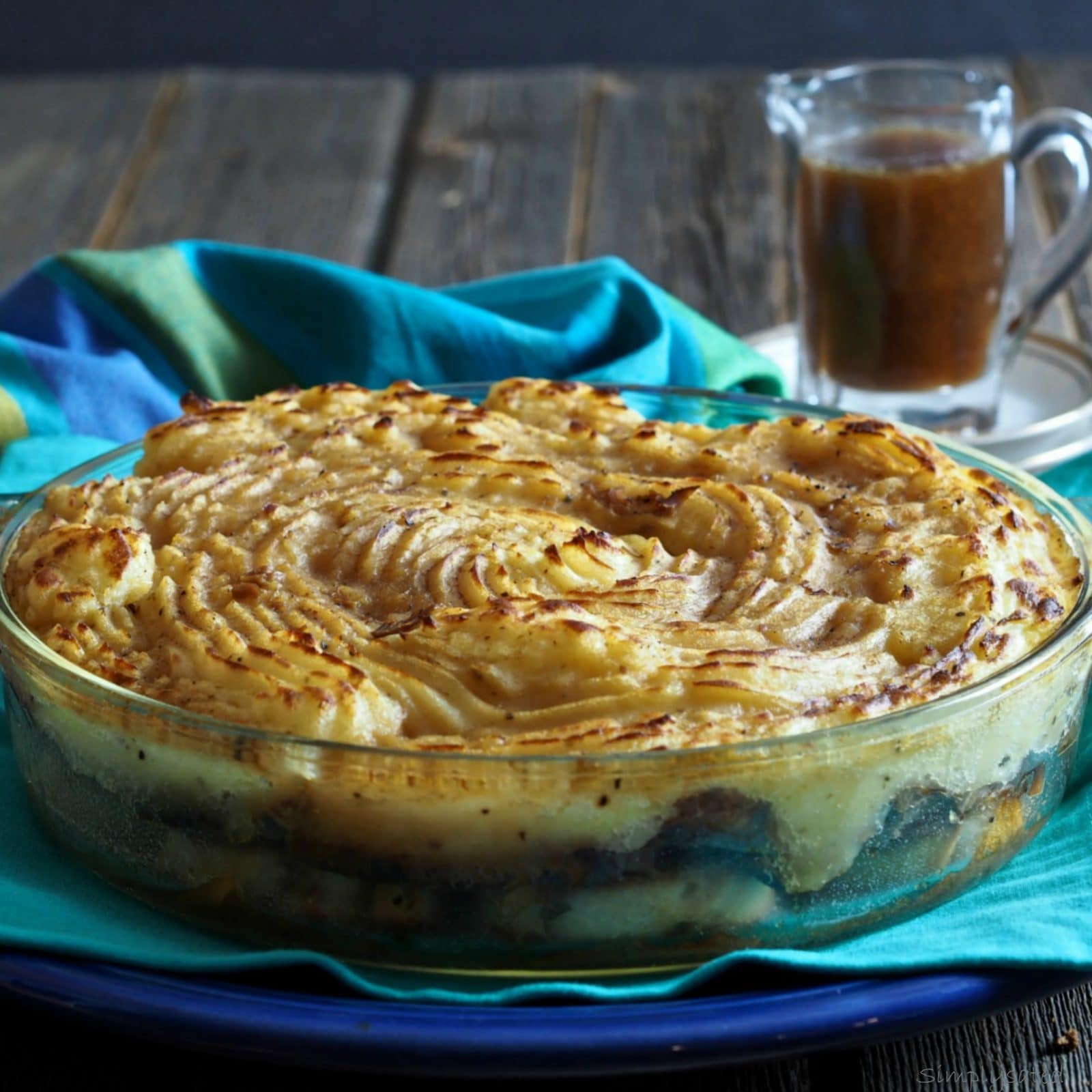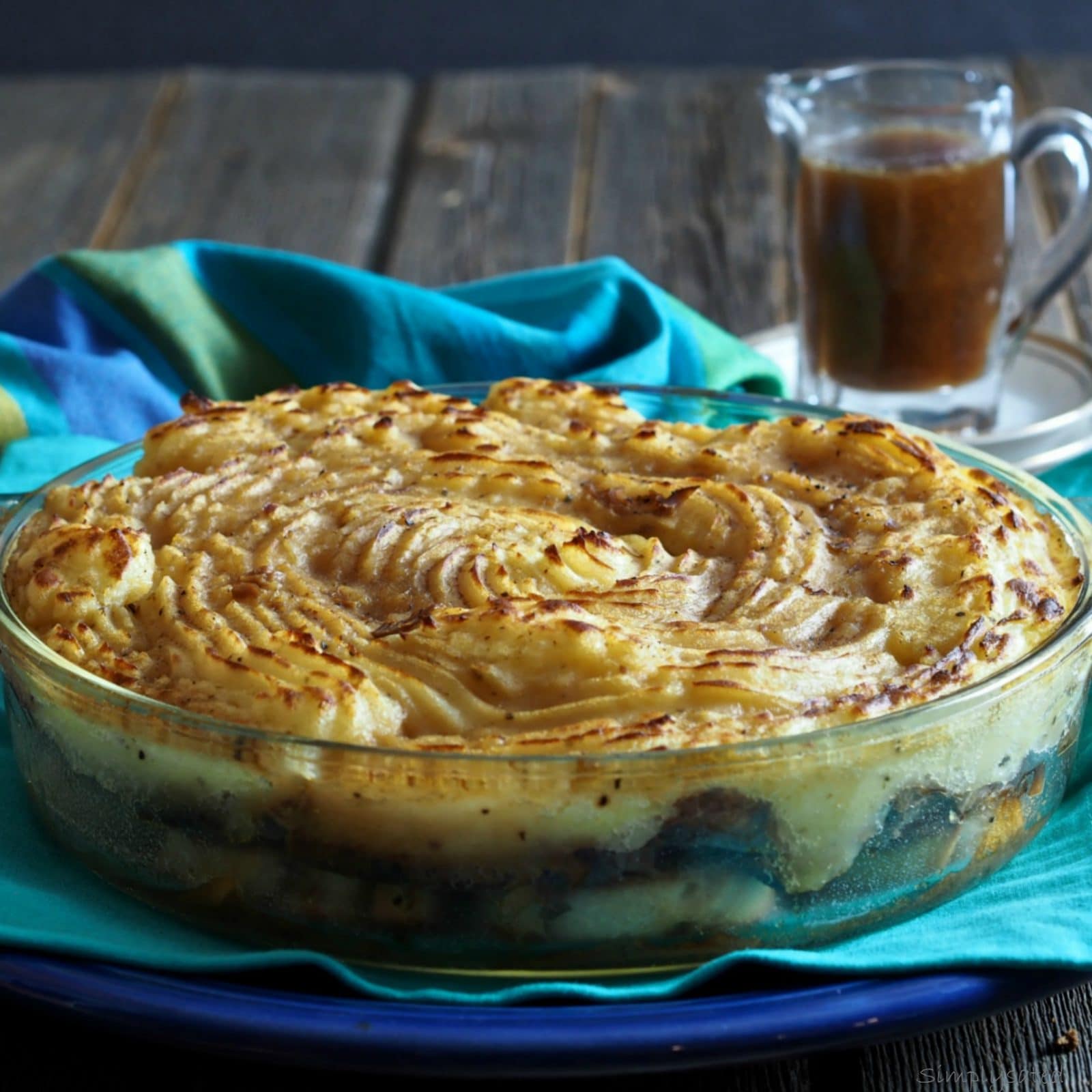 Oh, I do hope you love to eat and love to look at my Open-Faced Roast Beef Sandwich Layer Cake – oops, Casserole as much as I do.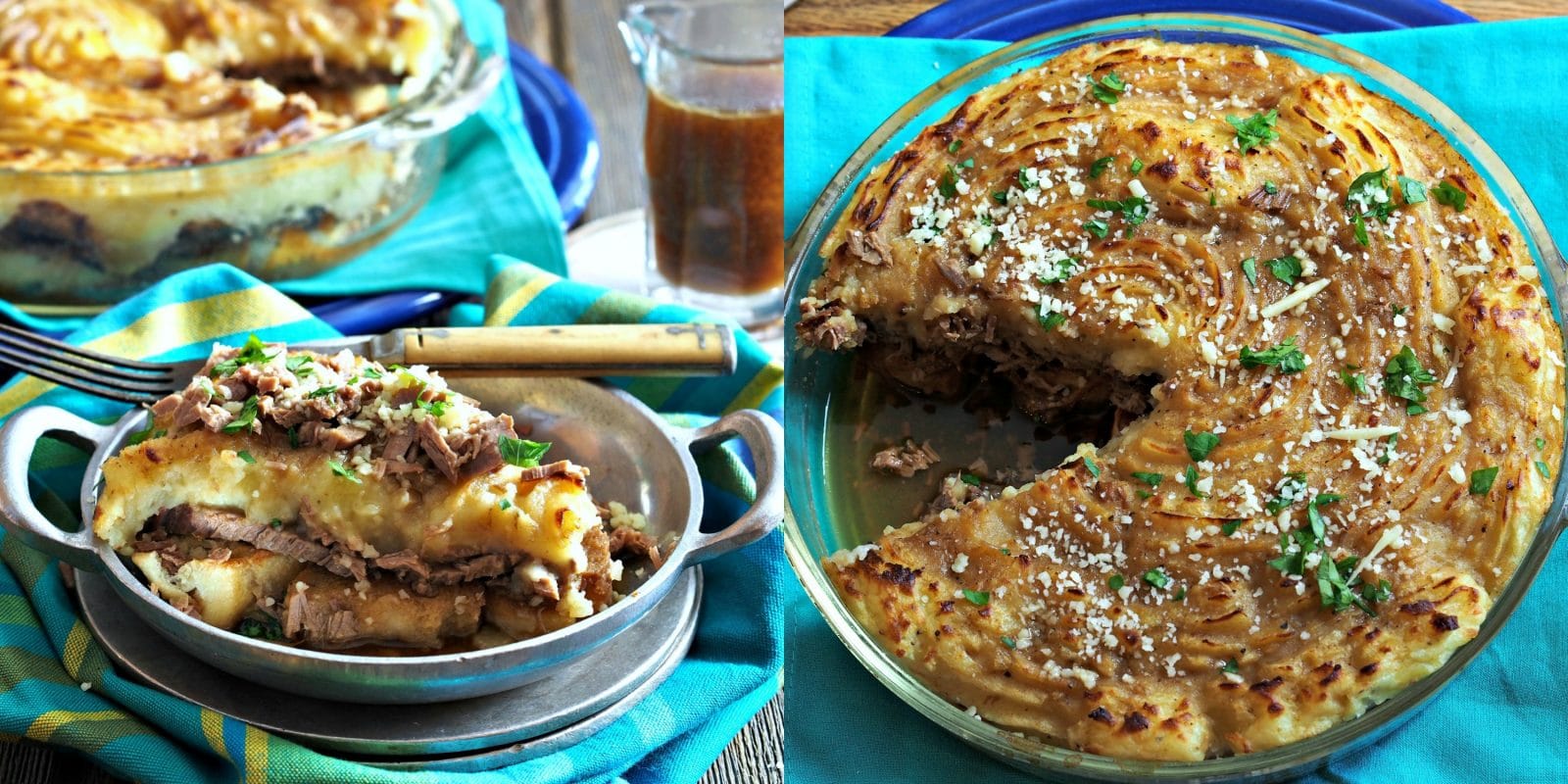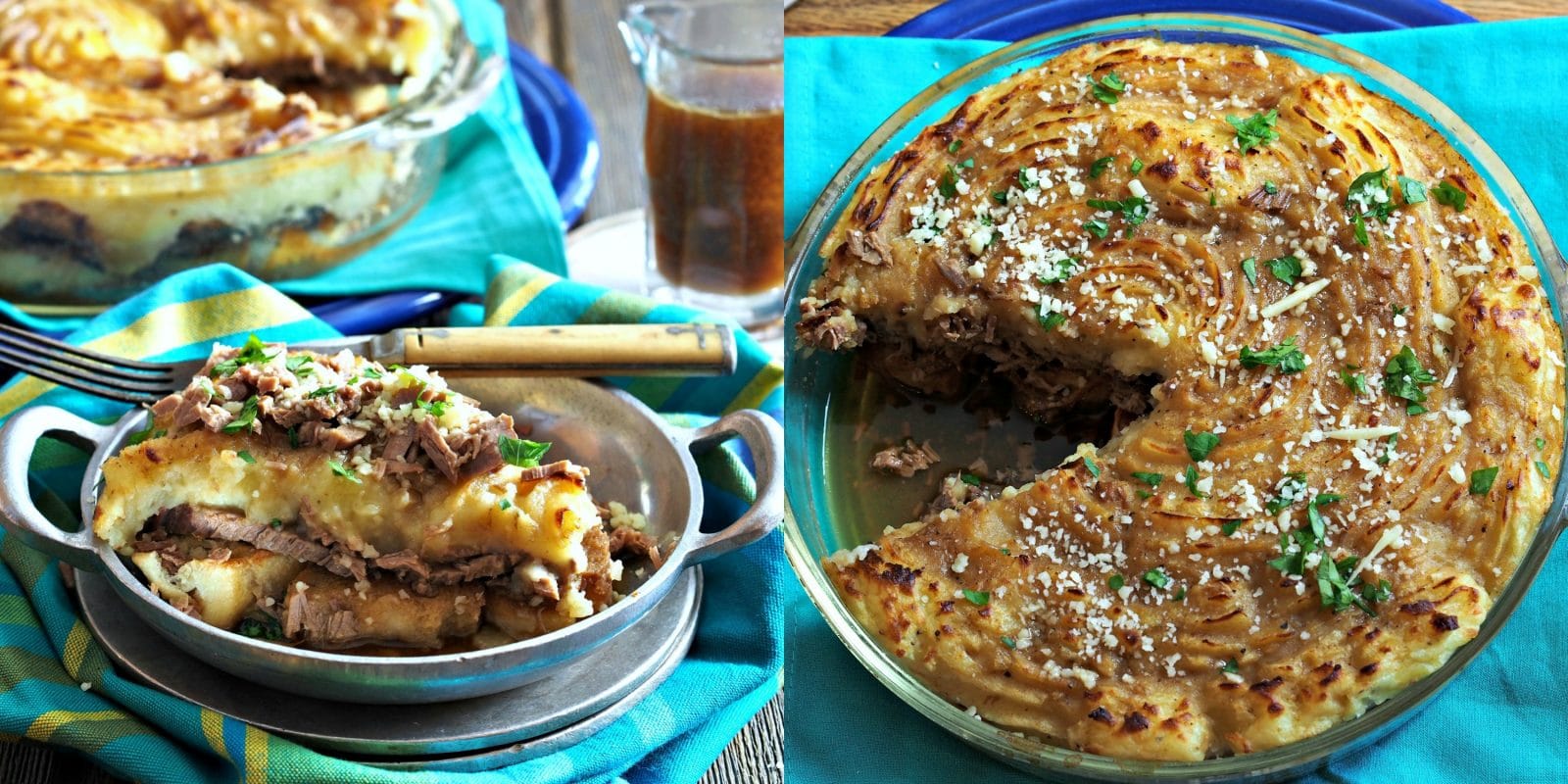 Enjoy!
Open-Faced Roast Beef Sandwich Casserole
Layers of toasty bread, tender roast beef & creamy, buttery mashed potatoes come together to create this delicious casserole. The recipe for the beef makes enough to make 1 casserole with extra beef to use in other dishes. If desired, double the other ingredients to make 2 casseroles.
Total Time
6
hours
40
minutes
Ingredients
For the Beef:

2

packages

.6 to 1 ounce each dry Au Jus flavored Gravy Mix

2

packages

.7 ounce each Good Seasons Italian Salad Dressing Mix

1

box

32 oz. Beef Stock

5

pounds

beef roast

Bottom Roast works well

water

if needed

---------------------------

Other:

1.5

pounds

Yukon Gold Potatoes

peeled, steamed & mashed.

1/4

cup

butter

1

Baguette or similar-type bread

sliced & toasted on both sides (no need to butter the slices)

½

cup

grated or shredded cheese – Gruyere

Parmesan, Swiss or Cheddar work well. (optional)

Fresh Parsley or favorite herb for garnish - optional
Instructions
Spray crock-pot with cooking spray and place beef inside.

Sprinkle the Au Jus and Italian Dressing Mixes over the roast.

Pour beef broth on top and add extra water to cover the roast.

Cook 4-5 hours on HIGH or 6-8 hours on LOW.

After beef has cooked, strain the broth through a metal sieve and into a bowl.

If thin slices of beef are needed, let beef cool before slicing – if possible, place in an airtight container and refrigerate overnight for ease in cutting thin slices.

-----------------------

For the Toast:

Preheat oven to 375F.

Slice baguette or bread into 1" thick slices and place the slices on a baking sheet.

Toast slices 5-7 minutes per side or until golden on both sides.

Remove from the oven and set aside until time to assemble the casserole.

-----------------------

For the Mashed Potatoes:

Peel and cube potatoes and place them in a steamer basket.

Steam cubed potatoes until fork tender approximately 15-20 minutes.

Press potato cubes through a ricer into a bowl. Use a potato masher if a ricer isn't available.

Add butter to the mashed potatoes and season with salt & pepper.

Mix butter and potatoes until the butter in incorporated.

Taste & adjust the amount of butter adding enough butter to make the potatoes creamy.

Variation: http://www.simplysated.com/sweet-gold-mashed-potatoes/

----------------------------

To Assemble:

Spray a deep-dish pie plate or casserole dish with cooking spray.

Place the toasted bread in an even layer in the bottom of the casserole dish.

Layer beef slices over the bread.

Pipe or spoon mashed potatoes over the beef.

Pour 1 cup au jus over the mashed potatoes.

Bake at 375F 20-30 minutes or until the top is golden (or has some color). If desired or needed, turn the oven to broil to get more color on the casserole. Watch closely so the casserole doesn't burn.

Remove from the oven and let set 5 minutes before serving.

If desired, sprinkle some shredded beef, cheese & herbs on top.

After placing a serving of casserole on each plate, pour desired amount of extra Au Jus over each serving.

Enjoy!
Recipe Notes
This beef makes the BEST Beef Au Jus sandwiches (http://www.thecookierookie.com/french-dip/), Regular Open-Faced Roast Beef Sandwiches or piled high with au jus over baked potatoes.