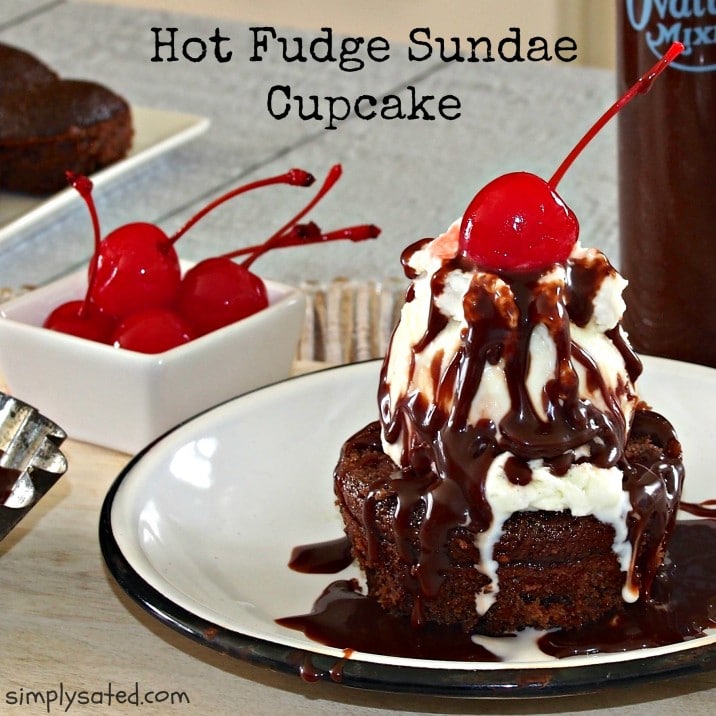 Seriously, the Hot Fudge Sundae Cupcake is almost too much to take.
I'm going to explain how this creation is made, but before we start, grab a tissue to wipe the drool that will be dripping off your chin. You will thank me later.
See what I mean? You're welcome.
Place a chocolate cupcake on the plate then center a scoop of ice cream on top. Now it is time to add a dollop of fresh whipped cream right on top of the ice cream. Oh My Gosh!! Here comes my favorite part. Slowly now, pour oozy, goozy Homemade Hot Fudge Sauce over the top so it flows like lava down the sides. Top it all off with a maraschino cherry and this treat becomes the perfect volcano of yumminess.
Be creative, make them as a regular-sized dessert or as the cutest, little, bugs-in-a-rug minis you've ever seen.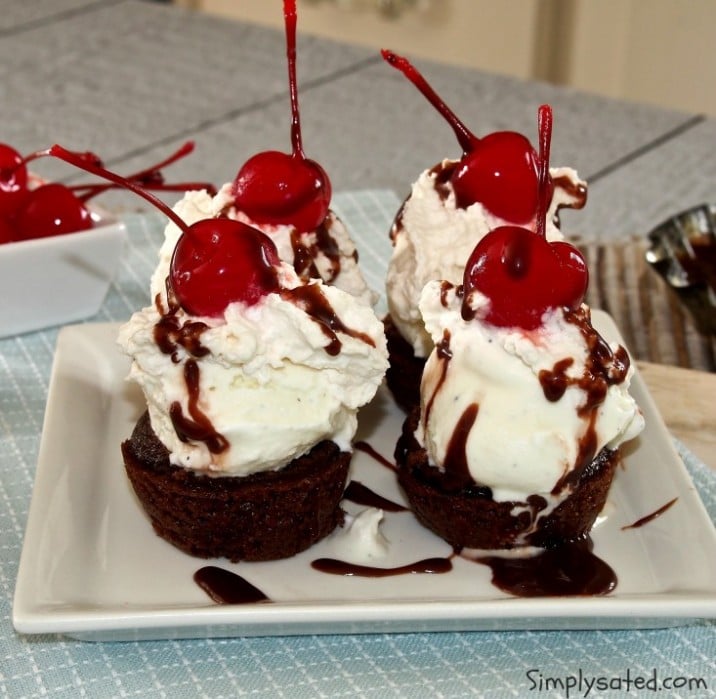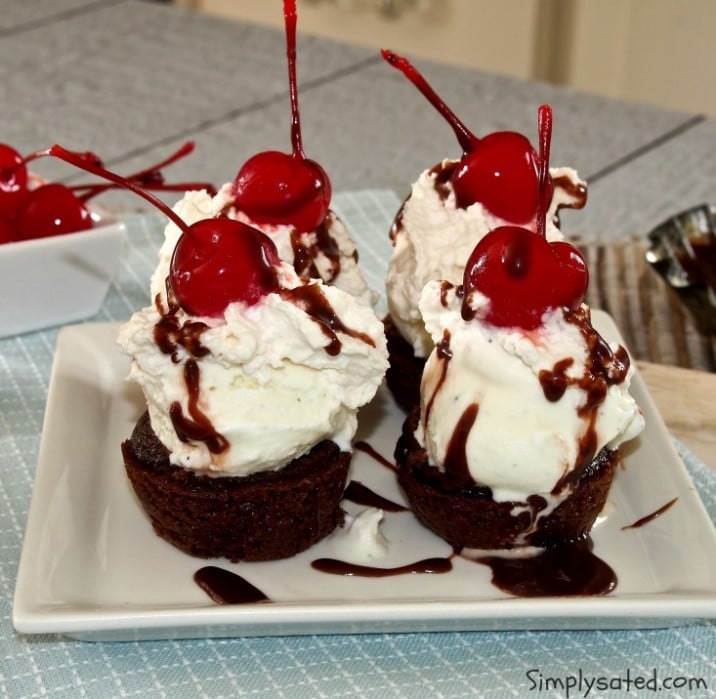 Now, grab a cup of coffee, invite your very best friend over and enjoy the afternoon together. Or…be selfish, eat them all yourself then take a nap. It's your choice.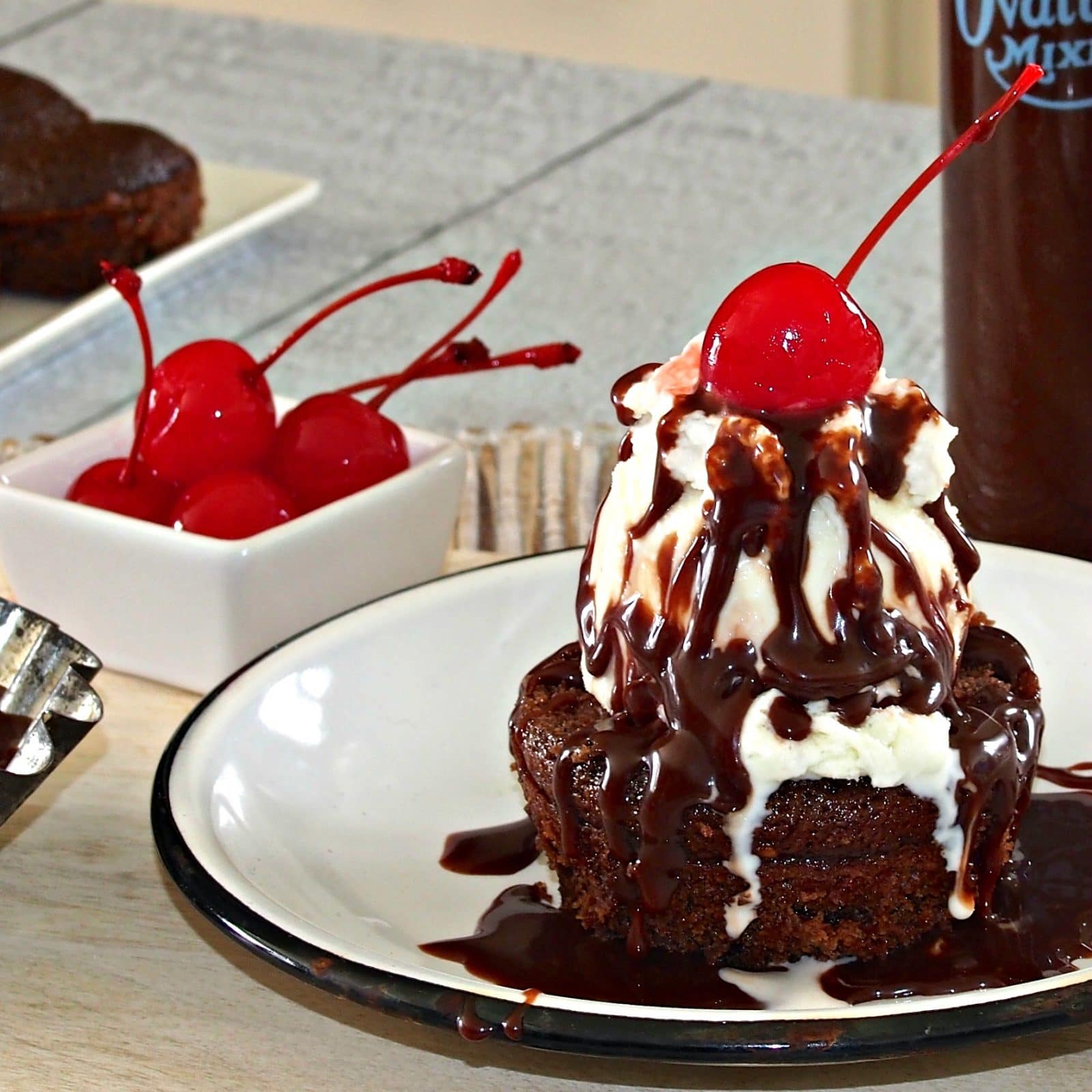 Enjoy!

Hot Fudge Sundae Cupcake
Hot Fudge Sundae Cupcake is a delicious and beautiful dessert to serve to family or at any dinner party.
Ingredients
For the Chocolate Cupcake:

2

cups

flour – unbleached

2

cups

granulated sugar – white sugar

¼

teaspoon

salt

4

tablespoons

cocoa

2

sticks butter

1 cup – unsalted

1

cup

boiling water

½

cup

buttermilk

2

eggs – slightly beaten

1

teaspoon

baking soda

1

teaspoon

vanilla

For all the other stuff:

1/2

gallon

ice cream

Hot Fudge Sauce with Frangelico

Simply Sated or your favorite hot fudge

Heavy Cream - whipped.

Maraschino cherries

Nuts - opt.
Instructions
For the Chocolate Cupcakes:

Combine flour, sugar and salt in a mixing bowl and set aside.

In a saucepan, melt butter, then add cocoa and stir until well combined.

Add boiling water to the butter/cocoa mixture, bring to a boil and boil for 30 seconds. Turn off the heat.

Pour the liquid mixture over the flour mixture and stir lightly allowing mixture to cool.

While the mixture cools, combine buttermilk, eggs, baking soda and vanilla. Mix well.

Add to the chocolate mixture and mix until combined.

Pour into cupcake tins that have been lined with cupcake liners.

Fill the liners 2/3 full.

Bake at 375F for 14 minutes or until toothpick inserted in the middle comes out clean.

Set aside the cupcakes. They are ready to use when completely cool.

(Cupcakes can be wrapped and frozen until ready to use)

To build the Sundae Cupcake:

Place cupcake on a plate as the base.

Place a scoop of ice cream on the cupcake.

Spoon a dollop of whipped cream on the ice cream.

Top with a maraschino cherry.

Enjoy!
link