I received a letter from Fried Ham Steak with Cider Ginger Glaze the other day. I know! I was surprised, too, and thought I should share it with you.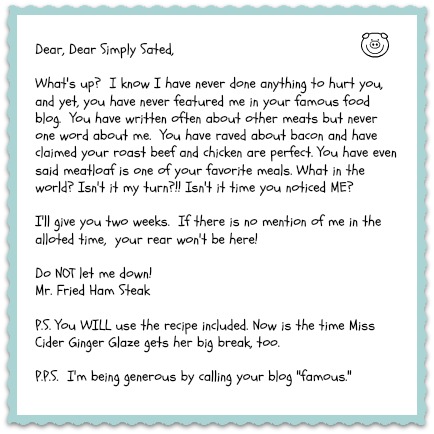 Well, now. I perceived a certain threat contained in that letter and knew I better get busy. I didn't know what that ham steak might do.
I followed the recipe precisely, and Fried Ham Steak with Cider Ginger Glaze turned out really great. Mr. Fried Ham Steak and Miss Cider Ginger Glaze work well together. He is the subtle main man and she is the leading lady.
               (More………………………………….More……………………………….Oh No!!!!)
Now, I don't appreciate being threatened, so I have blocked that pushy pink slab from reading my blog. If he had just sent me his recipe with a sweet note, I would have gladly featured him without all the fuss.
What I really found out is Miss Cider Ginger Glaze is amazing and should become the celebrity of this post. She is versatile and would work just as beautifully alongside other cuts of pork, poultry and salmon. SHE is the real superstar in this duo.
Enjoy!
Fried Ham Steak with Cider Ginger Glaze
A simple, flavorful, 15-minute, one-skillet meal. Glaze is delicious served with any pork, ham or poultry. ----------------- Adapted from Cook's Illustrated, The New Best Recipe cookbook, pg. 482
Ingredients
For the Glaze: *See Notes

1

cup

apple cider

2

cups

dark brown sugar

packed

7

whole cloves

½

teaspoon

ground ginger or 1 tablespoon grated fresh ginger

------------------------------------------------------------

For the Ham:

1

bone-in ham steak

fully cooked

1-

tablespoon

butter

1-

tablespoon

oil

canola or olive
Instructions
For the Glaze:

(1½ cups glaze. 12-15 minutes.)

Bring all ingredients to a boil in a small saucepan over medium-high heat. Reduce the heat and simmer over medium-low heat until mixture is syrupy (220F) and has reduced to 1½ cups. (12-15 minutes). If the sauce thickens too much before ready to use, reheat over low heat until desired consistency.

Prepare steak while glaze is cooking.

Remove cloves before serving.

-------------------------

For the Ham:

(8 minutes, Serves 2)

Heat butter and oil on medium-high heat until butter foam hot, but not burned (right after butter foam has subsided).

Place ham steak in skillet and cook, without moving, 3-4 minutes until browned.

Flip steak over to brown steak on other side, 3-4 minutes.

Transfer steak to serving dish.

Serve with Apple Cider, Brown Sugar & Ginger Glaze.

This dish works well for any meal of the day.

Enjoy!
Recipe Notes
Cider Ginger Glaze would be delicious served alongside any pork, poultry or salmon.