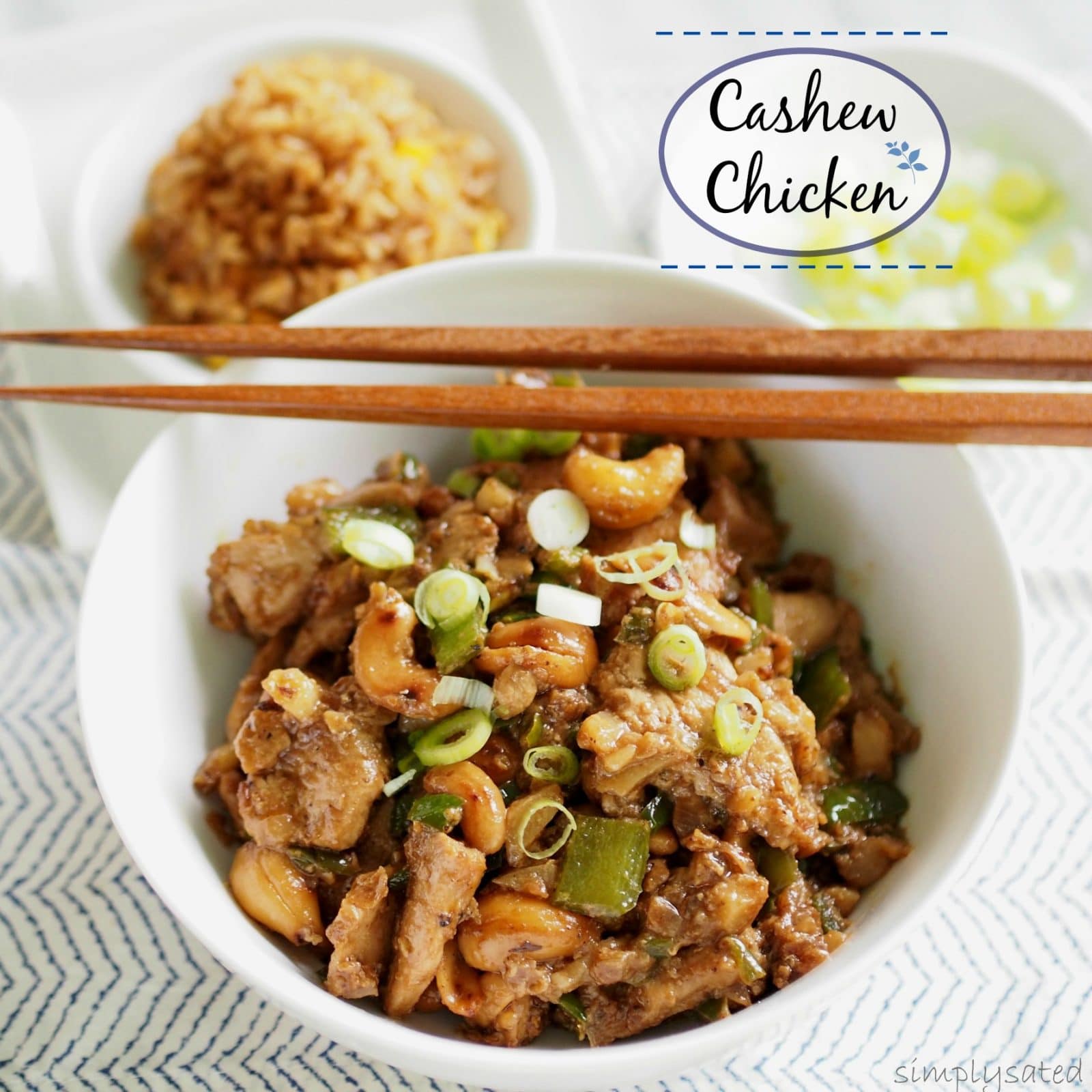 I don't remember the first time I ate Cashew Chicken, but I do remember I didn't want to eat it.   I was in my twenties, had never experienced Chinese food and couldn't imagine cashews and chicken eaten together. My husband, Jeff, and I had gone out to eat with some friends and they wanted to go to a Chinese restaurant. I ordered Sweet & Sour Chicken because I was pretty sure I would like since it was sweet. Jeff ordered Cashew Chicken and kept telling me I should taste it. I reluctantly agreed and, from that moment on, stir-fried Cashew Chicken became my favorite Chinese food.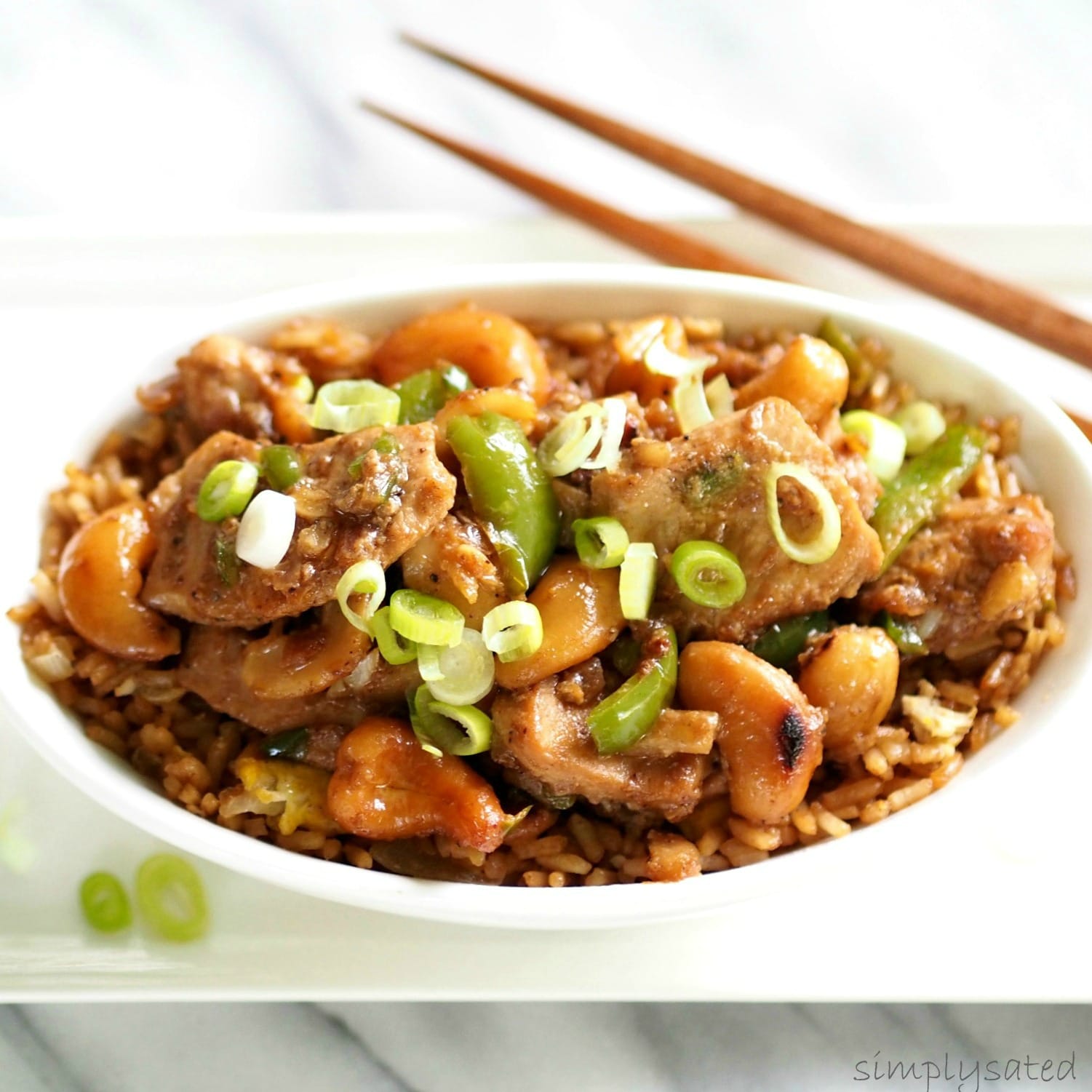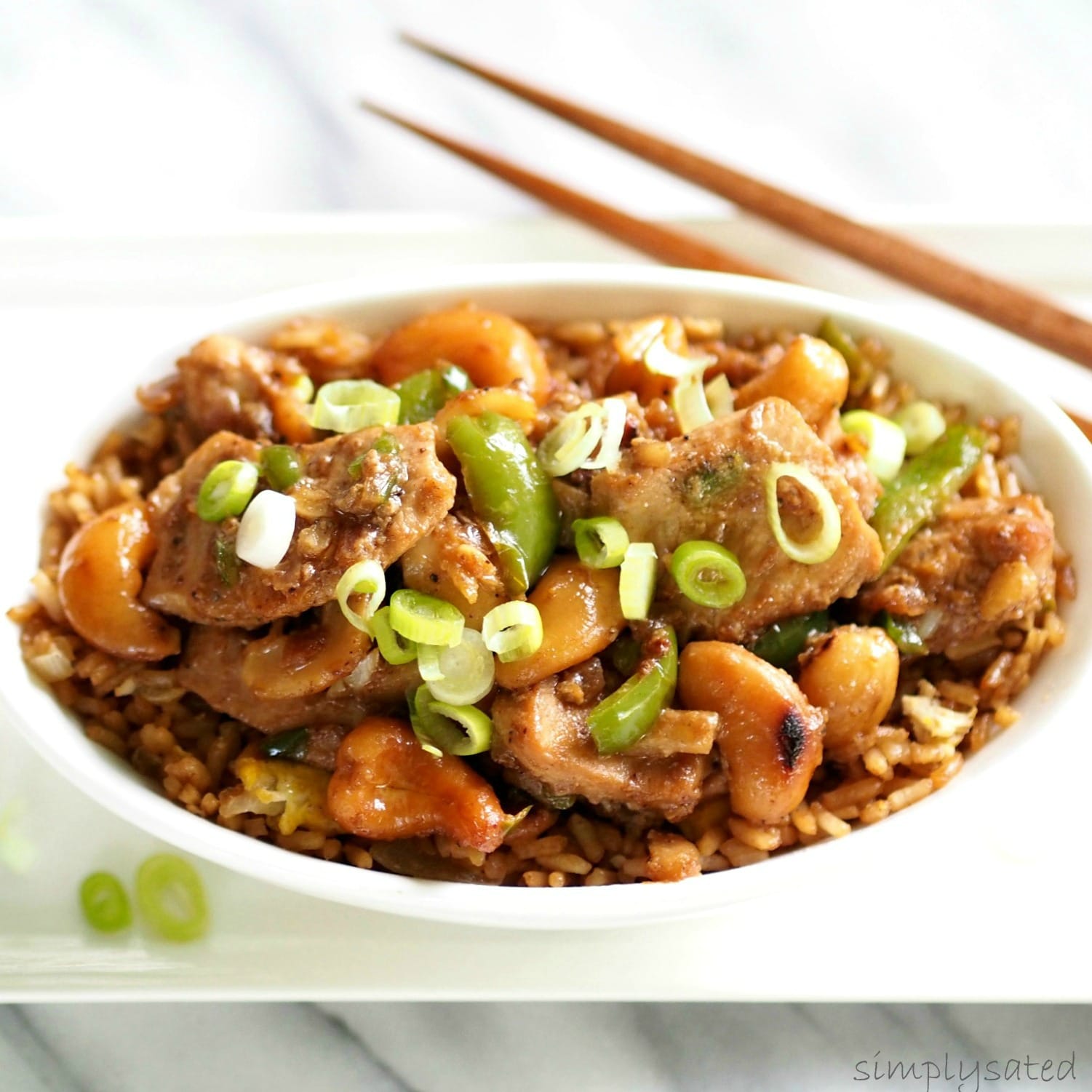 From what I have learned about stir-fried Cashew Chicken, it is a Chinese-American dish but that is all the information I could glean on the Internet about the history of this version.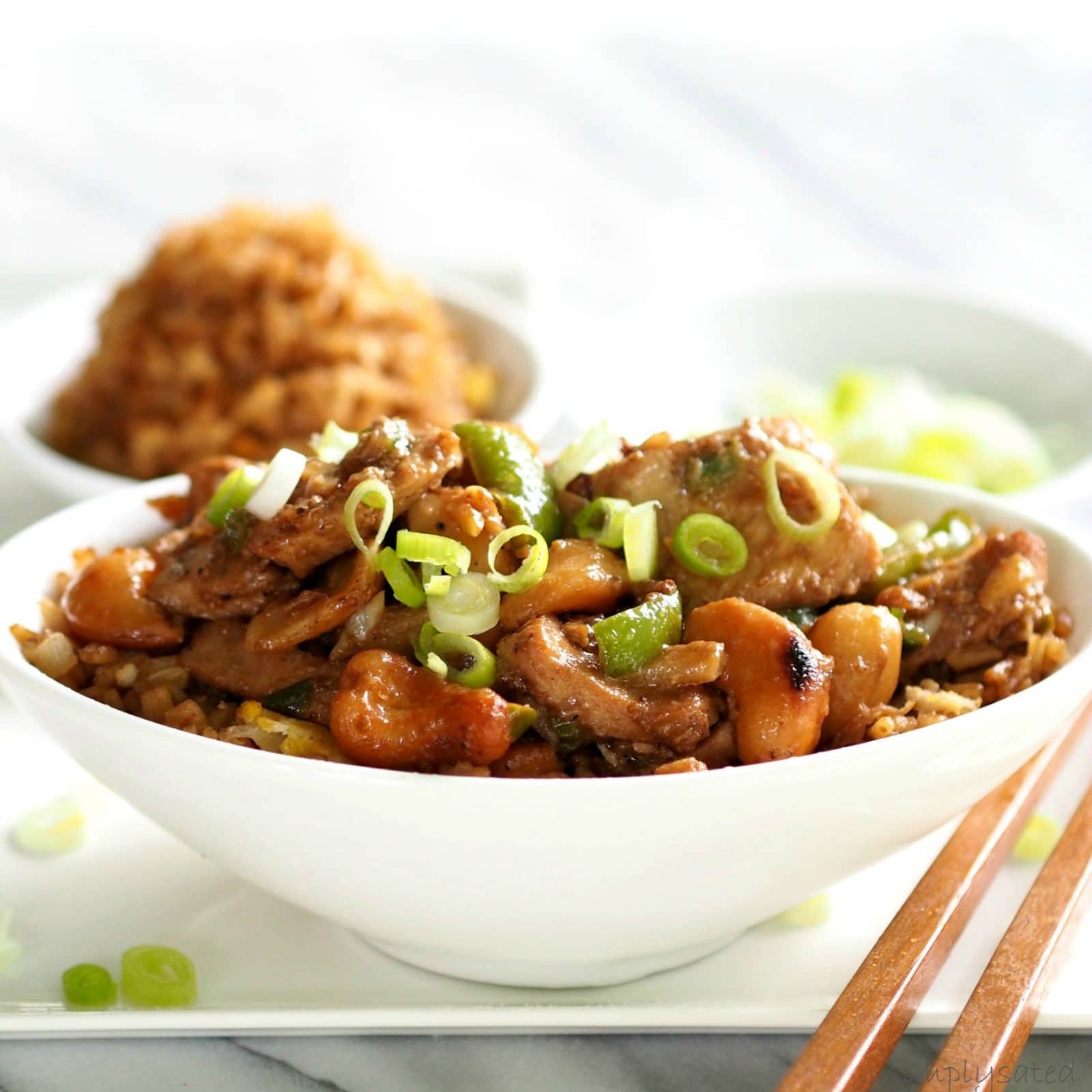 The deep-fried version of Cashew Chicken originated in Springfield, Missouri in 1963 and was first served at the Grove Supper Club. Due to the popularity of the dish, Chef David Leong was able to open his restaurant, Leong's Tea House.   Springfield-Style Cashew Chicken is now cited as the unofficial "dish of the city" and I hope to share the recipe on Simply Sated in the future.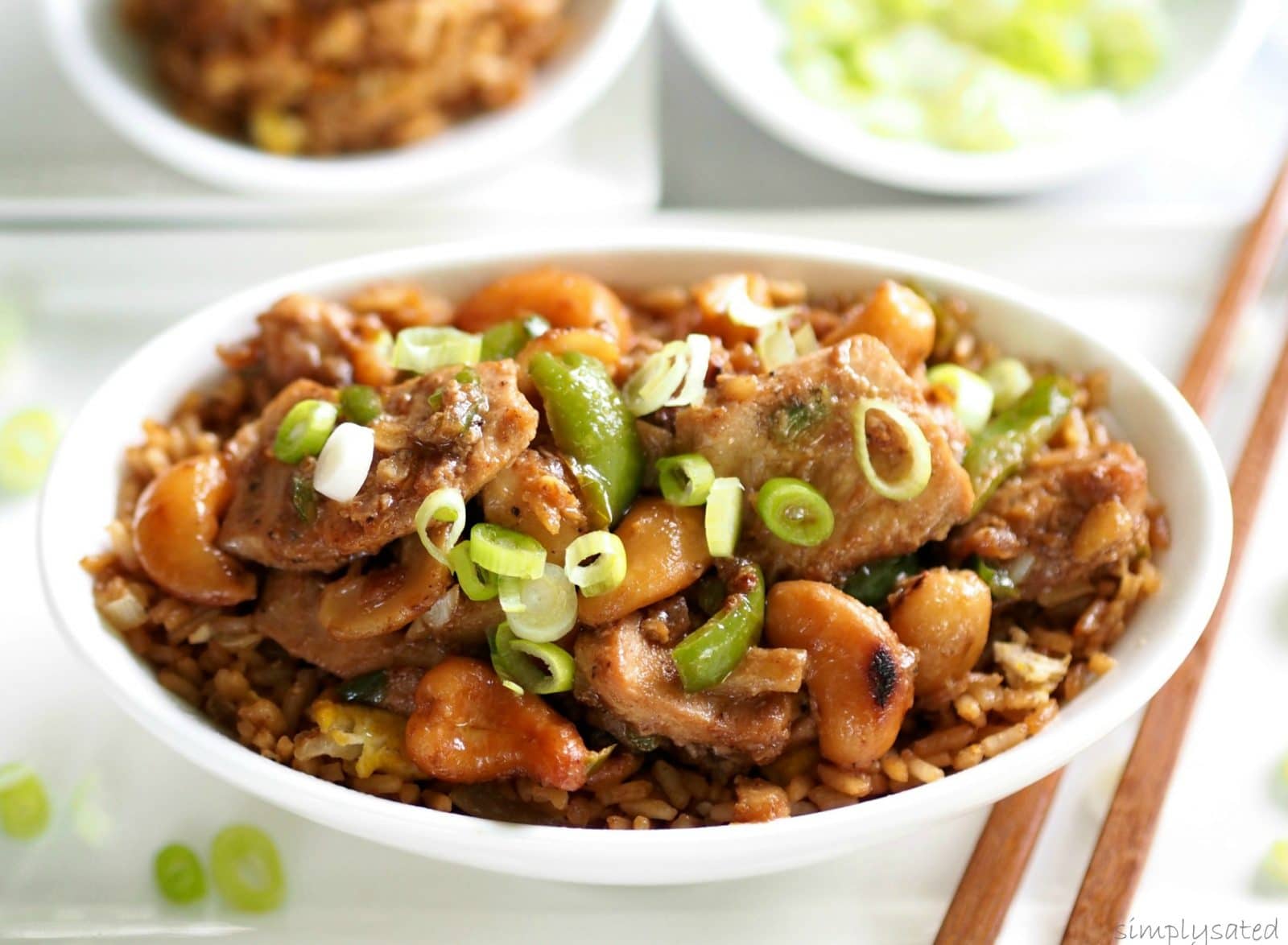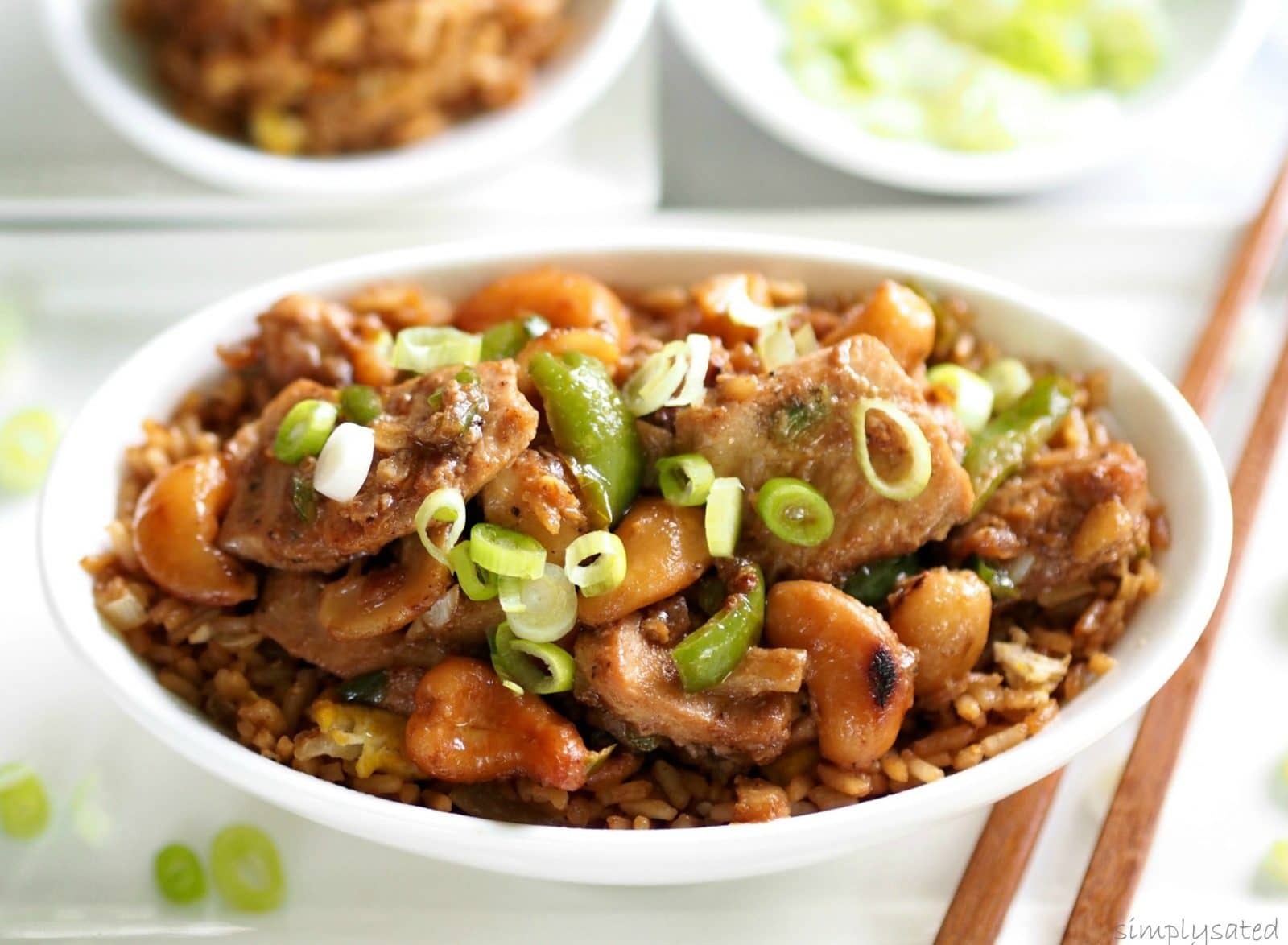 Stir-fried Cashew Chicken is so delicious it makes me sad to think I lived more than twenty years without eating it. This recipe is so easy there is no reason to order take-out Chinese ever again. Plus, when made at home there is complete control over the ingredients. There is also complete control over the amount of cashews to add and that makes me very happy.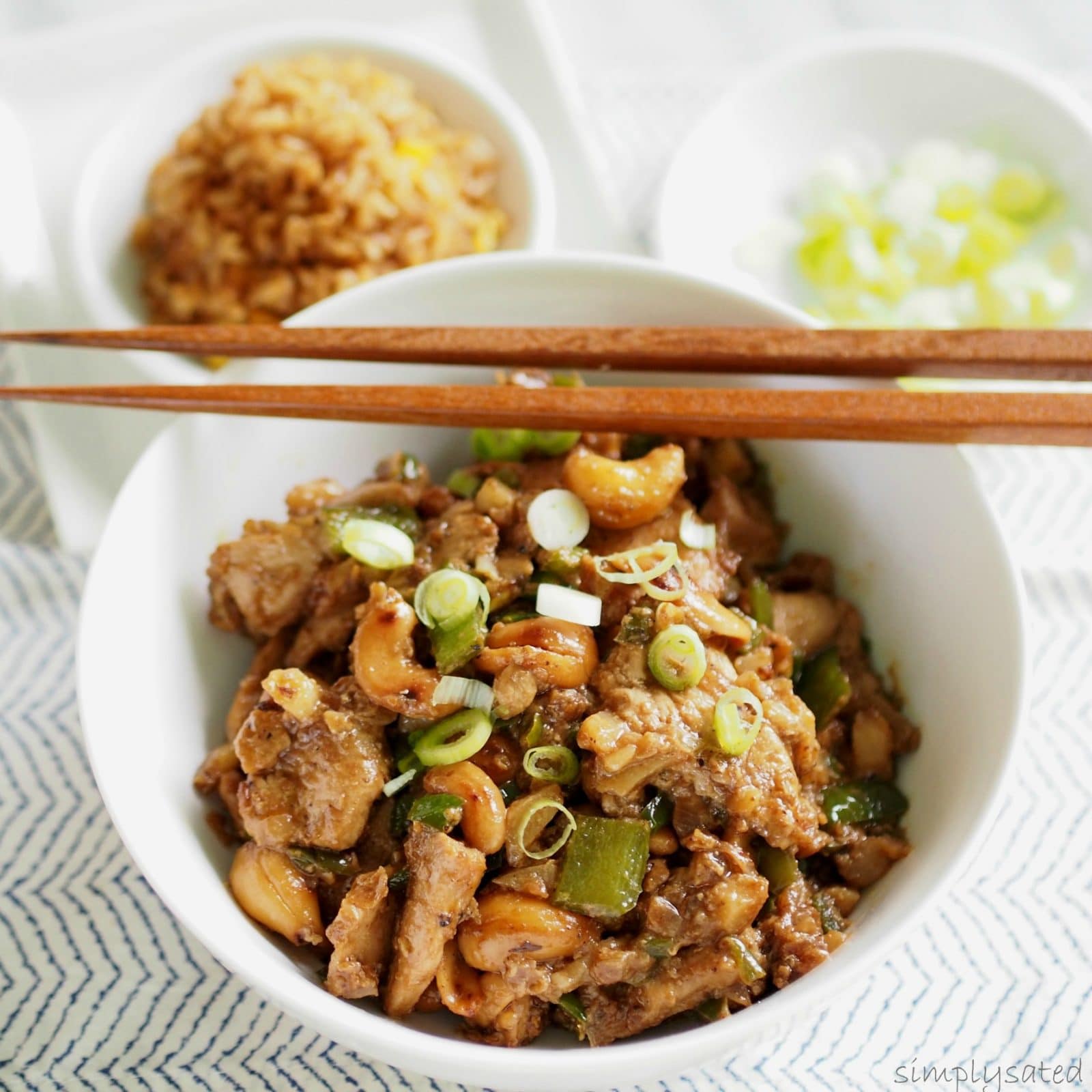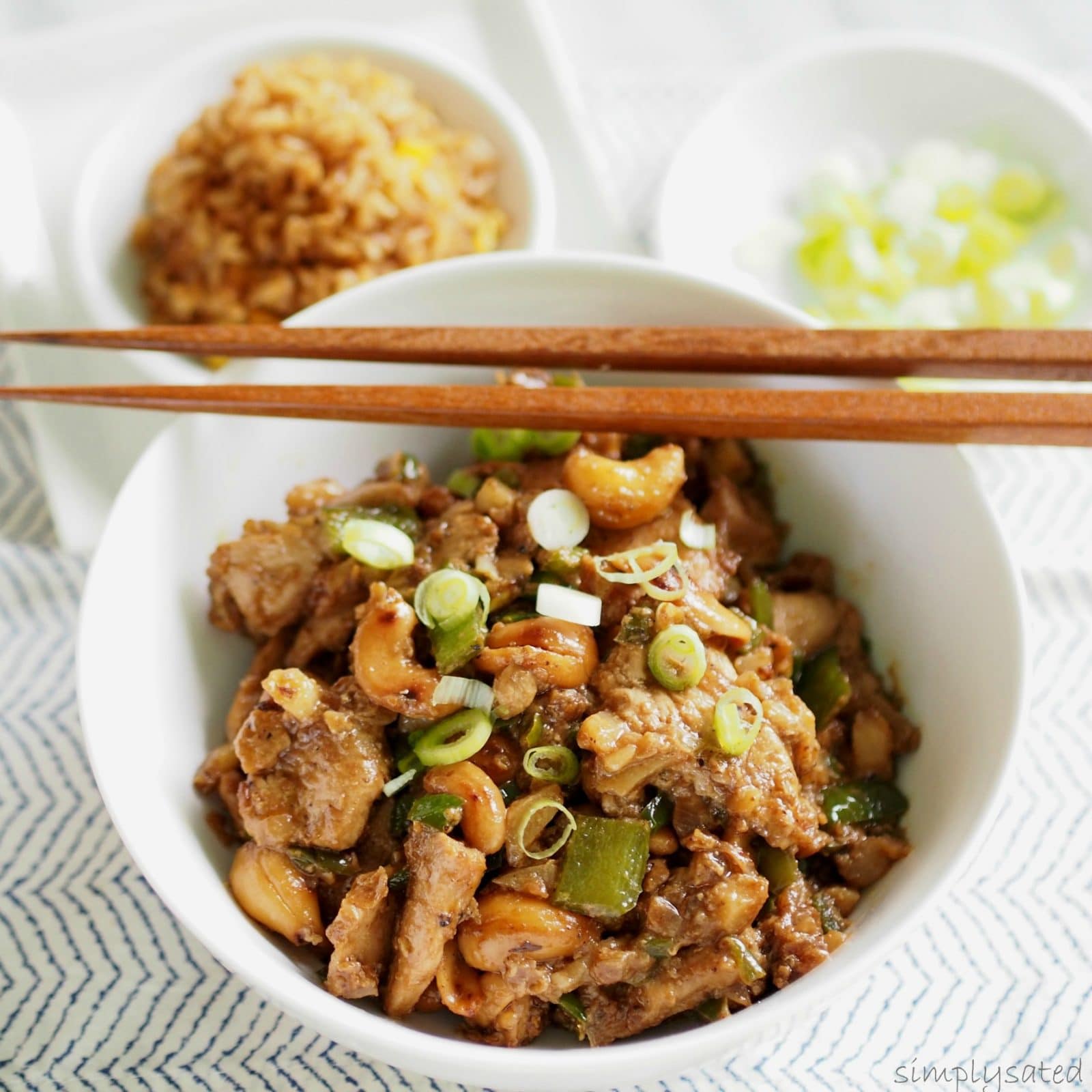 Please, don't wait one day (or twenty years) more without Cashew Chicken in your life.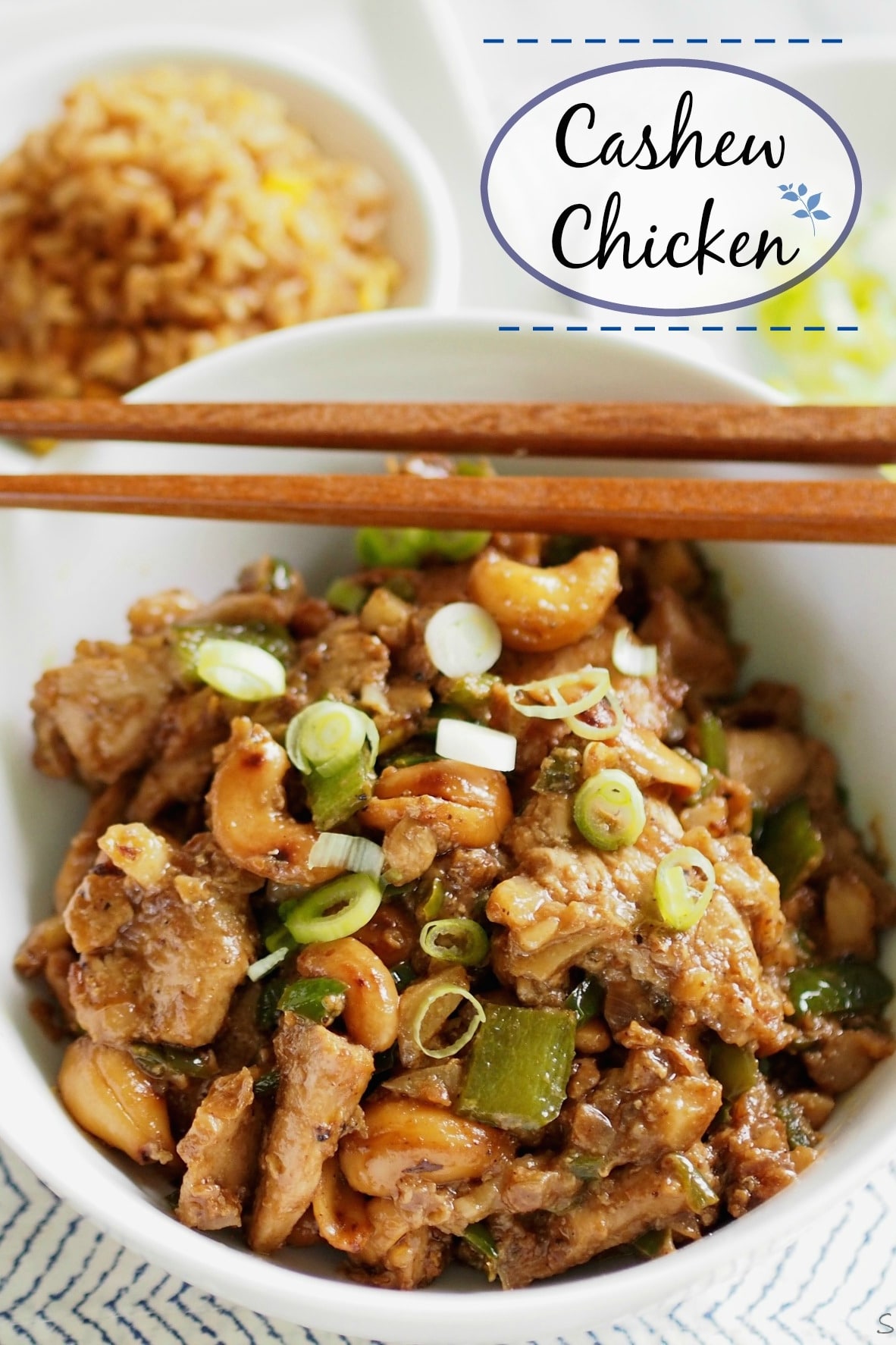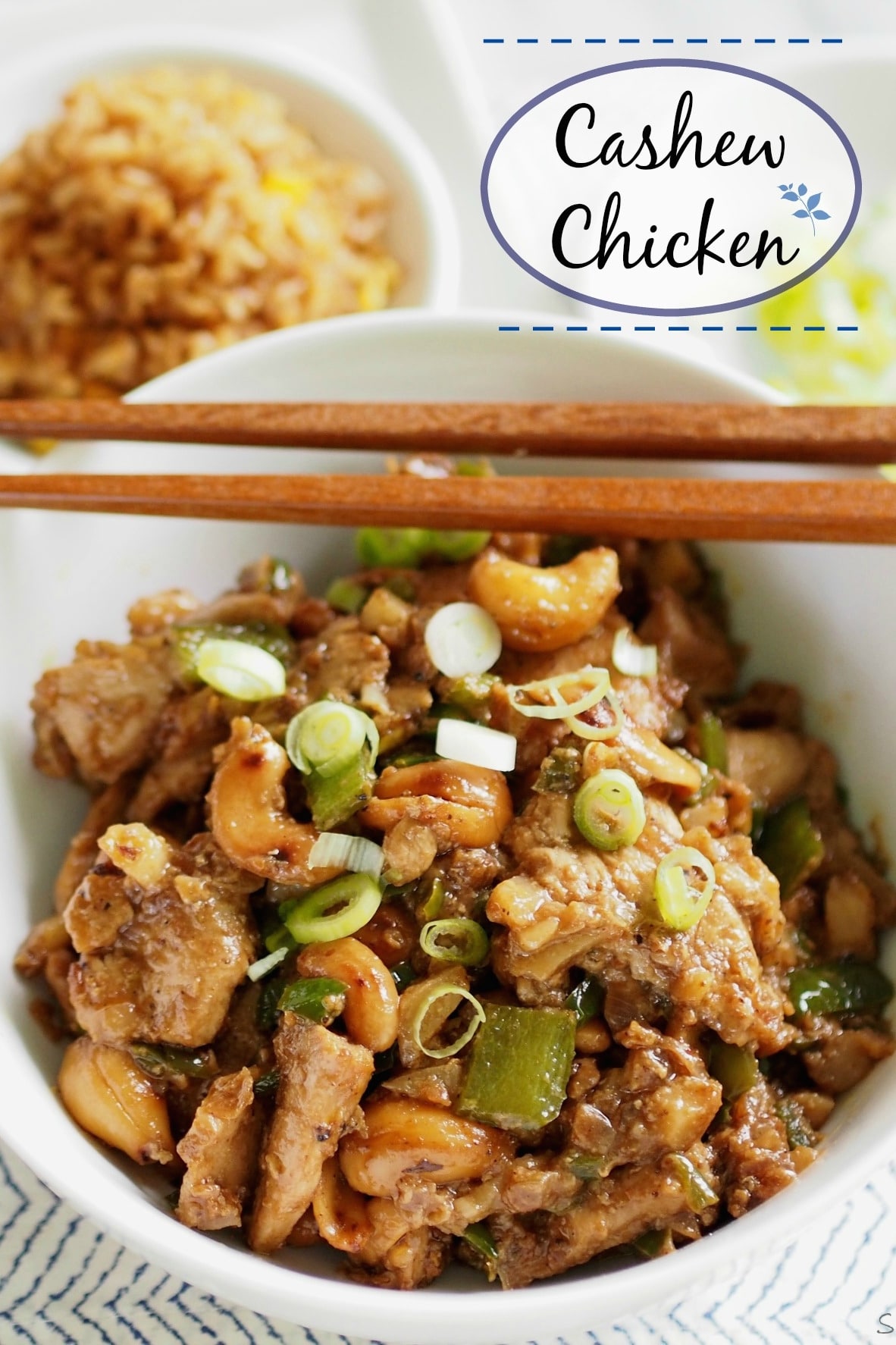 Enjoy!!

Cashew Chicken
Cashew Chicken is easy to make and tastes much better than "takeout". Recipe inspiration:
Total Time
1
hour
5
minutes
Ingredients
For the Chicken:

4

boneless

skinless chicken breasts, thinly sliced

3

tablespoons

dry sherry

1

teaspoons

ground ginger or 2 teaspoons freshly grated ginger

3

cloves

garlic

sliced

4 1/2

teaspoons

cornstarch

3/4

cup

low-sodium chicken broth

¼

cup

low-sodium soy sauce

5

tablespoons

hoisin sauce

1

tablespoon

rice vinegar

1 tablespoon White Wine or Champagne Vinegar is fine

1

tablespoon

dark brown sugar

2

teaspoons

canola oil

1

cup

unsalted toasted cashews

3

T

Mr.Yoshidas Original Gourmet Sauce *see notes

2

scallions

thinly sliced

½

can water chestnut – rough chop

1

green pepper – rough chop - sauteed

1/4

teaspoon

red-pepper flakes

--------------------------------------------

For the Fried Rice:

1 1/2

cups

water

2

cups

Minute Rice

or 3 cups total prepared white rice

1

sweet yellow onion - diced

2

cloves

garlic - minced

1

cup

peas & carrots - frozen

optional

1-2

teaspoon

sesame oil - to taste **see notes

2

tablespoons

canola oil

3-4

tablespoons

soy sauce

2

tablespoons

Mr. Yoshidas Original Gourmet Sauce

optional

2

eggs
Instructions
For the Chicken:

In a medium bowl, combine chicken, sherry, ginger, garlic and 2 teaspoons cornstarch. Cover and chill for 30 minutes.

In a small bowl, combine chicken broth, soy sauce, hoisin, vinegar, Yoshidas, brown sugar, red pepper flakes and 2½ teaspoon cornstarch; set aside.

Saute 2 teaspoons oil and half the chicken in a large skillet for 2 minutes, then turn it over and cook another 2-3 minutes until cooked through. Transfer the cooked chicken to a plate and add the remaining chicken and green peppers. Cook the chicken and add a little oil if needed.

Return the first batch of cooked chicken to the skillet.

Stir in the broth mixture and add the water chestnuts then bring it to a low boil. Turn the heat down to a simmer and cook until the sauce thickens – 1-3 minutes.

Add cashews and serve with scallions, if desired.

--------------------------------------

For the Fried Rice:

Bring water to a boil, add rice, cover and remove from heat.

Heat sesame oil and canola oil in a large skillet on medium heat.

Add onion, peas & carrots then cook until tender.

Add garlic and cook 1 minute.

Pour cracked eggs over the vegetables and mix well. Cook until eggs are cooked.

Add rice, soy sauce and Yoshida's Sauce - Stir well.

Remove from heat and serve with the Cashew Chicken.
Recipe Notes
Mr. Yoshida's Original Gourtmet Sauce is a blend of sweet and savory -- soy sauce, garlic and other flavorings - http://www.mryoshidas.com/flavors.asp for more information and where to buy. I have used this sauce for years and it is delicious as a marinade or glaze on chicken, fish, beef, pork - you name it.
----------------------------
*Sesame Oil comes in different strengths. The sesame oil I use has an extremely strong sesame flavor, so I use only 1 teaspoon. Taste the sesame oil you are planning to use first, then make the decision as to how much you need and make the adjustment according to what you like. If using more Sesame Oil, use less canola oil and vice versa.