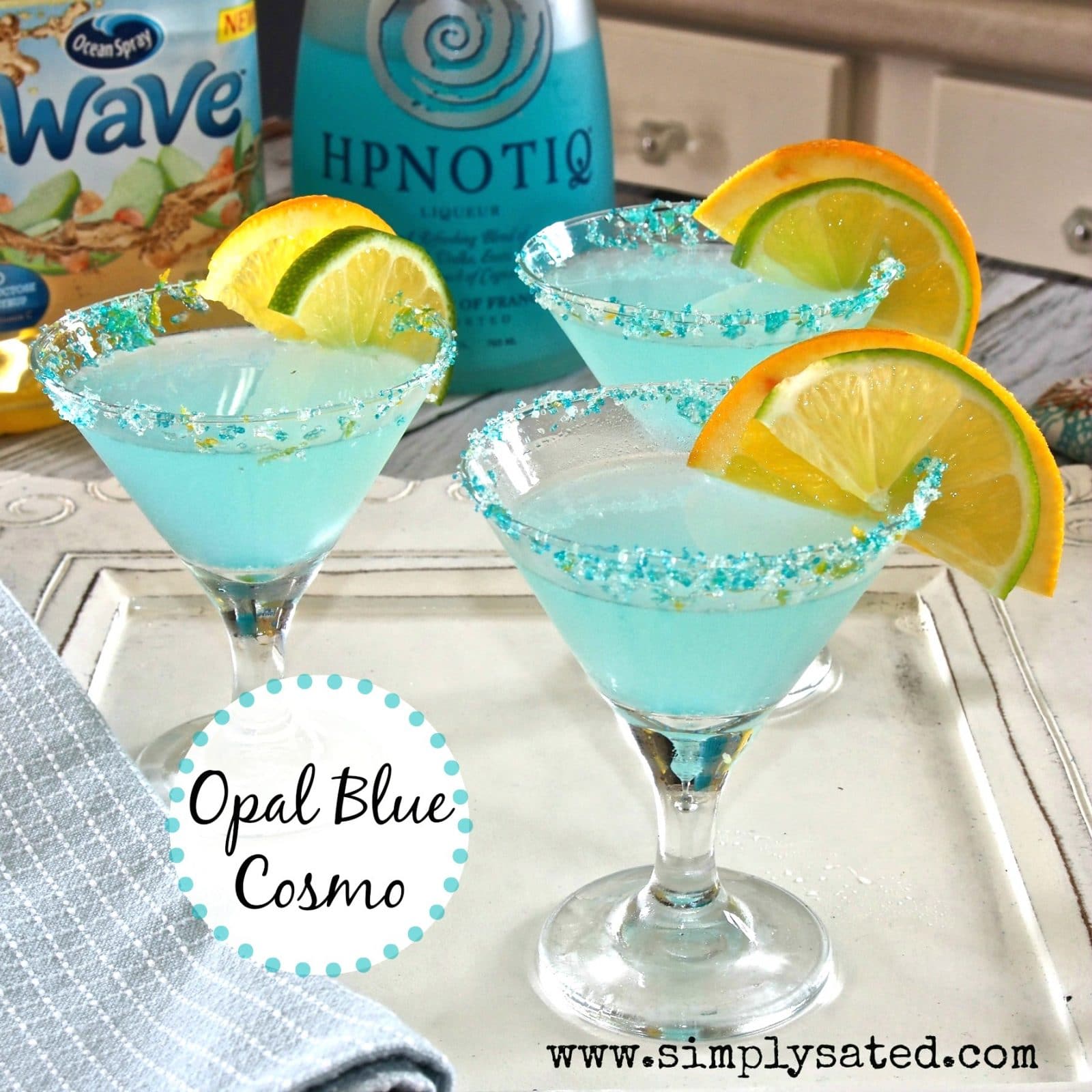 Welcome and come on in.   Sit for awhile, put your feet up and sip on this little beauty, my signature drink, Opal Blue Cosmo with Hypnotiq Liqueur. Opal signifies my birthstone, blue my favorite color and the cosmopolitan, one of my favorite cocktails.
During my search for the best blue liquor to use for my signature drink I came across a picture of Hypnotiq Liqueur. It was the perfect blue color, so I needed to find out more. After a little research, I learned Hypnotiq Original Liqueur is a blend of premium French vodka, exotic fruit juices and cognac. All righty then!
Combined with a few ingredients that make a cosmopolitan a cosmopolitan, the Opal Blue Cosmo was born. It is simple, stunning, tastes great, and I especially love it sipped through a salt, sugar, orange & lime zest-rimmed glass.
If serving Opal Blue Cosmo on a cloudy day, add a circle of orange or lemon peel and the sun will suddenly appear.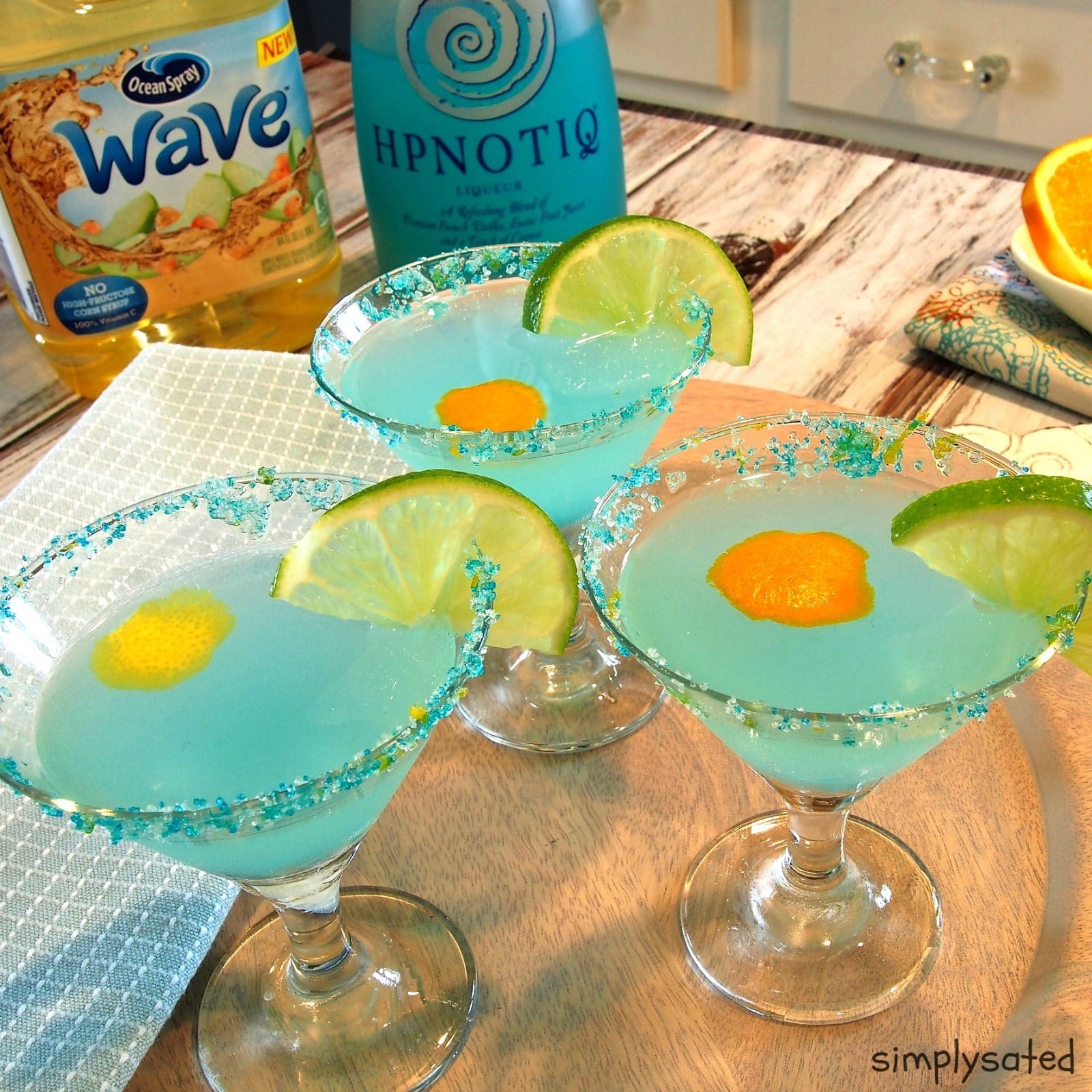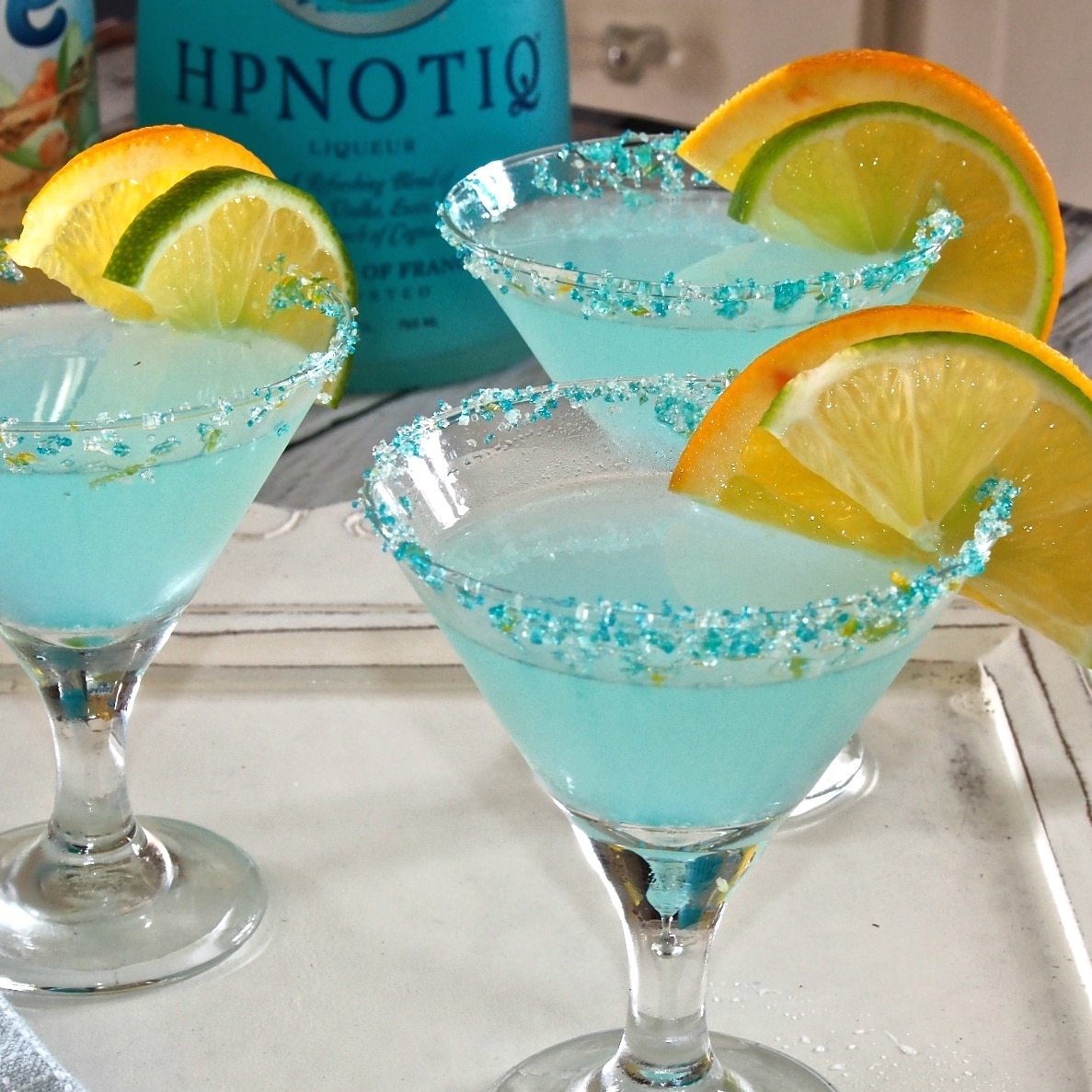 Enjoy!

Opal Blue Cosmo
Opal Blue Cosmo is a sky blue cosmopolitan made with Hypnotiq Liqueur and hints of lime, orange & cranberry juices.. Refreshing and gorgeous.
Ingredients
Ingredients for the drink:

¼

cup

Hypnotiq Original Liqueur

2

teaspoons

white cranberry juice

1

teaspoon

freshly squeezed orange juice

½

teaspoon

freshly squeezed lime juice

½

teaspoon

agave nectar

honey or simple syrup

circle of orange or lemon peel

opt.

Ingredients for the rim:

1

Lime - zest

1

Orange - zest

Coarse sugar

Coarse salt or margarita salt
Instructions
Directions to rim the glass:

Combine all rim ingredients and mix well. It works well to rub the ingredients together using your fingers. This infuses the zest oils into the salt and sugar.

Rub the glass rim with a slice of lime or orange, turn the glass upside down and dip the rim in the lime & orange zest/sugar/salt mixture.

Set the glass upright to let dry while preparing the drink.

To prepare the cocktail:

Fill a drink shaker 1/2-3/4 full with ice.

Pour all drink ingredients over the ice in the shaker.

Cover tightly then shake at least 30 seconds until the drink is ice cold.

Pour the cold drink into the salt/sugar/zest rimmed glasses and serve immediately.

Enjoy!
Recipe Notes
If you want to and just for fun, cut a thin, small circle of orange or lemon peel off the fruit and float it in the cocktail. Be careful just to get the outer peel. It is reminiscent of the midday sun in a summer sky.