Fresh-off-a-Georgia-tree, homemade Butter Pecan Peach Ice Cream; what do you say we make some today?
The French have a phrase "mise en place" that is used in professional kitchens and simply means, "putting in place".  It is one of the most important rules to follow for any cook – so, first things first, let's gather our ingredients.
Butter pecans – check! Fresh Georgia peaches – check! Milk – check! Let's round it out with sugar, cream, vanilla extract, lemon juice, a sprinkle of salt and a dash of peach liqueur. Check, check, check, check, check, check! Of course, peach liqueur is optional if needing to eat-and-drive.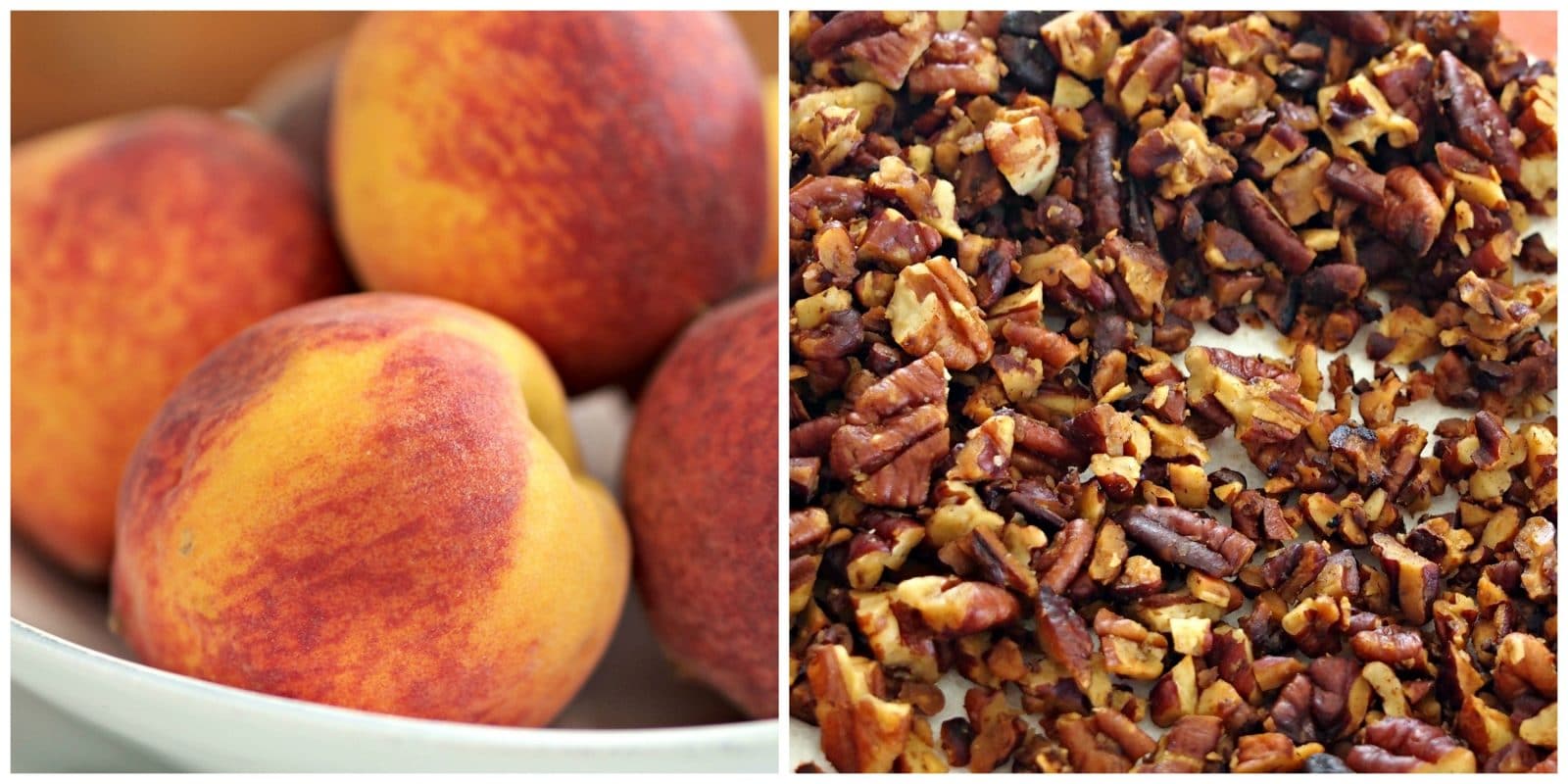 Now, I won't go into the recipe details here, but basically mix most of these glorious ingredients together, cool them down in the fridge an hour, pour the mixture into your ice-cream maker and magic will happen.
You see?  Magic did happen!  This ice cream is peachy, crunchy, creamy, salty and sweet.  It has something for everyone.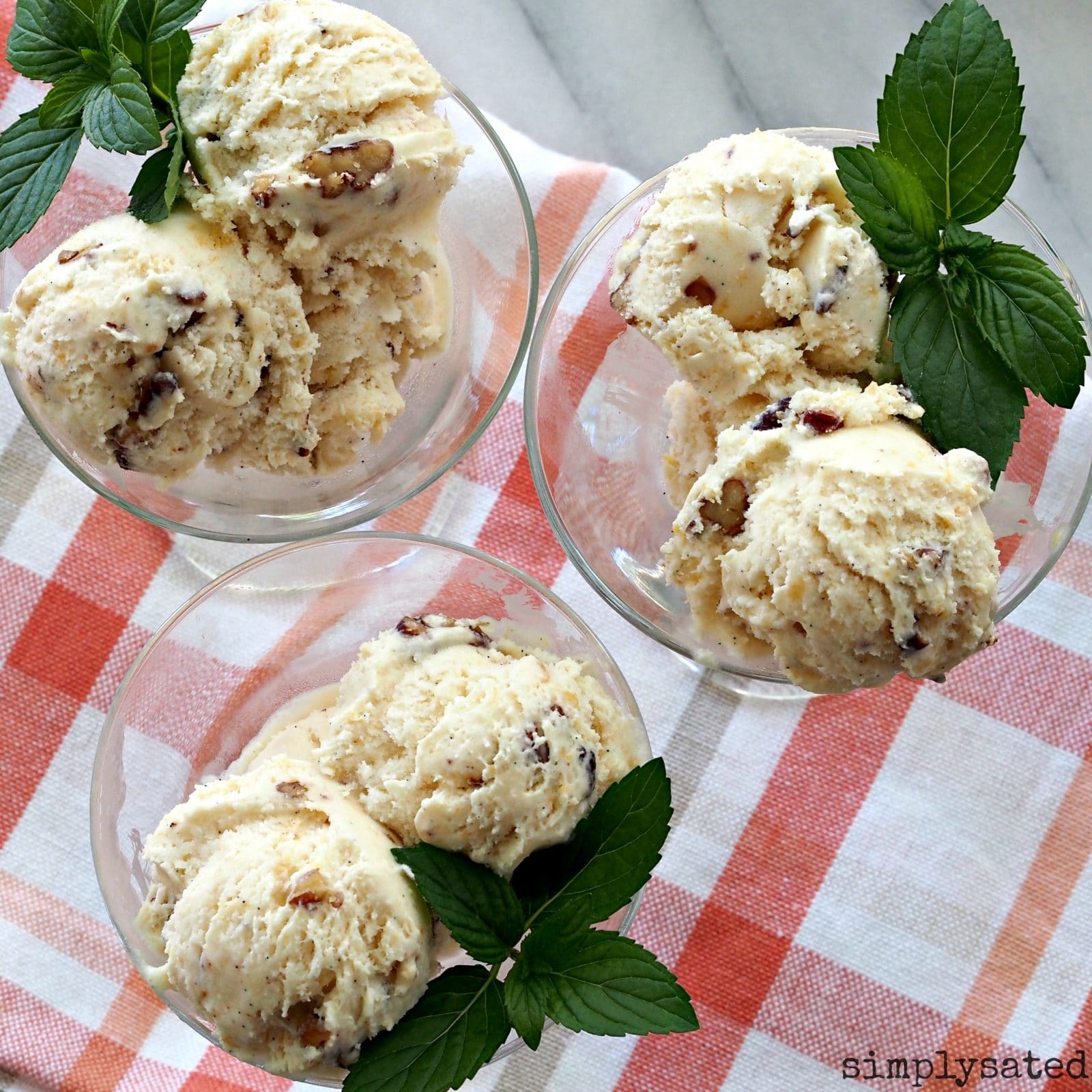 So – that's it in a nutshell, a Butter Pecan Peach Ice Cream nutshell.
A side note….
My husband and I received a great gift a couple of months ago, a Cuisinart Ice Cream Maker. It was a most thoughtful gift from ourselves to ourselves and we love it.   We love homemade ice cream, but with only two of us living at home, it seemed like too much effort to use our beloved White Mountain hand-crank ice-cream maker. Our Cuisinart is an ice-cream miracle worker and we have made several flavors of ice cream since gifting it to ourselves. I'll be sharing many of our favorite ice cream flavors so, please, come back soon.
Butter Pecan Peach Ice Cream
Butter Pecan Peach Ice Cream is peachy, crunchy, creamy, salty and sweet. It has something for everyone. ---- Recipe inspiration - Cuisinart recipe booklet
Ingredients
For the Butter Pecans:

¼

cup

4 tablespoons unsalted butter

1

cup

pecans - chopped

1

teaspoon

salt

----

For the Peach Ice Cream:

2

cups

fresh chopped peaches – peeled and pitted

¾-1

cup

sugar – depending on sweetness of peaches

¾

cup

skim milk

¼

t

salt

1 ½

cups

heavy cream

1 ½

teaspoons

pure vanilla extract or vanilla bean paste

2

teaspoons

fresh lemon juice

1

tablespoon

peach liqueur

opt.
Instructions
NOTE* Please read all instructions and notes before beginning.

For the butter pecans:

Melt butter in a medium skillet over medium-low heat.

Add pecans and the salt then cook until pecans are fragrant and golden.

Stir often and watch closely or the pecans will burn.

This process will take 5-8 minutes.

Remove the pecans to a paper-towel covered plate to let cool.

------

For the ice cream:

Place peeled, chopped peaches in a medium bowl.

Sprinkle sugar over the peaches and set aside for 15-30 minutes to macerate.

Once the peaches have rested for 15-30 minutes, pour them into a blender or food processor and pulse a few times depending on the desired consistency.

In a large mixing bowl, combine sugar, milk, salt, cream, vanilla, and lemon juice.

Use a mixer on low speed or whisk until the sugar is dissolved.

Add in the pulsed peaches and mix well.

Cover and refrigerate 1-2 hours or overnight.

When ready to make the ice cream, follow the directions for your ice cream maker.

If using an ice cream maker like a Cuisinart, add the pecans and liqueur five minutes before mixing is complete - so 10 minutes or so after beginning the churning process.

Enjoy!
Recipe Notes
The ice cream will be creamy and soft. If a firmer consistency is desired, pour the ice cream into a freezer container, cover tightly and freeze for 2 hours.
----
Prep Time: 20 minutes / Total Time: 3 hours
Enjoy!