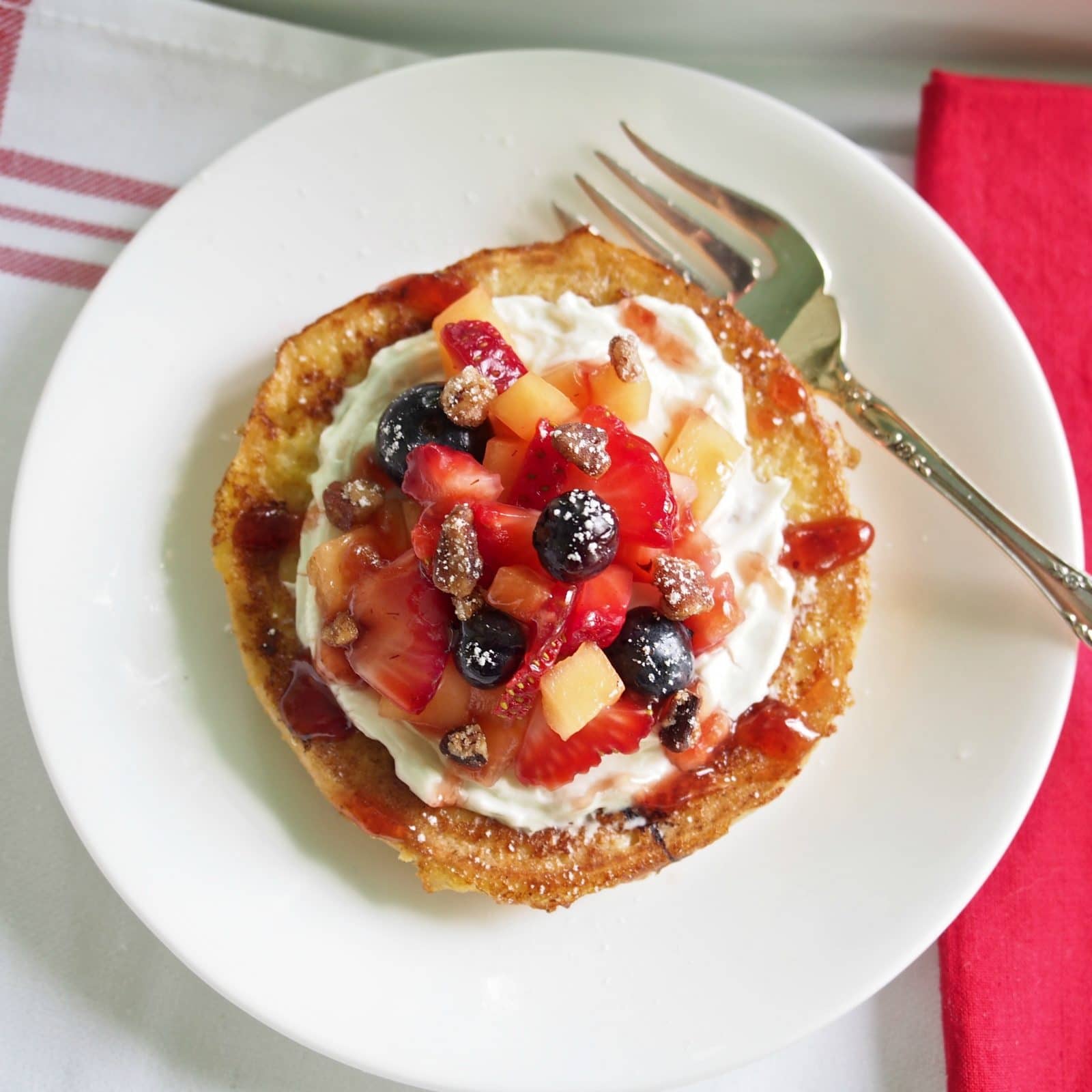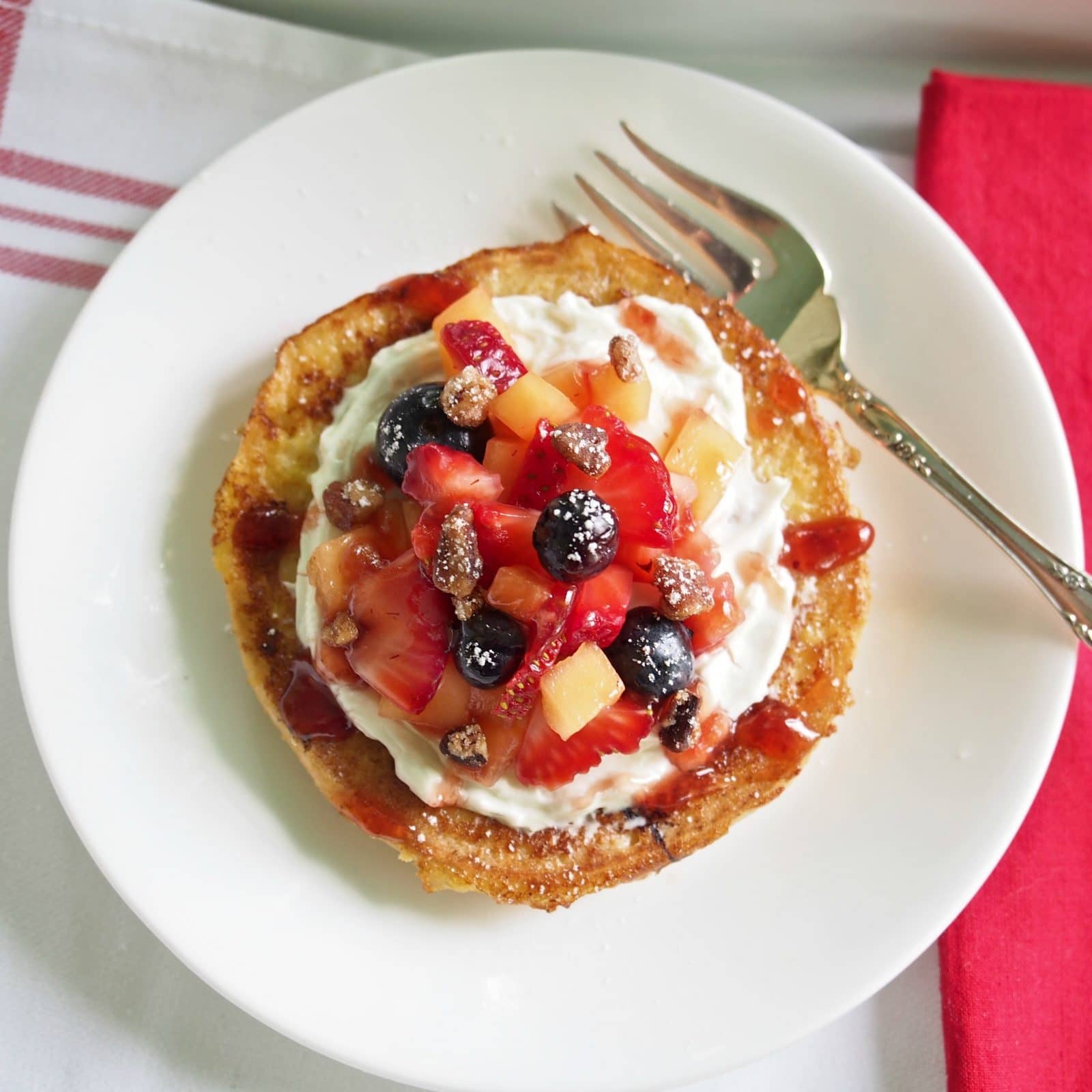 Berry-Topped French Toast Bagels.
Great bread and the USA haven't always held hands – a sentiment brought home by Julia Child's famous quote, "How can a nation be great if its bread tastes like Kleenex?" Julia was talking about the type of white bread USA baby boomers grew up eating. You know, the kind you would have to pry off the roof of your mouth with your tongue or, possibly, dig out with your finger. THAT kind!
Would you sing for your supper if it consisted of only white bread and butter? Well, if there is any truth to the nursery rhyme of old, poor Little Tommy Tucker sure did.
 "Little Tommy Tucker
Sings for his supper.
What shall he eat?
White bread and butter."
I'm pretty sure Julia would have gone on a hunger strike before squeaking out any tune for Kleenex-style white bread. I know I wouldn't sing for my supper and definitely not for my breakfast if the prize were plain old white bread. But, for a platter full of Berry-Topped French Toast Bagels made with Cobblestone Bread Co. Original Bagels, hand me a microphone and I'll belt out "Girl On Fire" on a par with Alicia Keys.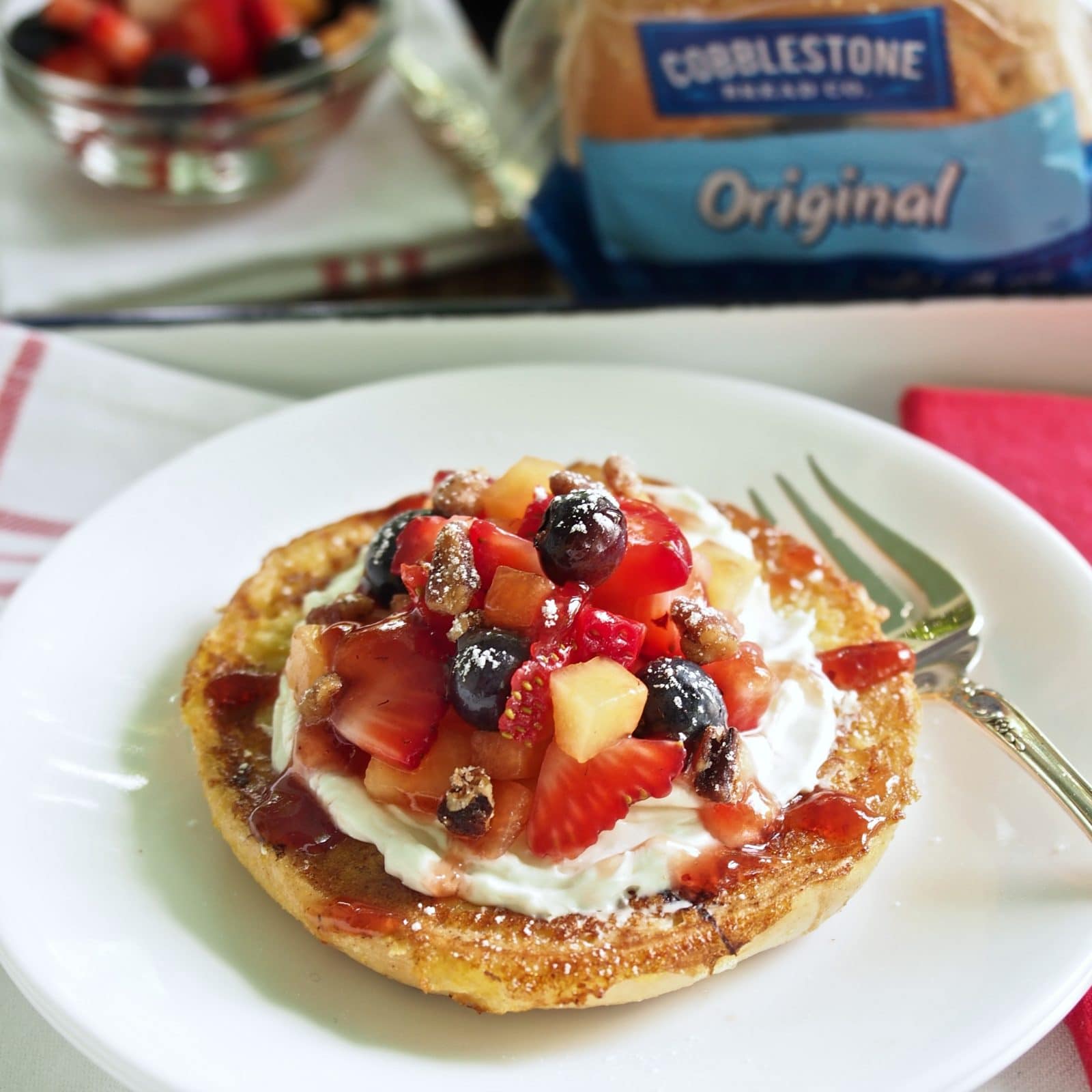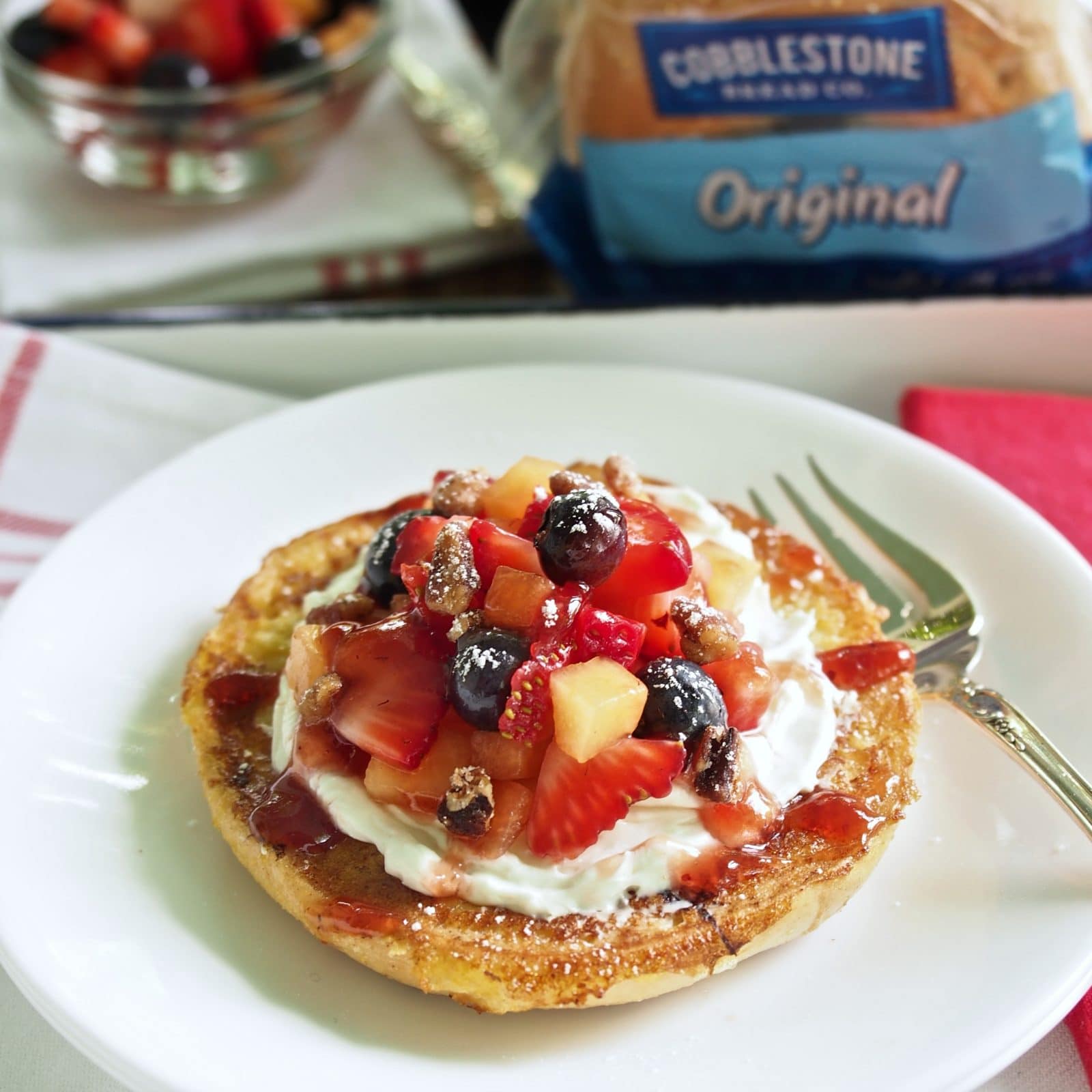 I was honored when asked to write a post for CBC using their new breakfast products. Ever since my toddler days, my favorite breakfast has been French Toast, so I knew I wanted to create a recipe with my favorite breakfast in mind.
Berry-Topped French Toast Bagels made with CBC's Original Bagels is the perfect breakfast to avoid breakfast boredom and kick-start a great day.   After all, what could be better first thing in the morning than French toast bagels slathered with cream cheese, piled high with gorgeous fruit and dusted with powdered sugar – nothing!
CBC knows how to bake great bread – the kind that does NOT stick to the roof of your mouth.
I love this quote from Cobblestone Bread Co., "We know great bread – it's our middle name after all – and we've been perfecting the art of making bread since we opened our very first bakery."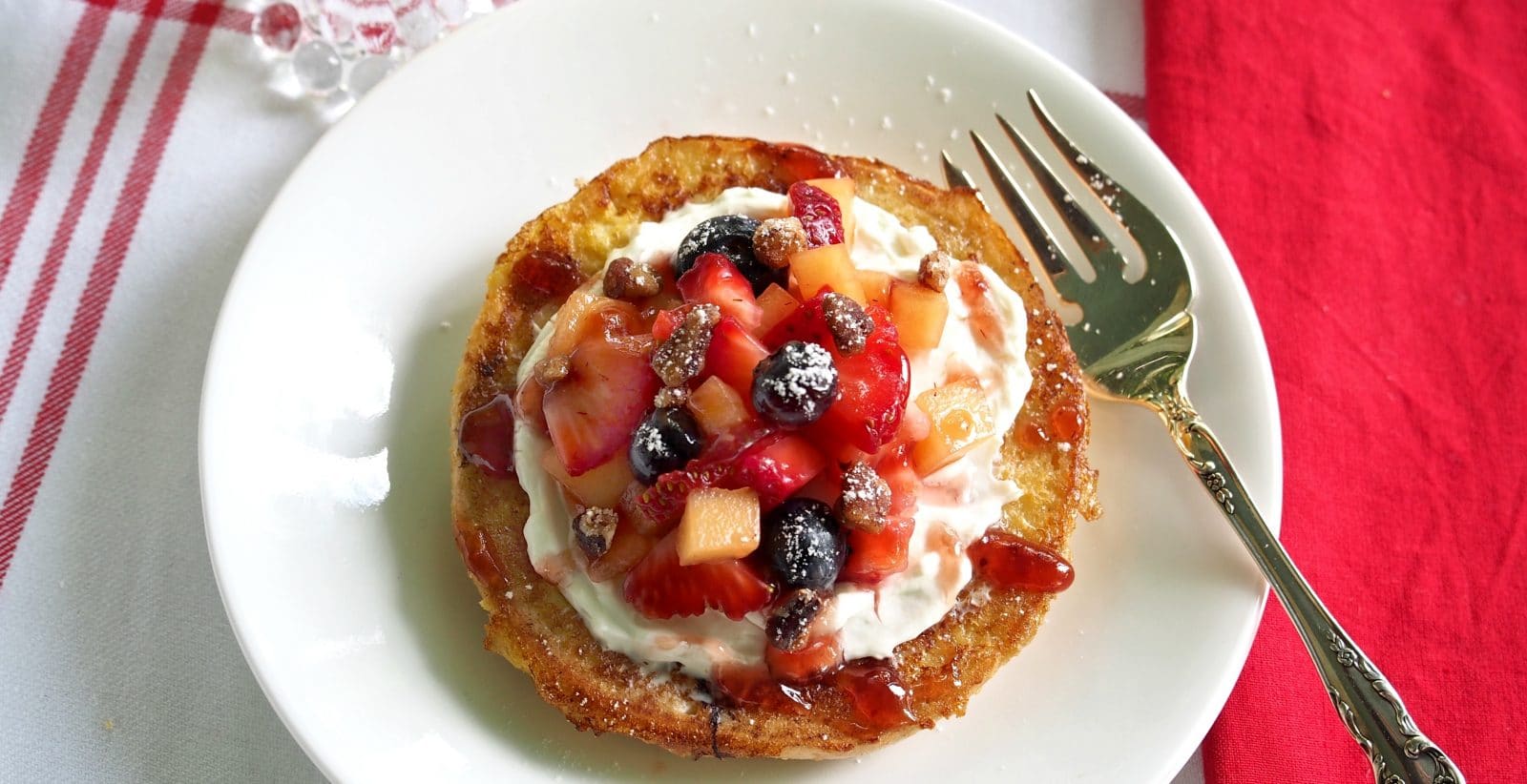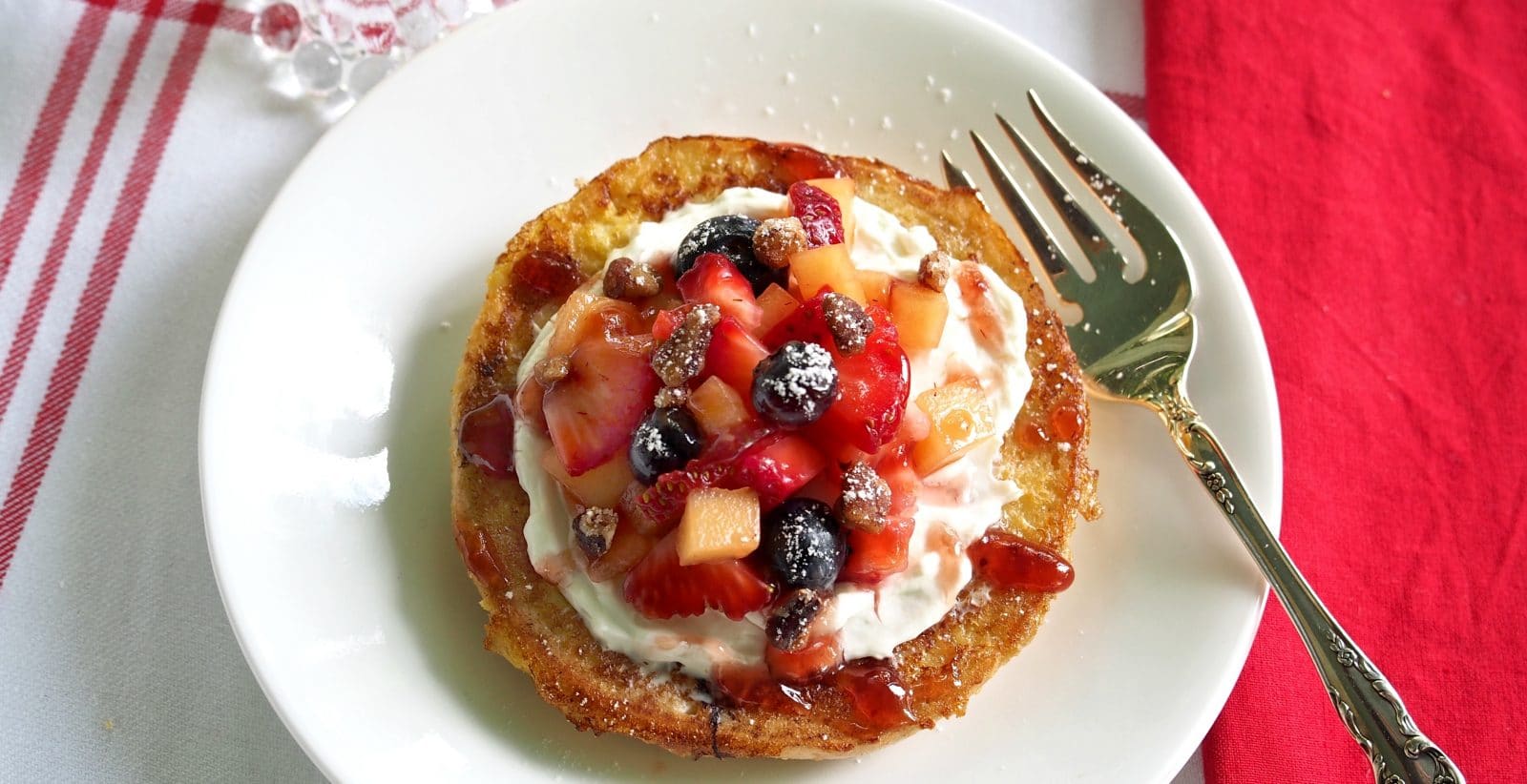 The variety of quality products CBC offers takes the "task" out and puts "simplicity" in when preparing breakfast or brunch. Whether choosing their Wheat English Muffins, Cinnamon Raisin Bagels, Whole Wheat Bagels, Original Bagels or Original English Muffins, you will be delighted with the quality and superior taste.
I only wish one thing. I wish my middle name were "Bread." Susie Bread Gall has a nice ring to it, don't you think?
Now, to make your day extra special, head over to Kitchen Daily to see 22 Ways To Make Breakfast Exciting Again.  Yes – you did read that right – 22 Ways to Make Breakfast Exciting Again!  I just looked through the slideshow and know you won't be disappointed.
Enjoy!
Compensation for this post was provided by Cobblestone Bread Co. via AOL Media.  The opinions expressed herein are mine and are not indicative of the opinions or positions of Cobblestone Bread Co. or AOL.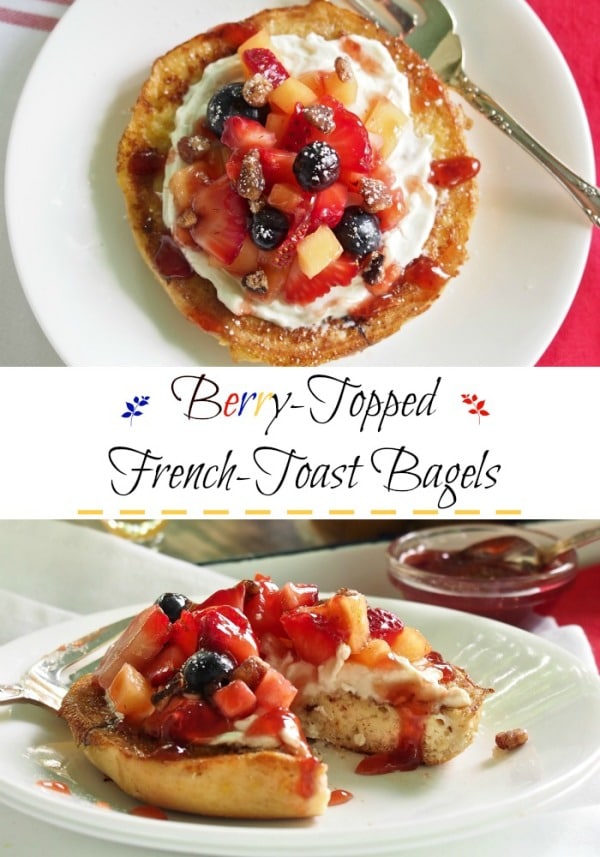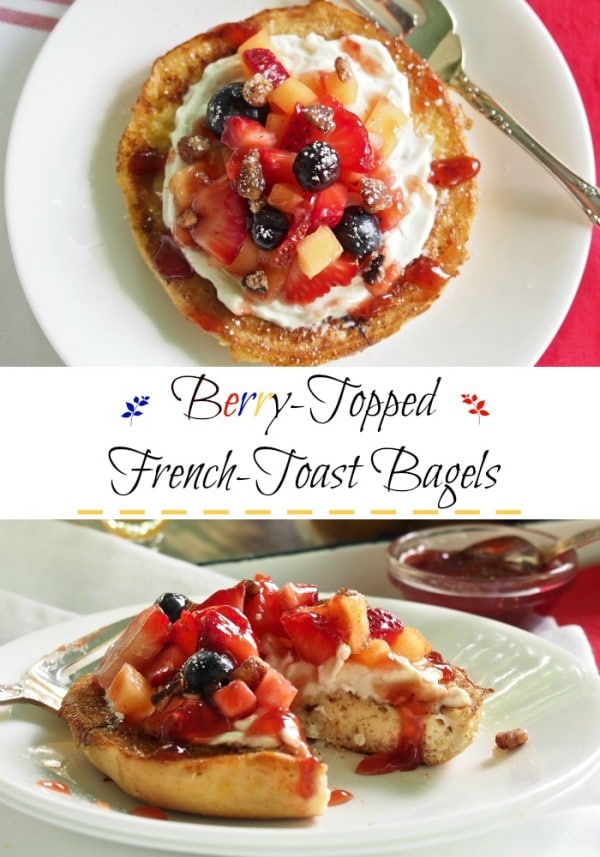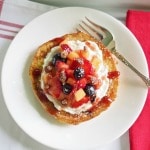 Berry-Topped French Toast Bagels
French-toasted bagels topped w/fresh berries, cream cheese & sugared pecans.
Ingredients
For the French Toast Bagels:

2

tablespoons

butter

4

Cobblestone Bread Co. Bagels

4

large eggs

1-

cup

milk

1-

teaspoon

vanilla extract

1-

teaspoon

ground cinnamon

1-

tablespoon

sugar

pinch

of kosher salt

Optional:

¼

teaspoon

orange zest

1

tablespoon

maple syrup

-----------------------------------

For the Topping:

4

ounces

cream cheese

4

large strawberries

chopped

½

cup

blueberries

½

cup

diced melon

¼

cup

jelly or jam

powdered sugar for dusting

opt. sugared pecans
Instructions
In a shallow dish, whisk together eggs, milk, vanilla extract, cinnamon, sugar and salt.

Heat jelly/jam in a small bowl in the microwave on HIGH for a few seconds until melted; stir & set aside.

Combine fruit in a medium bowl, set aside.

In a large skillet or griddle, heat butter over medium-high heat.

Dip bagel half in the egg/milk mixture, allow the egg mixture to soak into the bagel then shake off the excess and place it on the hot griddle. Repeat the process with other bagel halves until there are four half bagels on the griddle.

Cook until bagels are golden brown then flip them over to cook the other side until golden brown.

(Repeat with all eight bagel halves.)

Remove bagels from the heat, spread with cream cheese, top with berries, drizzle with warm jam/jelly and sprinkle with powdered sugar and, if desired, sugared pecans.

Enjoy!