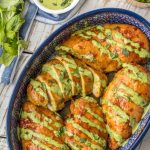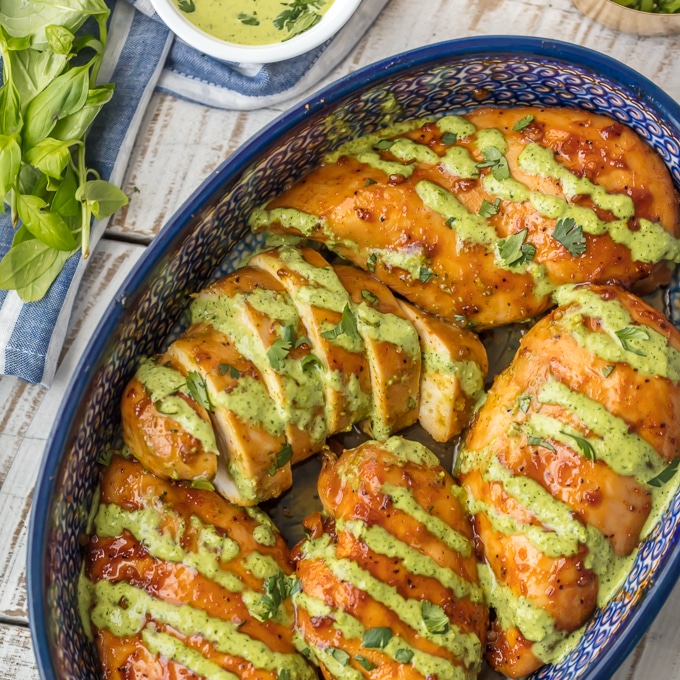 Peruvian Chicken with Green Sauce
Peruvian Chicken with Green Sauce is a vibrant example of Peruvian cuisine. It is a flavor-packed fusion born of many cultures. Amazingly spiced & gorgeous. This will become an all-time favorite recipe, I promise. Note: Peruvian Chicken with Green Sauce HAS to be served with Peruvian Green Sauce. The sauce can be made up to 1 week ahead, and the recipe is found on Simply Sated http://www.simplysated.com/peruvian-green-sauce/.
For the Chicken:

6

boneless, skinless chicken breasts or skin-on chicken breasts (or use thin chicken strips for chicken skewers)

For the Marinade/basting sauce:

3

medium cloves garlic

minced

1

fresh jalapeno

ribs & seeds removed, diced

1½

teaspoons

ground cumin

2

teaspoons

chili powder

I prefer Penzey's Chili 3000

¼-½

teaspoon

crushed red pepper flakes

1

teaspoon

smoked paprika

¼

cup

dark brown sugar

2

tablespoons

extra virgin olive oil

1½

tablespoons

soy sauce

2

tablespoons

fresh limejuice

juice from 1 lime

2

tablespoons

Gourmet Garden Ginger Stir-In Paste or minced fresh ginger

minced
For the Marinade:

Combine all marinade ingredients in a medium-sized bowl and whisk until well combined. *Reserve & refrigerate ¼ cup to use as marinade when ready to cook the chicken.

For the Peruvian Chicken:

Place chicken in a resealable plastic bag and use a meat pounder or rolling pin to pound the breasts into an even thickness. Pour all except ¼ cup marinade over the chicken. Squeeze out any air, close the bag and place in the fridge to marinate at least 4 hours or overnight.

When ready to cook the chicken, preheat the oven to 375F and spray a shallow baking dish with cooking spray.

Place the chicken in the prepared dish and cook 15 minutes. Brush the chicken with the reserved marinade, and cook another 15 minutes or until the internal temperature registers 160 on a meat thermometer. Remove the chicken from the oven, cover loosely with foil and allow the chicken to rest 5 minutes.

When ready to serve, drizzle the chicken with Peruvian Green Sauce.

Enjoy!
This recipe works beautifully grilled. Just cook the marinated chicken on a grill, marinate per instructions, and cook until the internal temperature is 160°F.
*Recipe adapted from Serious Eats and Epicurious.