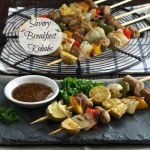 Savory Breakfast Kebabs
Savory Breakfast Kebabs - link sausage, roasted sweet peppers, onions and peppers threaded on bamboo skewers, charred on an indoor grill and served with a side of honey mustard. Breakfast-on-a-stick.
½

sweet red bell pepper

seeded and cut into square-ish pieces

½

sweet yellow bell pepper

same as red peppers

½

green bell pepper

same as red peppers

1

sweet yellow onion

cut into chunks

8

new potatoes

washed, quartered & patted dry

1 12-

ounce

package Jones Dairy Farm All Natural Little Pork Sausages

Honey mustard

store bought or homemade

8

bamboo skewers
Preheat oven to 400F.

On three separate baking sheets, place bell peppers, onion and potatoes. Drizzle all vegetables with olive oil and season with salt and pepper.

Place potatoes in the oven and set the timer for 30 minutes. After 10 minutes, place peppers in the oven (the peppers will cook 20 minutes). After 5 more minutes, place the onions in the oven to bake the last 15 minutes. Following this method, all vegetables should be ready at the same time.

While the vegetables are roasting, place the sausages in a large skillet and add 6 tablespoons water. Cover and cook on medium for 15 minutes. After 15 minutes, remove the lid and continue cooking the sausages to brown them, 2-3 minutes per side. Remove from the heat and cut into four pieces per sausage link.

To make the kebabs, slide peppers, onion and sausage on bamboo skewers and serve immediately with favorite honey mustard.

If grill marks are desired, preheat a grill or griddle then place the kebabs on the grill just long enough to get grill marks.
This dish can be served without making into kebabs, it just isn't as much fun?
*Delicious served with a side of eggs-your-way.