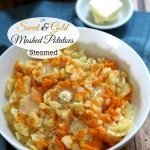 Sweet & Gold Mashed Potatoes
Sweet Potatoes & Yukon Golds are steamed then mixed with butter, salt & pepper - the best mashed potatoes - ever!
Place potatoes, sweet on one side - Yukons on the other side, in a steamer basket.

Steam cubed potatoes until fork tender approximately 15-20 minutes.

Keep the types of potatoes separate and press Yukon Gold cubes through a ricer into a bowl, then repeat with Sweet Potatoes. Use a potato masher if a ricer isn't available.

Stir 2-3 tablespoons of butter into each bowl of potatoes and season with salt & pepper. Taste & adjust the amount of butter adding enough butter to make the potatoes creamy.

When ready to serve, just spoon potatoes together into a serving dish and slightly mix to swirl the colors. *See Notes

Dot with herbs, seasonings & additional butter if desired.
*If desired, use a decorator bag & tip to pipe the potatoes into a bowl or onto the plate for a decorative touch.